Analysis: New Hampshire's Undecided Independent Voters Think Like Democrats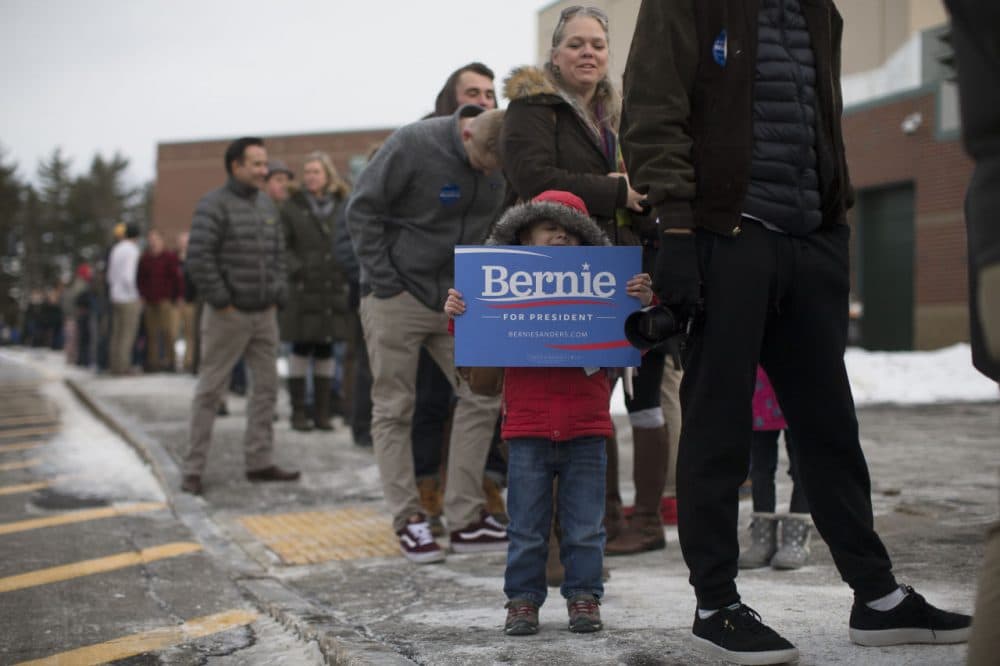 This article is more than 5 years old.
About a third of New Hampshire's undeclared (i.e., independent) voters remain on the fence about which party's ballot to pull on the Feb. 9 presidential primary, according to the latest WBUR poll released last week.
These independents are a relatively liberal group, hewing a bit more to a Democratic view of what issues matter most, and even identifying as Democrats more than Republicans. The rules of the New Hampshire primary allow independents to select either ballot, and their choice could still upend either the Democratic or Republican primary.
This undecided group is different than undeclared voters overall in New Hampshire, who actually skew Republican. But more Republican-leaning undeclared voters have already made their minds to try and make sense of the 12-way scrum the GOP primary has become. This leaves the group still sitting on the fence skewing a bit more to the left. They are 11 points more likely to call themselves Democrats than Republicans, and one in five does not identify with either party.
This leftward lean also shows up in their views on issues. Campaigns are won and lost on what issues are elevated and on which candidate or party's position on those issues is seen as closest to the voters. The priority that voters place on various issues is one clue as to what kind of candidate they may choose and in which primary they will vote.
It's an imperfect fit, but looking at the importance fence-sitters assign to different issues suggests they are closer to the Democrats than the Republicans. While they land somewhere between sure Democratic and Republican voters on every issue, they give more weight to Democratic issues like income inequality and global warming and far less to Republican issues of military spending and repealing Obamacare. At the same time, they are also concerned about ISIS, taxes and immigration, which get more play from Republicans than Democrats. Overall though, their prioritization puts them somewhat closer to the Democrats.
It seems, then, like these undecided voters' natural home might be the Democratic primary. Their leftward lean also goes a long way towards explaining why these voters have a strong preference for moderate candidates in the GOP primary. These fence-sitters prefer Ohio Gov. John Kasich (25 percent) and former Florida Gov. Jeb Bush (19 percent) over overall frontrunner Donald Trump (11 percent). On the Democratic side, they strongly prefer Vermont Sen. Bernie Sanders. He beats former Secretary of State Hillary Clinton 60 percent to 23 percent with fence-sitters.
To be clear, these undecided independents are only a third of all the independent voters, who will likely only be 40 percent of all primary voters. The rest of the electorate will be registered Democrats or Republicans. Still, with a crowded GOP field, having more or fewer of these moderate-minded voters could mean the difference between a candidate like Kasich or Bush coming in second versus third or even fourth.
It's also important to remember that party identification and issues are only part of the calculus for these undecided undeclared voters. When asked directly how they would make up their minds, truly undecided voters -- those who leaned towards neither primary -- did say issues were important, but they also mentioned the slate of candidates in each primary, and even what the polls are saying heading into Election Day.

In the end, choosing the primary where their vote counts the most could be what drives these voters off the fence and into one primary over the other.
Rich Parr is research director of the MassINC Polling Group. He tweets @richparr79. Steve Koczela is president of MassINC Polling Group. He tweets @skoczela.