The Crowded GOP Establishment Lane Heads To New Hampshire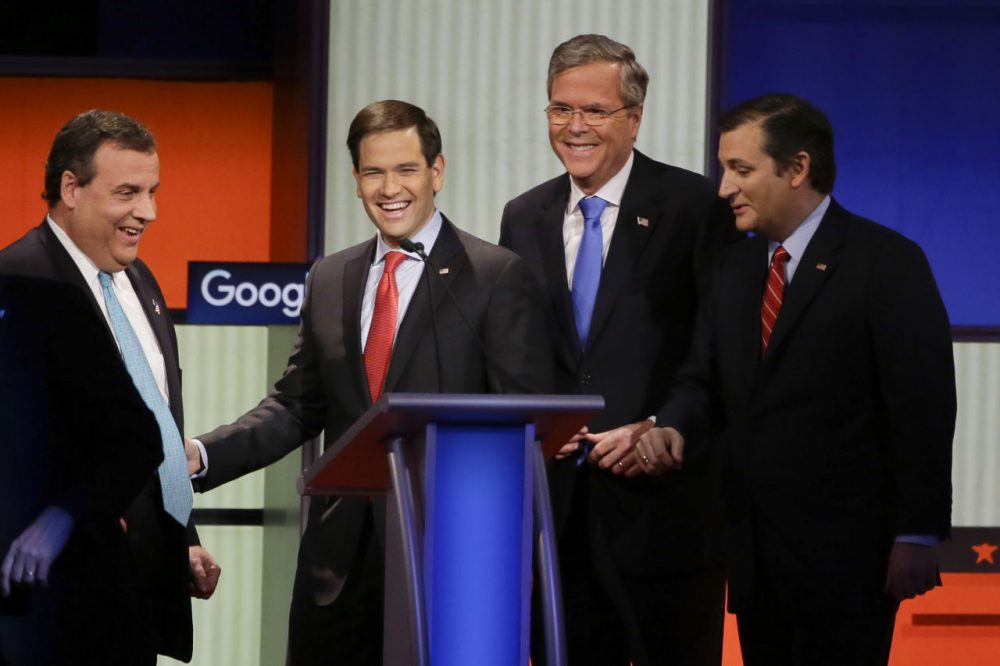 This article is more than 5 years old.
New Hampshire voters are set to play their traditional role of traffic cops next Tuesday, directing some candidates ahead to the open road while pulling others to the side of the road and impounding their cars.
Of the remaining nine Republican candidates, several of them know a strong showing in New Hampshire is their only hope of continuing their campaigns. Others seem to have little chance of advancing, so their performance next Tuesday will make little difference either way.
The road to the GOP nomination appears to have three lanes. Ted Cruz is way ahead in the conservative lane and Donald Trump has all but reserved a lane just for himself. Both men are likely to carry on after New Hampshire, barring a total reversal in fortunes for either.
The on-ramp to the third, "establishment" lane is found next week in New Hampshire. Marco Rubio's third place in Iowa was impressive and unexpected, but is only the first step. He made the most of it, delivering a "shocked-the-world" style victory address. But waiting in New Hampshire with engines running are three current and former governors who will compete vigorously for the voters Rubio needs to solidify his position. It won't be easy, and polls since Iowa are not clearly showing that he is gathering speed. If Rubio can ride his momentum from Iowa to an outright victory in New Hampshire, he will gain a near-prohibitive advantage in the establishment lane.
Govs. John Kasich, Jeb Bush and Chris Christie all need to do well in New Hampshire, and are pulling out all the stops this week. A strong showing in New Hampshire gives any of them rationale for continuing and likely brings a flood of money and volunteers. Show weakness in New Hampshire, and it's likely the end for Christie and Kasich, and possibly for Bush. His bank account is large enough that Bush could soldier on, though it's hard to see how he gains back momentum after back-to-back very expensive losses. But for Kasich and Christie, their laser-like focus on the Granite State and light balance sheets makes it an all-or-nothing proposition for them. Kasich has said as much, more than once.


Kasich says "if I get smoked here I'm going home to Ohio...but I really want to go on and it's going to depend on this state how I do."
— Jennifer Eagan (@Jennifer_Eagan) February 3, 2016

The fact that the establishment race starts here echoes other recent primary cycles. New Hampshire's more moderate, less evangelical brand of voters present a very different opportunity than Iowa's deeply conservative GOP electorate. New Hampshire is at the other end of the spectrum from Iowa in many ways, meaning candidates who come roaring out of the Iowa GOP caucuses often fall flat here. The last two winners of the Iowa caucuses finished well off the pace in New Hampshire; Rick Santorum pulled just 9 percent in New Hampshire in 2012, Mike Huckabee got 11 percent in 2008. Cruz experienced this reality this week, with his usual applause lines falling flat in New Hampshire.


Pretty tough room for Ted Cruz in Henniker, NH. His stump, heavy on conspicuous applause lines, is batting about .500 so far.
— Matt Flegenheimer (@mattfleg) February 3, 2016

Cruz's victory in Iowa established him as the favorite to win over conservative voters throughout the process. He will likely be strong in the southern states set to vote March 1. But it's been the moderate lane than has led to the nomination in recent cycles, whereas the conservative lane has veered to the right, and ultimately into the wilderness. Huckabee and Santorum both won a good number of states and delegates, but failed to attract a broad enough coalition to win. Cruz starts with far more money than either of them, so may be able to go further, but faces the same ideological challenge.

New Hampshire is emblematic of the moderate voters Cruz will struggle to attract. If somehow he were to win here, it could significantly shorten the process, possibly sending three or even all four of the establishment candidates to the sidelines. This seems pretty unlikely, but we still await most of the post-Iowa polls, which will offer a better assessment of his chances.

A Christie or Kasich win or an inconclusive jumble between the four establishment candidates would have the opposite effect, potentially lengthening the process by throwing the "establishment" lane into disarray. Such a scenario would deprive party insiders and donors of a clear signal as to which candidate offers the best prospects. Some may still flock to Rubio for other reasons, but it would make him a less obvious choice if he loses to one of the others. A divided establishment vote also makes it more likely Trump and Cruz could finish first and second in the state. Coming in below third would likely be quite discouraging for any candidate counting on the state to bring new life to their campaign.

New Hampshire's primary has a well-deserved reputation for last minute upheaval. Massive shifts in the polls and come-from-behind victories are not uncommon. So anything could still happen. But one thing is clear: The establishment lane is not wide enough for four candidates to build up much speed when running in a pack.

Steve Koczela is president of the MassINC Polling Group and regular contributor to WBUR Politicker. He tweets @skoczela.