For Mardi Gras, The Revolutionary Snake Ensemble Brings A Taste Of New Orleans Here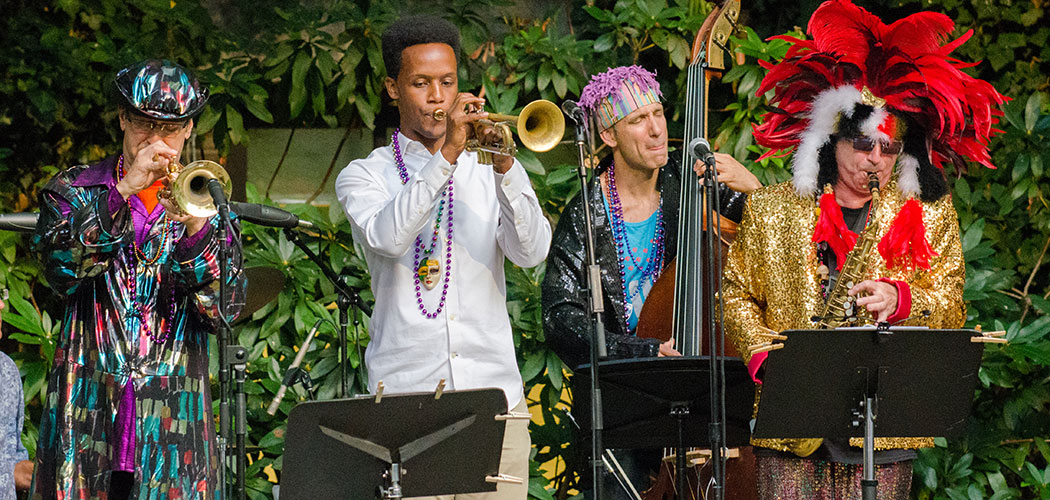 This article is more than 5 years old.
"The tourist version of Mardi Gras is very different from the native New Orleans version of Mardi Gras," explains Ken Field, who plays alto sax in the Boston-based Revolutionary Snake Ensemble, which will play their fourth annual Mardi Gras show, this time with special guests Godwin Louis and Jason Palmer, at the Regattabar in Cambridge's Charles Hotel, at 7:30 p.m. Tuesday, Feb. 9. "The tourist thing is 'Show us your t-ts.' The tourist version is in the French Quarter and college kids are getting drunk."
But the native New Orleans Mardi Gras is something else. "Mardi Gras is a season, it's not a day," Field says. "It's a season in which numerous social aid and pleasure societies and krewes and social organizations do their things. There are parades for weeks before Mardi Gras. The most established tend to have their parades on Mardi Gras." There are big parades and little ones, neighborhood by neighborhood, of brass bands and costumed revelers. "People walk around the city in a very different state of mind during Mardi Gras season. … People are out and people are friendly to you. It seems to be a coming together of the community."
"It gives people a party," Field adds. "And that can be trivialized. Or it can be accepted, as I think it should be, as an essential and important part of life. Celebration and happiness, that's a goal for a lot of people to have in life."
It's a bit of that Mardi Gras, the grass roots Mardi Gras, that the Revolutionary Snake Ensemble aims to bring here. "It's a taste of Mardi Gras," Field emphasizes. "It's not Mardi Gras, it's a taste of Mardi Gras."
The Revolutionary Snake Ensemble is marking its 25th year together. They describe themselves as an "improvisational second line brass band." In New Orleans tradition, "second line" parades happen nearly every weekend, year round. They're also the parades of classic New Orleans jazz funerals. The name refers to parades with a "first line" made up of the social club or organizers of the shindig and the brass band followed by a "second line" in which any reveler or mourner can step into the street to walk and dance behind the band. The Snakes' inspirations also include funk and modern music. Broadly, they're experimentally inclined jazz. Oh, and they perform in costumes of sequins and feathers and beads.
The current lineup includes Tom Hall on tenor sax, Jerry Sabatini on trumpet, David Harris on trombone and tuba, Blake Newman on bass and Phil Neighbors on drums. After the group's 2003 debut album "Year of the Snake" came out, they performed at Mardi Gras in New Orleans for a number of years at the invitation of the all-women Krewe of Muses. "We would get down there, play a little party, and people assumed we were from New Orleans, and that meant a lot to us," Field has said. "At the same time, we were doing something different. It gave us the experience of meeting and playing with some New Orleans musicians, and they always encouraged us to keep doing our own thing.
"New Orleans culture and Mardi Gras cultures and brass band cultures are a lot about emotions. A lot of this music originated in terms of funeral processions," Field explains. "The way that has been approached traditionally has been to play softer music on the way to the cemetery and then to play joyous music on the way back. So you're talking about a very powerful thing. You're talking about joy and sadness, which are a very important part of life and community."
The Revolutionary Snake Ensemble's rhythms are rooted in second line. "It's a straight eight note rhythm," Field says. "It's a mix of Latin, Caribbean rhythms really and Western, European harmonies, but also mixed in with the blues and spiritual music.
"It's also a funky marching rhythm. Not like John Philip Sousa. There is syncopation in the second line groove. That's really integral," Field explains. "There's a sort of anticipation in the bass line that makes it funky.
"The funkiness and the syncopation add a kind of tension to the rhythm. It adds a movement to the rhythm," Field says. "It makes it more danceable. ... Sousa, that kind of music, is great for a military band, when you want to keep everyone moving at the same time. … The second line rhythm is great for almost the opposite, improvisation. … Adding this level of freedom."
And then there's the melodic aspect of second line. "Those bands partly because they're mostly mobile bands, they don't have a piano or guitar," Field says. Instead they're centered around horns, drums, tuba. "Musically that means the horns get to outline the chords based on the single note they're playing. … We use that to create a kind of freer approach. … The horns can move around and spontaneously move the harmonies in different directions, move the chords in different, unexpected directions.
"One thing we focus on is spontaneity," Field says. "We're really reinventing ourselves at each gig."