Analysis: Undecided Women Voters Key For Rubio And Bush In New Hampshire
With most political eyes this weekend set on New Hampshire, where campaigns are already in full get out the vote (GOTV) mode, most observers are focusing on terms like "ground game," "air war" and "youth vote."
Savvy campaign strategists, however, are speaking in terms of "micro-targeting," "synthetic modeling" and "big data." Those strategists are wrestling with the most vexing segment of voters, the same segment that could ultimately decide who wins, places and shows in New Hampshire: the undecided likely voter.
While some undecided voters may be simply take a pass on the election, most will make up their minds days or even minutes before casting their ballots. Days can feel like years during GOTV, so there is still plenty of time for campaigns to make a final pitch for their candidates.
Unlike the rest of GOTV efforts, which focus on the quantity of contacts between a campaign and its identified supporters, these voters -- based on past voting history -- are almost certainly likely to vote. The persuasive quality of the contact becomes key.
Their greatest weapon in this battle: voter data. Meaningful patterns in data that has been collected and purchased by the campaigns are mined to match a consumer predilection, or public policy preference to predict how the voter feels about a particular candidate.
In order to get into the mindset of the campaigns, the Novus Group sought to replicate a prototypical campaign's efforts. We analyzed the demographics of undecided New Hampshire voters across four polls that WBUR/MassINC Polling Group conducted over the past four months. We matched that with enhanced voter files in New Hampshire and found some interesting data that other campaigns have likely observed and are probably acting upon this weekend.
One of the most notable data points that we discovered — and likely to grab the attention of any strategist analyzing data — is that a majority (55 percent) of undecided voters are women. Given that women represented only 45 percent of total respondents and historically the majority of voters in the New Hampshire GOP primary have been men, this is a significant variance.
Despite the tendency of unenrolled voters to break for Democrats, the fence-sitting among women does not appear to be impacted by the presence of Hillary Clinton on the Democratic ballot.
These women actually tend to be more a part of the GOP establishment than their male counterparts: 71 percent of undecided women are registered Republicans, nearly the same (70 percent) as women who have picked a candidate. Comparatively, 60 percent of undecided men are registered GOP, down from the 68 percent of decided men who are registered.
This gender gap grows even greater when looking at younger women voters: 58 percent of undecideds under 50 are women, and 60 percent of undecideds under 35 are women.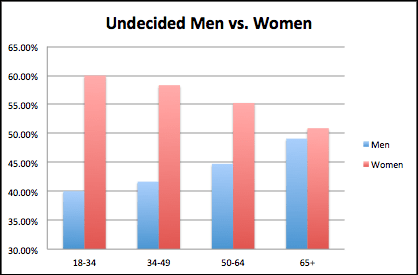 Among undecideds, women tend to be more middle/upper-middle class, with 56 percent reporting income between $50,000 and $150,000, compared with 43 percent of men. Meanwhile, undecided men seem much more likely to be wealthy, with one third reporting a household income of over $150,000, compared with only 18 percent of women.
Combining all of these factors, an image begins to emerge of younger, middle and upper-middle class, establishment GOP women who may swing this election.
None of this is good news for Donald Trump. While he still commands a significant lead in most polls, he has very little room to grow. He has one of the worst gender gaps of any candidate, with women comprising only 38 percent of his supporters. Given this makeup of undecided voters, Trump has likely peaked in New Hampshire.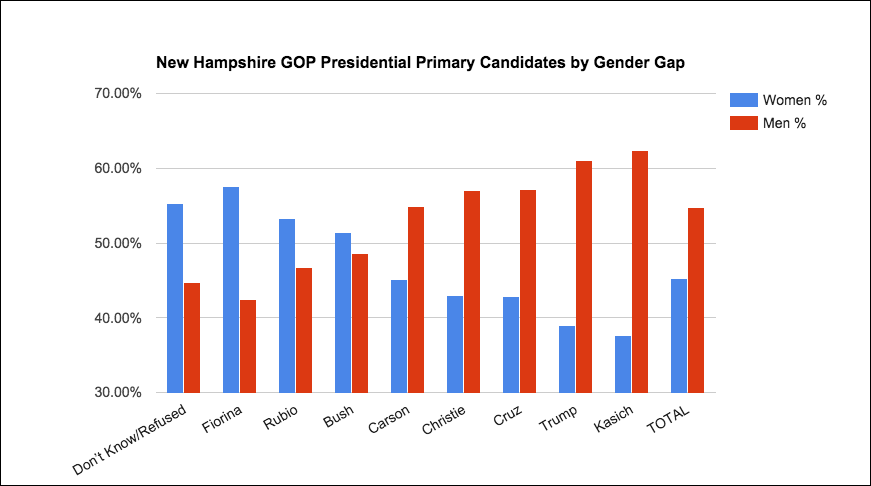 This is equally bad news for Texas Sen. Ted Cruz and Ohio Gov. John Kasich, who polls show are in a four-way tie for second place with former Florida Gov. Jeb Bush and Florida Sen. Marco Rubio. Kasich is the only candidate to do worse than Trump with women. Only 37 percent of his supporters are female, significantly limiting his ability to connect with the remaining undecideds.
Cruz is not much better, with support among women at 42 percent.  Those women who do support Cruz have a similar demographic profile as undecided women. Forty-eight percent of his female supporters are middle or upper-middle class and 84 percent are registered Republicans.
There is a chance that with the right messaging and surrogates, Cruz could improve his support among women. Given the time crunch, however, the more likely scenario is that Bush or Rubio will garner enough of these undecideds to come in second place.
Aside from Carly Fiorina, Rubio and Bush are the only two candidates whose supporters are majority women. The party affiliation of women supporting both candidates is similar to that of the undecided voters, however not as many count themselves as middle or upper-middle class. Seventy-three percent of women supporting Rubio are registered Republicans, and 40 percent are middle or upper-middle class. Bush's female supporters are 75 percent registered Republicans and 44 percent middle or upper-middle class.
In the frenzied final days of the New Hampshire primary, expect Rubio and Bush to make targeted appeals to younger GOP women, with a particular focus on issues important to those in the middle and upper-middle class. Successfully persuading this group will likely decide who comes in second place. Rubio would stand to solidify his position as the viable alternative to Trump or Cruz, while Bush could recover from his poor performance in Iowa and survive to fight another day in South Carolina, Nevada and Super Tuesday on March 1.
Frank Perullo is CEO of The Novus Group. Michael McLaughlin is vice president of strategic services at The Novus Group.