Analysis: N.H. 'Wild Card' Democratic Primary Votes May Propel Rubio To GOP 'Establishment Lane' Lead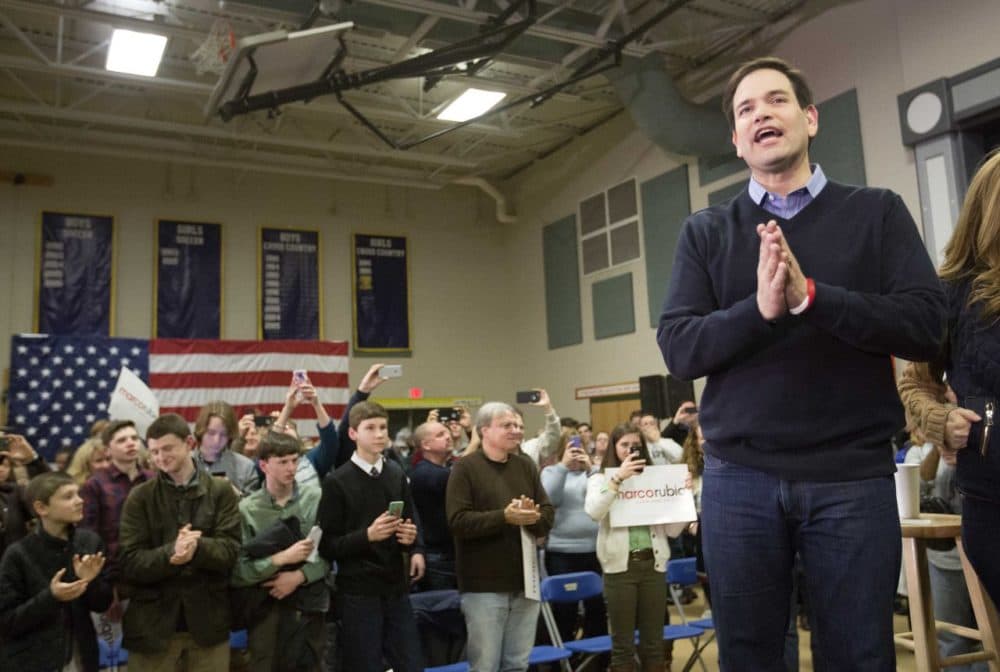 This article is more than 5 years old.
With only a few days to go to before Tuesday's first in the nation primary, New Hampshire's fickle independents have two choices to make. First, they must decide which party primary to vote in, and then, which candidate in that primary to support.
As it stands now, about 23 percent of these independent voters are either undecided about which primary to vote in or say they could switch from one primary to the other. That figure is down from WBUR's January independents-only poll, where 33 percent of independents were on the fence. Still, it's a sizable portion of the electorate.
The independents who have settled on a primary or are leaning one way or another are split pretty evenly between the Democratic and Republican contests. If that pattern holds on primary day, it would be a break from recent cycles.
In both 2000 and 2008, independents broke heavily toward one party over the other, despite there being competitive races on both sides. In 2000, independents breaking toward the Republican contest helped propel John McCain over George W. Bush, while scuttling Bill Bradley's hopes against Al Gore. In 2008, most independents opted to vote in the tight contest between Hillary Clinton and Barack Obama.
A relatively even split could unclog the GOP primary's overcrowded "establishment lane". That's because moderate candidates, especially Ohio Governor John Kasich, stand to benefit from a big independent turnout in the GOP primary. Even in the highest-turnout scenario, Kasich can't catch frontrunner Donald Trump, but he could nip Marco Rubio for second place.
If 57 percent of independents choose to vote in the GOP primary, Kasich would tie Rubio, according to the latest WBUR poll. (Other recent polls have shown Rubio pulling away from the pack.) Beating or tying Rubio might be enough to keep Kasich in the race, and it would mean the establishment lane traffic jam would stretch into South Carolina, and possibly beyond.
It's possible a majority of independents could vote Republican, but a huge swing into the GOP race is unlikely. The independents who have firmed up their primary choice since our last poll have tended to choose the Democratic primary. That may seem counterintuitive, given that Bernie Sanders has maintained a strong lead while the GOP race remains a crowded scrum behind Trump. But the WBUR poll suggests that independents are less concerned about the internal dynamics of the race than they are about the candidates and issues on either side.
Eighty-six percent of remaining fence-sitters strongly agree with the statement, "I want to vote for the best candidate, regardless of what party primary they are in." The best candidate in these voters' eyes appears to be Bernie Sanders, who has the best net favorability of any candidate with these voters. Sanders is also beating his Democratic rival Hillary Clinton by a wider margin with these undecided voters than he is overall.
These undecideds also want to vote for a candidate that agrees with them on the issues, although they care slightly less about issues than independents who have settled on a primary. Our last poll of independent voters revealed these remaining fence-sitters think more like Democrats than Republicans when it come to the issues. These two factors could explain why more of them have been pulled into the Democratic race.
Fence-sitters are also weighing other factors. Nearly half (47 percent) of the remaining undecideds are concerned about voting for a candidate that can win the nomination; 36 percent would rather vote in the closer and more competitive race. Undecideds do care about the dynamics of the race, but just not as much as candidate qualities and issues.
There are also a few mischief-makers still on the fence. More than a third (35 percent) say they plan to vote so as to block another candidate from securing a win. And 21 percent are "strategic voters" who say they would vote for an extreme candidate in one primary in the hopes of giving the eventual nominee in the other party a better opponent in November. But these tactically-minded voters are a relatively small slice of the electorate. Far more of the remaining fence-sitters profess more straightforward intentions.
One thing is certain about those left on the fence: they are true wild cards. Only 12 percent strongly agree that they are voting the party primary they always vote in; 61 percent disagreed with that statement. They may not show much allegiance to one primary or another, but when asked to identify themselves politically, they skew much more Democratic than independents overall.
For all these reasons — candidate and issue preferences, primary choice rationale, vote history and party ID — it's not looking likely that Kasich will be driving out of New Hampshire at the front of the establishment lane.
Anything too far short of that may mean he'll be driving the campaign bus back to Ohio instead. If Kasich or another candidate cannot best Rubio in New Hampshire, the "establishment lane" of the GOP primary may quickly become less crowded.
Richard Parr is the Research Director of The MassINC Polling Group. He tweets @richparr79.