Avery Bradley's 25 Points Help Celtics Beat Kings 128-119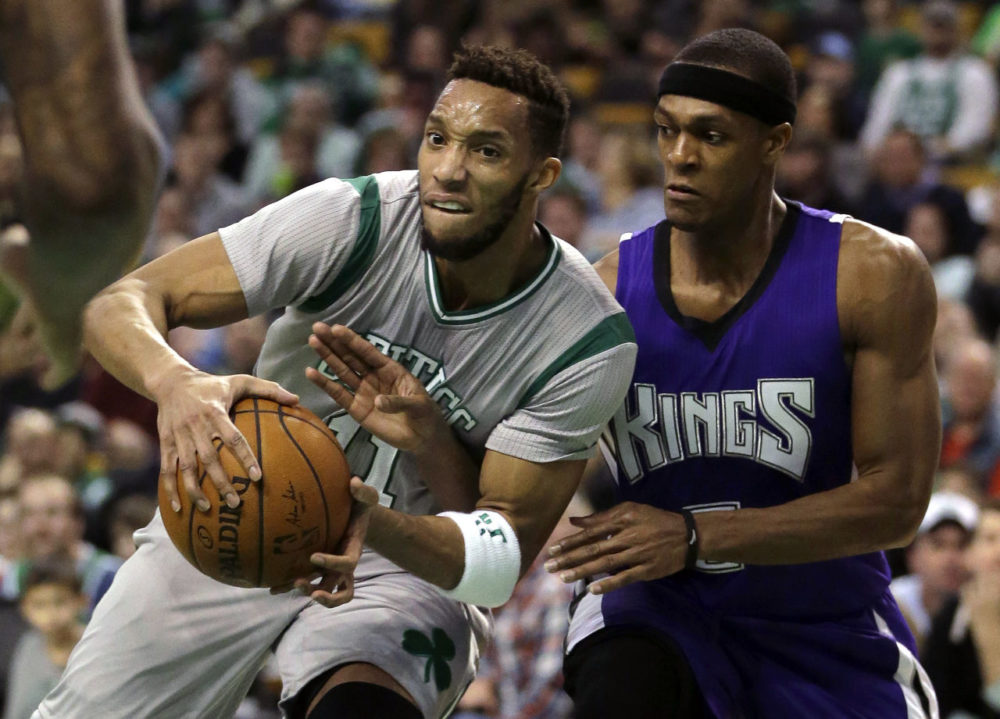 This article is more than 4 years old.
Avery Bradley scored 25 points, Isiah Thomas had 22 and the Boston Celtics held off the Sacramento Kings 128-119 on Sunday for their ninth win in 10 games.
Jared Sullinger matched his season high with 21 points and reserve Tyler Zeller had a season high 17 with seven rebounds for Boston, which committed a season high 24 turnovers but shot 56 percent.
DeMarcus Cousins led Sacramento with 31 points. Marco Belinelli and Darren Collison each had 16 points. The Kings have lost seven of eight.
The Kings had sliced a 21-point deficit to 97-91 early in the final quarter before Bradley nailed a pair of 3-pointers and scored eight points during a 15-6 spree that was capped by Evan Turner's 3-point play with just less than 6 minutes to play.
Sacramento closed it to five points with under 2 minutes left, but Thomas scored nine of 11 points for Boston to seal it.
Coming off a buzzer-beating 3-point shot by Bradley that lifted Boston to an improbable victory in Cleveland on Friday night, the Celtics started fast, nailing five of their initial seven on 3-point attempts to pull to a 38-22 edge late in the first quarter.
The Kings cut it to 59-51 before Boston went on a 9-0 spree en route to a 74-58 halftime lead.
The Celtics pushed their advantage to 21 points on Thomas' 3 from the right wing early in the third, but the Kings followed with a 15-2 run to close the gap to 95-87 after three.
TIP-INS
Kings: F Rudy Gay missed the game with a left ankle injury he sustained early in a loss at Brooklyn on Friday. . Cousins picked up a technical in the first quarter.
Celtics: They wore warmups with "Cooper" and the number 11 on their backs, honoring Chuck Cooper as the first African-American player drafted by an NBA team as part of Black History month. Boston selected him with the second pick in the second round.
NO D AT START
Both teams seemed intent to just shoot and played little defense in the opening quarter. The Celtics scored a season-high points for any quarter this season, grabbing a 46-37 lead after one.
Boston also allowed a season high for a quarter, as did the Kings. Sacramento shot 63.1 percent (14 of 22) and Boston ended up 58.1 (18 of 31), connecting on 7 of 13 from beyond the arc.
The last time Boston scored 46 in a first quarter was Feb. 12, 1982 during the Larry Bird era, at San Diego.
WARM RECEPTION
Kings guard Rajon Rondo got a nice hand in pregame introductions. He was a part of Boston's 2008 championship-winning team. He had 14 points and 15 assists.
UP NEXT
Kings: At Cleveland on Monday.
Celtics: At Milwaukee on Tuesday.