All Hail The Coen Brothers — And Their Terrific New Comedy, 'Hail, Caesar!'
"A Tale of the Christ" is the clumsy subtitle tacked onto the rather wonderfully dreadful Biblical epic from which this latest, spirited bit of tomfoolery from brothers Joel and Ethan Coen takes its name. Another epistemological prank from cinema's snarkiest philosophers, "Hail, Caesar!" is a Passion Play played for giggles, with the Golden Age of Hollywood serving as the garden of Gethsemane for yet another in the Coens' long line of put-upon, serious men.
Josh Brolin stars as Eddie Mannix, the "head of physical production" at Capitol Pictures, the fictional movie studio that once brought us "that Barton Fink feeling." Eddie's what they used to call "a fixer," racing around the lot calming oversized personalities, putting out fires and stopping scandals in their tracks. He's also a sweetheart. (Any resemblance to the real-life Eddie Mannix, a brutish figure who worked for MGM in the '50s, is presumably entirely intentional and intended to confound.) This Eddie is a devout Catholic who goes to confession so often he annoys his parish priest, and he just can't seem to kick them cigarettes.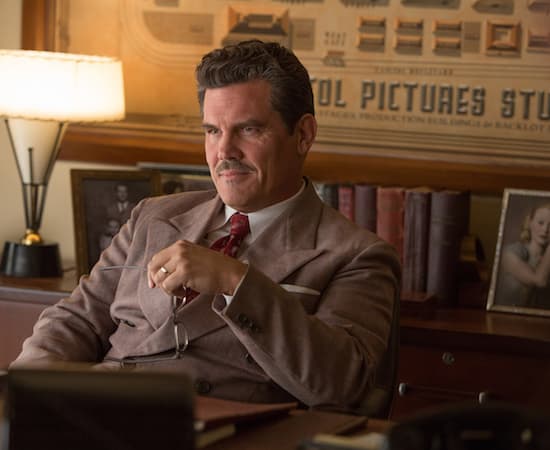 "Hail, Caesar!" follows Mannix as he breathlessly tries to manage 24 hours or so of catastrophes, beginning with the kidnapping of Hollywood's hottest star, Baird Whitlock (George Clooney) from the set of the titular toga party. Working in his patented, bug-eyed moron mode, Clooney clomps around the movie in a Roman centurion's costume and his old "ER" haircut, a prisoner of Commie screenwriters who just might have a valid point or two. (Capitol Pictures meets "Das Kapital" in a typically tangled, Coen-esque wordplay session.)
There's also a pregnant starlet, played by Scarlett Johansson gone full Esther Williams but with Loretta Young's backstory, and a singing cowboy (the wonderful Alden Ehrenreich) who can't seem to wrap his mouth around the dialogue of a drawing room drama in which he's been miscast. Eddie's trying to keep all these complications away from Tilda Swinton's nosy, twin-sister gossip columnists — she's Hedda Hopper as a hydra.
All this and so much more unspools at a breakneck pace, with all the slamming doors and pulling faces one expects from the Coens' knucklehead comedies, alongside recurring spiritual questions that are probably only half-kidding. Directing as if on a Turner Classic Movies bender, the Coens zip around the Capitol Pictures lot indulging in marvelous musical numbers, all-star cameos, and whatever period recreations happen to strike their fancy at the moment. Frances McDormand has a brief bit as a no-nonsense editor who should know better than to wear scarves around a Moviola, while Channing Tatum busts out a Gene Kelly dance number seemingly just because he can.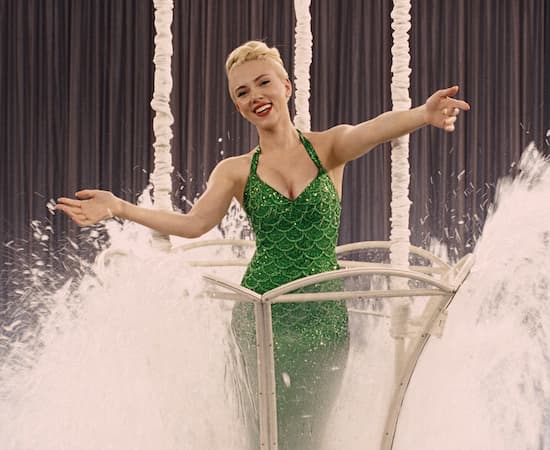 The Coens have been on a 10-year hot streak unparalleled by any modern filmmakers. "No Country For Old Men," "Burn After Reading," "A Serious Man," "True Grit" and "Inside Llewyn Davis" are masterpieces one and all, revealing such richness and hidden depths upon repeat viewings that one might be tempted to call "Hail, Caesar!" a disappointment, as the film is merely terrific. But then again, Coen films tend to open up the second time around, when the rat-a-tat musicality of their dialogue settles in like refrains from one of your favorite songs. (If you've only seen "The Big Lebowski" once, you really haven't seen it at all.)
Like most of their films, "Hail, Caesar!" is ultimately about the folly of searching for meaning in a cruel and indifferent universe. Eddie has his Catholicism, but he's pledged his life to the movies, probably the only religion in which these fiendishly talented filmmakers believe. When we finally see a rough assembly of footage from this "Tale of the Christ," the miracle prompting Baird Whitlock's spiritual epiphany has not yet been photographed. A cheeky title card reads: "DIVINE PRESENCE TO BE SHOT." It's one of their better gags, because in the Coen brothers' films, God's not ready for his close-up just yet.
---
Over the past 16 years, Sean Burns' reviews, interviews and essays have appeared in Philadelphia Weekly, The Improper Bostonian, Metro, The Boston Herald, Nashville Scene, Time Out New York, Philadelphia City Paper and RogerEbert.com. He stashes them all at splicedpersonality.com.