MFA Director On Kimono Controversy: 'I Think That Was Misguided And Apologize'
"I want to start with our acknowledgement and apology," Museum of Fine Arts Director Matthew Teitelbaum said at the beginning of a public forum, "Kimono Wednesdays: A Conversation," at the Boston museum Sunday. The event addressed protests last summer over MFA programs and brief talks called "Claude Monet: Flirting with the Exotic" and "Kimono Wednesdays" that invited visitors to try on the traditional Japanese garment and pose in front of the museum's Claude Monet painting "La Japonaise," which depicts the French artist's wife doing the same.
In particular, Teitelbaum addressed the initial "Flirting with the Exotic" title: "I think that was misguided and apologize for sensationalizing an important issue."
"This is not about banning kimonos," Xtina Huilan Wang, one of last summer's protesters who first called themselves "Stand Against Yellow Face" and later "Decolonize Our Museums," said at Sunday's forum. "But I'm not pro the kimono being used as a kind of fetish item or as a way of glorifying white beauty. … The kimono, it's stripped of its cultural context. That's what I'm protesting against."
"The conversations today are meant to sketch a path forward," Teitelbaum said.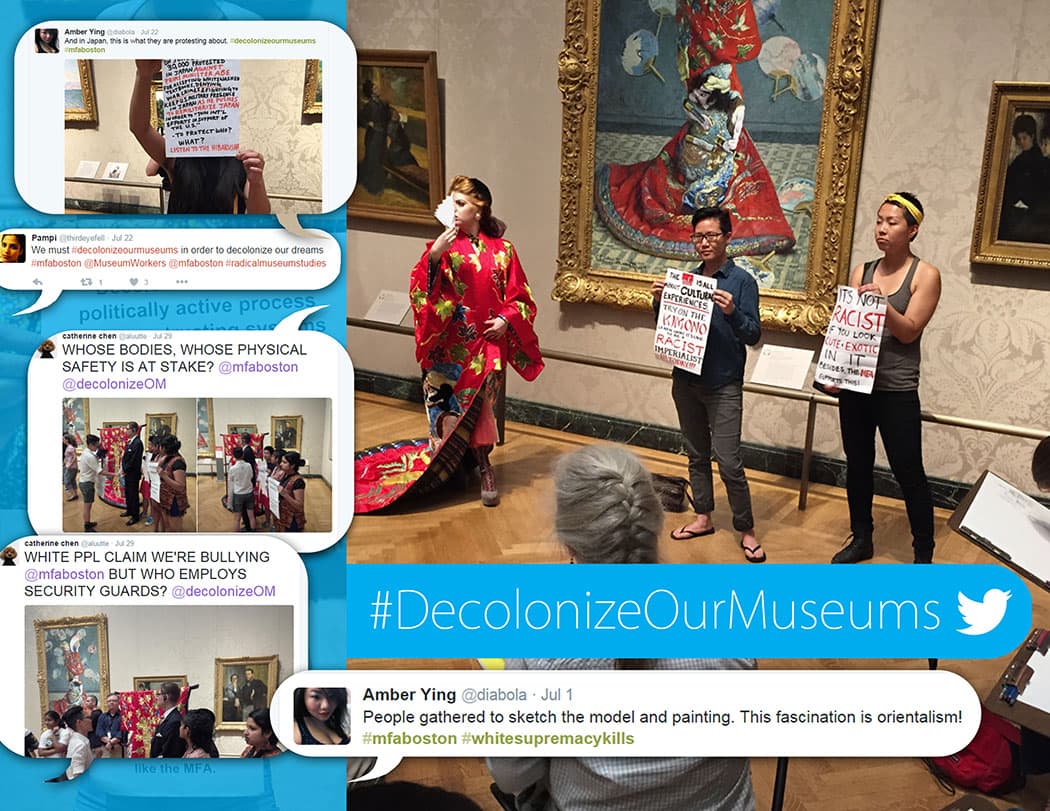 Last summer, the MFA announced that is was cancelling its "Kimono Wednesdays" events in the face of protests led by Amber Ying, Loreto Paz Ansaldo and Pampi Thirdeyefell. For several Wednesdays, protesters stood in the gallery with signs charging that the museum's "exotic" approach to Japanese culture was racist, Orientalist and colonial. The protests sparked counter protests and international debate.
Jasmine Hagans, the MFA's curator of lectures, courses and concerts, said at Sunday's forum that the MFA acknowledges that it didn't live up to its standards for access and education; its decisions weren't transparent; there was a lack of dialogue; and that the museum must address the "classism, ageism, ableism, sexism and racism" often embedded in histories. "We need to break down the ingrained structures of otherness," Hagans said.
"We are sorry that we let you down. We apologize for the lack of context and content," Hagans said. "What should the MFA do and learn so that we don't repeat the mistakes of 'Kimono Wednesdays'?"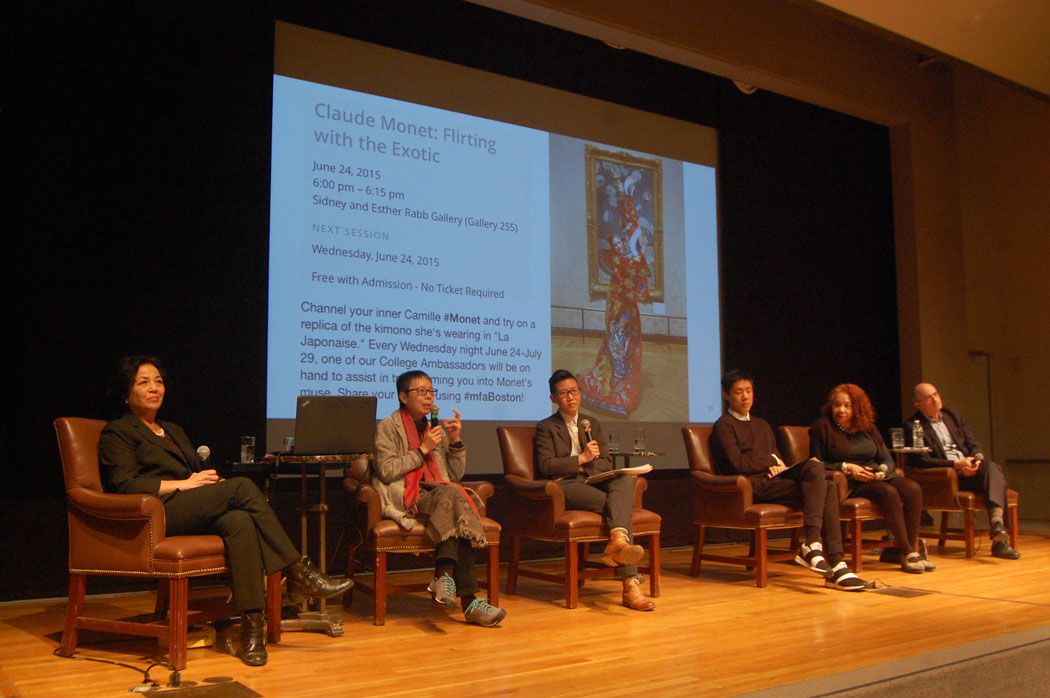 Speaking on Sunday's panel, Wang called for "honest discussions" of the way race, representation and access had not been addressed. She criticized how the museum events had assumed the audience was white, focused on Japanese culture through the lens of a white painter, and didn't include Japanese people in presenting the kimonos or speaking about them. She called for the museum to more deeply address historical context: "When someone dons the uchikake"—a highly formal kimono—"how can they also don the experience of the internment camps, how can they don the kind of marginalization that occurs or the huge rates of sexual assault that occurs."
Wang said the protesters initially expressed their concerns on social media and in person, but were dismissed by the museum "until we showed up with signs."
Panelist Barbara Lewis, director of the University of Massachusetts at Boston's Trotter Institute for the Study of Black History and Culture, connected the MFA's kimono dress-up program to the history of minstrelsy and blackface. Moderator Elena Tajima Creef, a Wellesley College professor of women's and gender studies, said for many people blackface is clearly "very problematic," but that dressing up as Asian or Native American—"yellow-face" and "red-face"—are similarly troubling though not always recognized as such. "There's nothing inherently racist about putting on a kimono and playing, but it's part of a long racist history."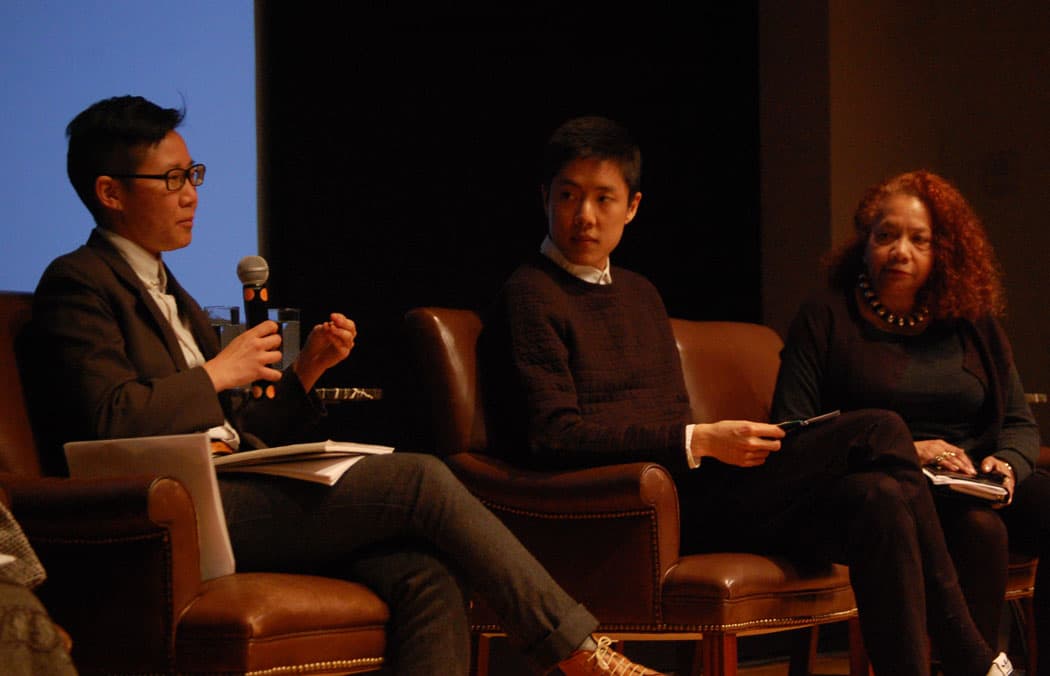 Ryan Wong, a visiting scholar at New York University's Asian/Pacific/American Institute, said the initial "Flirting with the Exotic" title had to have been approved by many people at the museum. "Institutional racism means a lot of people looking at this and signing off on it." Or not having the power to speak up internally about it. "This is an opportunity to ask who gets to speak up within institutions."
When the panel began to take questions from the audience, Yukiyo Iida asked, "What are you going to tell my 7-year-old daughter who's already gotten [called] the 'slanty eye'? What are you going to tell her when she comes across this?"
"Asian-Americans are not a homogeneous group," another audience member noted. An audience member who identified as Thai said, "I've never felt comfortable in an institution like this because of how I look."
"Museums should be safe places and they're not safe places for everybody," Teitelbaum acknowledged. "We have internal discussions around these issues."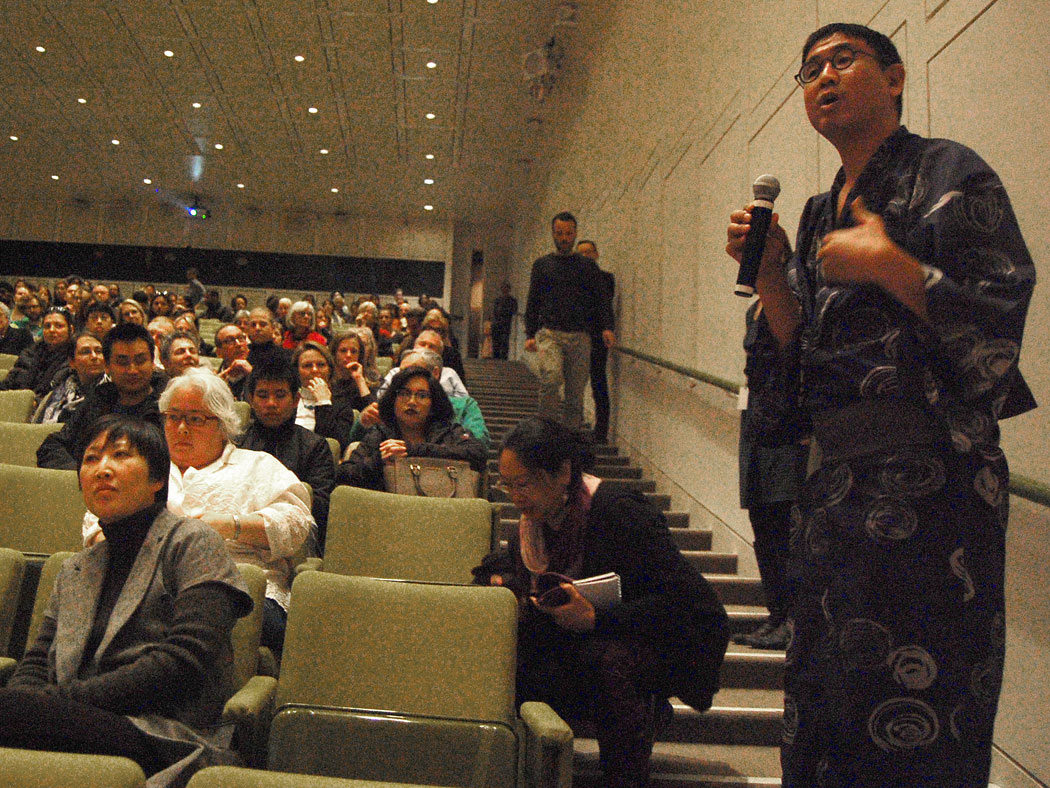 "For a Japanese person, kimono is just clothing. There's nothing sacred about it," said audience member Timothy Nagaoka, who had protested the Decolonize Our Museum protests at the MFA last summer by holding a sign reading: "I am not offended by people wearing kimono in front of French paintings. Bring back Kimono Wednesdays."
"As a protester," Wang said, "I'm responding to how America has put the kimono on a pedestal."
Asked how people in Japan reacted to the controversy at the MFA, "As far as I knew they were very puzzled," said panelist Reiko Tomii, an independent scholar and director of the New York-based Post-1945 Japanese Art Discussion Group / Gendai Bijutsu Kondankai. Creef said the legacy of "yellow-face" in the United States doesn't read the same way in Japan. In Japan, she said, the exhibit was instead seen in context of the waning Japanese kimono industry.
The question of the museum's role in systemic racism came up repeatedly. "How can we acknowledge that this is an institution of white supremacy and go from there?" a woman in the audience asked.
"I don't accept the 'white supremacy' label," Teitelbaum said. "But the histories are fraught."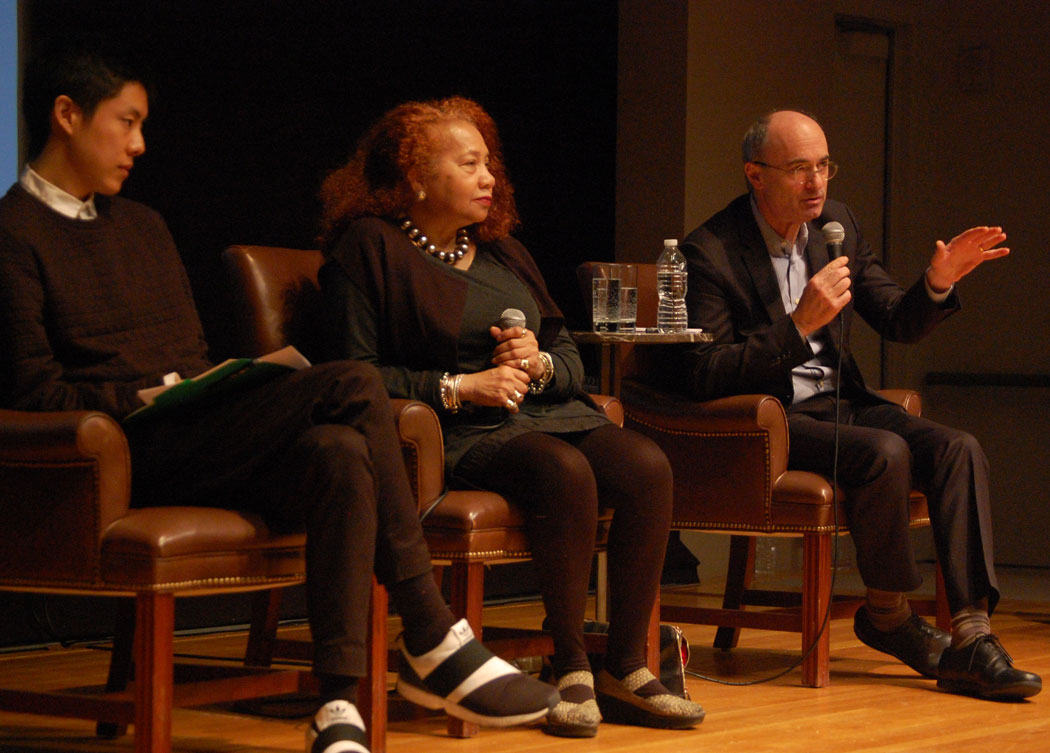 "This is an institution that participates in the larger system of white supremacy," Wang said.
One of the questions that had circled last summer's protests was whether the protest leaders who were not of Japanese descent had standing to criticize the MFA's presentation. "As an Asian-American not of Japanese descent … I don't feel I'm speaking for Japanese people. I'm speaking for myself," Wang said. She said racism in America affected people broadly, without nuance of whether, for example, Asians were from Japan or China or elsewhere. "Japanese specificity does matter … but it has an impact on Asian-America. It has an impact on me."
"I think one of the big challenges for this institution and myself is to try to understand the hyphenated identity," Teitelbaum said. But added, "I still have trouble with [the term] 'white supremacy.'"
From the audience, Massachusetts Institute of Technology professor and Pulitzer Prize-winning novelist Junot Díaz said there is a "folkloric" definition of white supremacy that calls to mind white guys in hoods. But people in the audience, he said, wanted assurance that the director of the MFA understood the technical definition of white supremacy as a "truly global hegemonic system" that privileges white people and culture, even among people of color.
"The very term that we need to address is invisible and erased," Diaz said. "It's not an accident."
"That was helpful for me," Teitelbaum said.
"One of the things this institution can do," Wang said near the end, "you can find what is challenging to you and sit with it. … And don't come back and tell me all the good things you've done for me."