That Cwazy Wabbit Is Back At The Bwattle — Why We Wuv Him So Much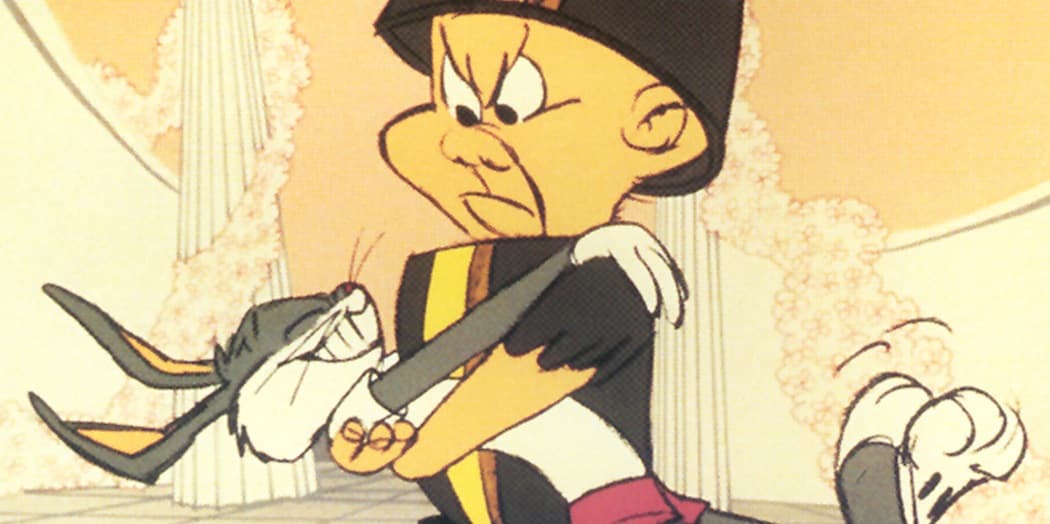 This article is more than 5 years old.
Bugs Bunny is 76 years old.
Entertainment has changed dramatically since that rabbit first popped out of his hole: YouTube, the Internet, HD, home video, television. The first Bugs Bunny cartoon (1940's "A Wild Hare," opposite Elmer Fudd) predates U.S. involvement in World War II, and his last "classic" outing — 1964's "False Hare" — celebrated its 50th anniversary two years ago. In an accelerated youth culture that sees the Jonas Brothers as relics of a forgotten era, Bugs Bunny — and Daffy Duck, and the rest of their animated Warner Brothers stablemates — are positively prehistoric.
Yet, despite media handwringing over our increasingly short-term cultural memory, Bugs and his pals remain instantly recognizable to children around the world. Like their counterparts at Disney, this is partly in thanks to mountains of tie-ins and merchandise, which have grown pretty much uninterrupted since their heyday. But unlike the Mouse, whose cartoons now feel like the propaganda division of a corporate empire, the Looney Tunes canon lives on, both through updated incarnations and, incredibly, the very same shorts that entertained our children's great grandparents. This month, the Brattle Theatre will unveil the 21st installment of its annual Bugs Bunny Film Festival, comprising three programs worth of favorites from the Warner Brothers archive. The event is a beloved staple of the theater's programming, regularly playing to packed houses of children and adults alike. So how is it that these six-minute cartoons hold up better than feature films made less than a decade ago?
The short answer is simple: They are really, really funny. The masterminds at Warner Brothers' animation unit (or Termite Terrace, as it was affectionately known) synthesized the best trends of early 20th century comedy — the wordplay of vaudeville, the physical comedy of silent film, the densely detailed landscapes of early comic strips — and boiled them to a concentrate. In many ways, animation is the ideal medium for the comic auteur: slapstick unbound by physics, staging not reliant on actors, locations and props no more expensive than ink.
But to take this limitless potential and squeeze it into a single reel requires a disciplined comic timing very close to science. Chuck Jones, who directed over 200 cartoons for the studio, would frequently accompany his storyboards with a musical staff: Every pratfall, explosion, and doubletake was meticulously plotted out to the beat. It is no coincidence that two of Jones' best-loved works, 1950's "The Rabbit of Seville" and 1957's "What's Opera, Doc," are set entirely to music, and a third, 1955's absurdist "One Froggy Evening," derives most of its comic beats from well-timed Tin Pan Alley favorites. All three, incidentally, are playing as part of the festival; to omit them would border on sacrilege.
In the age of talkies, even cartoons need at least one actor, and Termite Terrace had a great one on contract. While it's not quite true that Mel Blanc voiced all of the Looney Tunes characters — Arthur Q. Bryan played the definitive Elmer Fudd, and June Foray and Stan Freberg both contributed their share of support — the amount of distinct voices he did provide is legitimately breathtaking. And even when two characters sported similar vocal traits (such as the exaggerated lisp shared by both Daffy Duck and Sylvester the Cat), Blanc imbued each with enough personality to make them instantly recognizable. While his sobriquet "The Man of 1000 Voices" was well-earned, it doesn't entirely do justice to his talents as an actor, one who gave life to more iconic characters than nearly any in history.
Curiously, while much of the Looney Tunes' humor has proven timeless, many of the jokes are decidedly dated. Blanc was a master impressionist, after all, and working during the golden age of Hollywood and radio gave him a rich buffet of topical humor to work with. But unlike modern pop cultural parodies of the "Fill-In-The-Blank Movie" persuasion, Termite Terrace made these references funny enough in their own right that they have, in many cases, outlived their inspirations. At one point in "Daffy Duck Hunt" (included this year's "Daffy Duck and Friends" program), for example, Daffy turns to the audience and says, in a peculiar accent, "Duck hunters is da cwaaaaaziest peoples!" I have been saying that, or variations thereof, for most of my life, but had no idea until researching this article that I was impersonating a man named Lou Lehr, then well-known for his appearances on Fox Movietone News.
And because of Warner Brothers' massive impact on nearly all animation that has come since — and because of Blanc's incalculable influence on generations of voice actors — these incredibly specific pop cultural references have become modern archetypes. Gangsters will always talk like Edward G. Robinson. Creeps will always talk like Peter Lorre. Dumb guys will always talk like Lon Chaney Jr. as Lennie in "Of Mice and Men." Barring a massive sea change in voiceover culture, it is entirely plausible that the children of children who have yet to be born will be able to imitate these men before they can read.
Which brings us, perhaps, to the most crucial explanation for these cartoons' longevity. While the original Looney Tunes were by no means considered "adult" fare, neither were they intended strictly for children, and as such the animators felt no need to tone down the sophistication of their humor. The fact that they were consumed by children — and have been for more than three quarters of a century — has caused them to be hardwired into the psyches of generations of budding smartasses. For many, Bugs Bunny represents the very first glimpse of irreverence, of living by one's wits and talking back to authority and causing trouble for the sheer fun of it. Termite Terrace may have shuttered 50 years ago, but its spirit lives on in every comic raised on its offerings, from George Carlin and Richard Pryor to Stephen Colbert and Amy Schumer. American comedy is rooted in Bugs Bunny's carrot patch — and, thanks to programmers like those at the Brattle, new seeds are still being planted.
---
Oscar Goff is the film section editor for the Boston Compass and BostonHassle.com. You can read more of his work here.