Mick Jagger And Martin Scorsese — HBO's 'Vinyl' Rocks With Veracity And Grit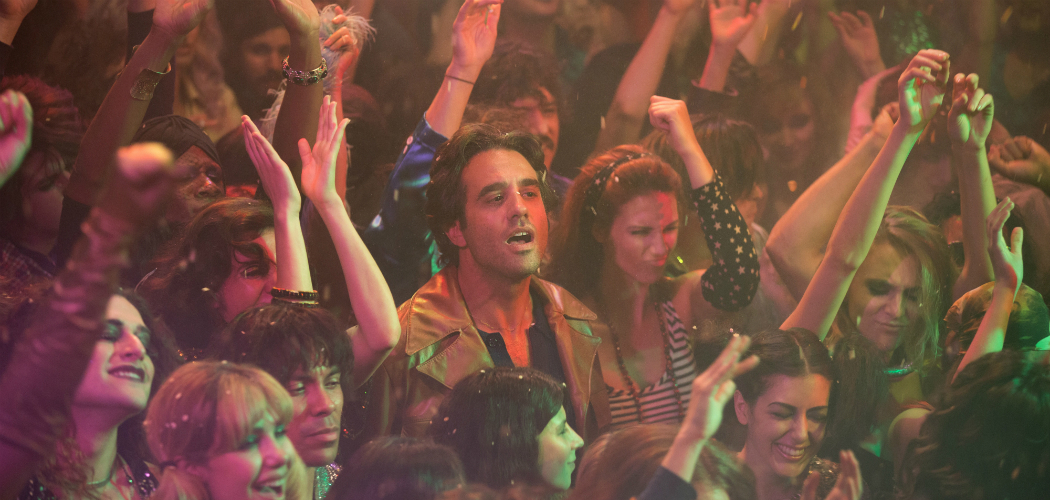 This article is more than 5 years old.
"Vinyl" — the Martin Scorsese-Mick Jagger-Terence Winter-helmed rock 'n' roll series on HBO — is not all fun and games. But there's a lot of fun watching the games being played — many of them nasty and nefarious maneuvers in the music business world — during the course of the two-hour, Scorsese-directed first episode. It airs Sunday, Feb. 14, with nine one-hour segments to follow.
The first thing any rock critic thinks when approaching cinematic rock is veracity: Does this seem real? Does it rock? (Most don't.)
The answer, quite simply, is that "Vinyl" rocks, right from the get-go. You can feel the texture, the visceral rawness. As it begins, the owner of American Century Records, Richie Finestra (played by the ever-excellent Bobby Cannavale), is sitting in his car in a bad part of town, in a dejected state. He wants to buy an eight ball of coke from a street dealer, but then curses fate and decides to up his purchase to a quarter-ounce. Fueled by Bolivian marching powder — as novelist Jay McInerney called it — he gets out and catches a whiff of something going on, something wild. He joins a flock of young people heading into the Mercer Arts Center.
It's 1973 and the toast of New York underground bands, the New York Dolls, are onstage ripping it up with "Personality Crisis." The frontman — singer David Johansen — is pouting, preening and pirouetting. My jaw dropped. Christian Peslak, as the young Johansen, could be his clone. He's that spot-on, and that provides viewers with trust that the series will get the music and the scene right.
It sounds like the Dolls' version — and it sort of is. Johansen is singing it. HBO confirmed that the actors portraying the Dolls were lip-syncing, but not to the original recording. The song for this scene was re-recorded for the series and it was this re-recorded version that the actors were lip-syncing to.
I'd wager that kind of realism will sustain itself in the live music segments. (If you see actors portraying members of a band, you'll hear the real band's recorded version — or re-recorded version — of the song.) Scorsese has the best sense of any director today for fusing rock music into the narrative, whether it's meant to be complementary or the primary focus. To say he's in his wheelhouse here would be an understatement.
Throughout "Vinyl," real bands mix with fictional bands. In the pilot, the pivotal fictional band Nasty Bits is fronted by Kip Stevens, played by Mick Jagger's son, James Jagger. In future episodes, actors will portray David Bowie, Lou Reed, Iggy Pop and Andy Warhol, among others.
On Sunday, you'll hear parts of hits like Led Zeppelin's "Whole Lotta Love," Mott the Hoople's "All the Way from Memphis" and Edgar Winter's "Frankenstein," but there will also be lots of era-defining music outside the mainstream. Most notably, there's a good chunk of Slade's "Mama Weer All Crazee Now," a foot-stomping U.K. glam-rock hit, but a non-starter in the U.S. It's a party-hearty rocker that's perfectly in sync with the show, conveying the frenzy of the biz, the bands, the fans and the times.
But in 1973, Nasty Bits might be on the road to ruin or might just be on the way up. They're a Stooges/Sex Pistols-ish band with a primitive style and an anti-American sneer. They create chaos in club-land — bottles are hurled at them, fights break out in the crowd, there's hostility and confrontation. Jagger is terrific as the disaffected punk who when asked his interests, can only come up with "fighting … f---ing … nothing." He tells this to Jamie Vine (Juno Temple) — a sexy assistant in the A&R department who's working her way up — in bed, post-coital.
HBO held a private screening for "Vinyl" at the Revere Hotel recently with J.C. MacKenzie — who plays American Century's head of sales, Skip Fontaine — and P.J. Byrne, who plays American Century lawyer Scott Levitt. "During the first read-through, I didn't know that was Jagger's son," MacKenzie said at the post-show party. "I thought, 'Wow, where'd they get that kid from, f---ing Britain? He's great!' "
The kernel of the idea for "Vinyl" came from Mick Jagger in the mid-1990s. He brought it to Scorsese and the two began collaborating, but nothing came to fruition. Winter was brought on in 2008 and it was then reconfigured as a long-form television series. Winter (and others) wrote the pilot in 2011. Filming began in New York during the summer of 2014. It's early, but it looks like "Vinyl," with its multiple characters, interwoven subplots and killer soundtrack, may hit the same level of success and longevity as the previous Scorsese-Winter collaboration — "Boardwalk Empire."
"Vinyl" is not just about music; it's about the business of music, the interlocking (or clashing) of art and commerce, which is to say, as AC/DC once sang, there are plenty of "dirty deeds done dirt cheap." The books are cooked, payola (or drugola) is doled out and careers (among other things) are crushed. There's a vibe of surface camaraderie, but an undercurrent of avarice: Everyone's main interest is clearly themselves.
As the story begins, we learn the times were heady for American Century Records in the late '60s and early '70s, but as mid-decade approaches, the future does not look bright. The company might be bought by PolyGram, a German-led conglomerate. This does not sit well with some of the American Century executives who hold anti-German attitudes as a result of WWII. (There's a darkly comic, awkward scene at a conference table, but I won't spoil any punchlines.)
At one point, Led Zeppelin's beastly, control freak manager Peter Grant creates a major ruckus — as he was known to do — when it appears Finestra and his company have screwed the band on royalty rates. (Led Zeppelin, of course, was with Atlantic Records.) Finestra, too, can go on quite a rampage, not unlike Leonardo DiCaprio in the Scorsese-Winter film "The Wolf of Wall Street."
There's a lot of unexpected and exacting damage done to people, objects and edifices. There's enough inside baseball and black humor to keep any fan enticed, the best example being Andrew Dice Clay's over-the-top, out-of-control romp as radio kingpin Frank "Buck" Rogers.
What we're seeing is exhilaration walking hand-in-hand with greed and degradation. The tie that seems to bind all of it (as Mick Jagger once sang in the Rolling Stones' "Sister Morphine") is "cousin cocaine." At the Boston party, Byrne said he was pretty sure he was snorting vitamin B on set; MacKenzie thought he was doing flour.
Last week, I spoke with Ben Liemer, who hit the New York club scene as a fan in 1974. He later worked at the trade magazine Record World, and in the '80s became managing editor at one of the top rock magazines of the day, Circus. He was also cast as an extra — a record executive — on "Vinyl."
"It's about time someone got it right," Liemer said of the rock terrain the show explores. "It's not that easy to capture. It felt so real I can't tell you."
One of Liemer's key takeaways: "Everyone on the outside sees these rock stars as decadent, wasted types. But to them, doing cocaine and getting drunk every day is just normal behavior. They don't make a big deal about sleeping with a different girl every night. This is just their lifestyle. They have a lot of relationships that lack depth."
Expect a lot of volatile conflict as those relationships play out over the next few months. "Vinyl" is No. 1 with a bullet.
On Friday, Feb. 12, Atlantic/Warner Bros. releases "Vinyl: Music from the HBO Series — Volume 1." A new digital EP will be released on subsequent Fridays, preceding the episode's airing. On April 15, they will release the second full-length volume.
---
Jim Sullivan is a former Boston Globe arts and music staff writer who pens the arts-events website jimsullivanink.com and contributes to various publications, TV and radio outlets. He hosts the monthly music/interview show "Boston Rock/Talk" on Xfinity On Demand. Find him on Twitter at @jimsullivanink.