With Brookline Dispensary, A Trial Opening For Medical Marijuana On Boston's Border
Resume
Under the teal dome of a former bank lobby, Ashley Cabana pulls the top off a plastic storage box labeled "Facewreck." Cabana rests the box on a glass counter and flaps the lid, sending the aroma of marijuana toward Sam Brown.
"Yeah," says Brown, breathing deeply. "Smells good."
Brown, 32, will inhale more than just the smell through a vaporizer, to relieve insomnia and anxiety. "I'm using it to treat lifelong issues that I've treated through psychotherapy and medication at various points," Brown says. "This is another avenue like that."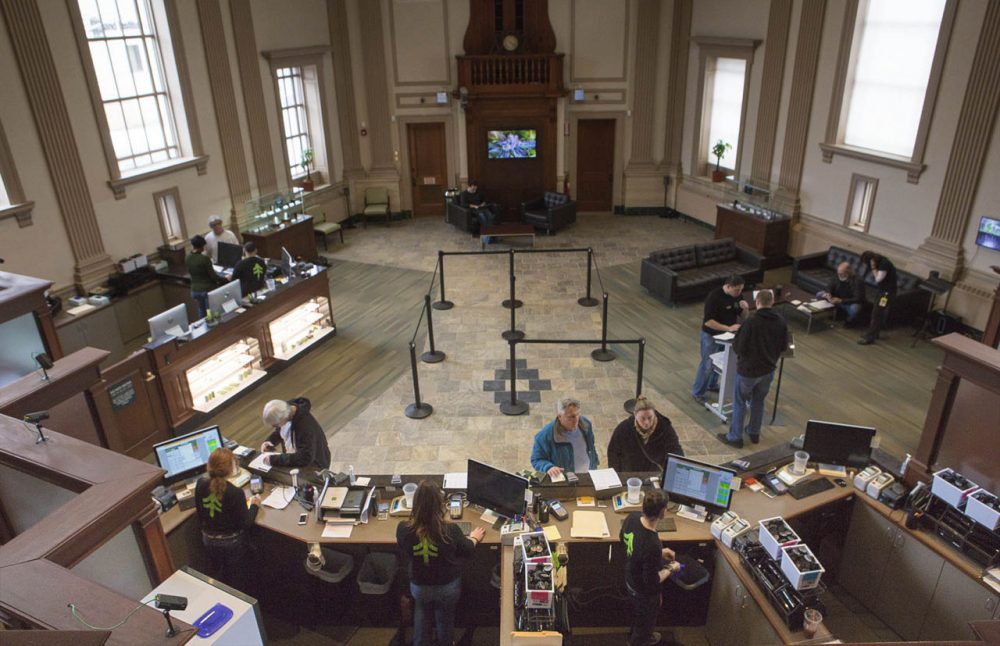 Brown is among the first wave of patients to shop at the New England Treatment Access (NETA) dispensary in Brookline. It's open by appointment only for two weeks, a condition set in agreement with the town, where the main concern is crowds. This dispensary, just 300 paces from Boston, is the first within easy reach of the city and could be overwhelmed by patients. Brookline Public Health Director Dr. Alan Balsam says he and the chief of police are monitoring the situation.
"If we do do away with appointments and the volume does become an issue, we reserve the right to ask them to reinstate appointments," Balsam said. "But I think once other dispensaries open in the Greater Boston area, the problem goes away."
NETA staff say they're confident they can manage an increased volume of patients while keeping up with demand. Some dispensaries that opened last year ran out of marijuana and had to close occasionally.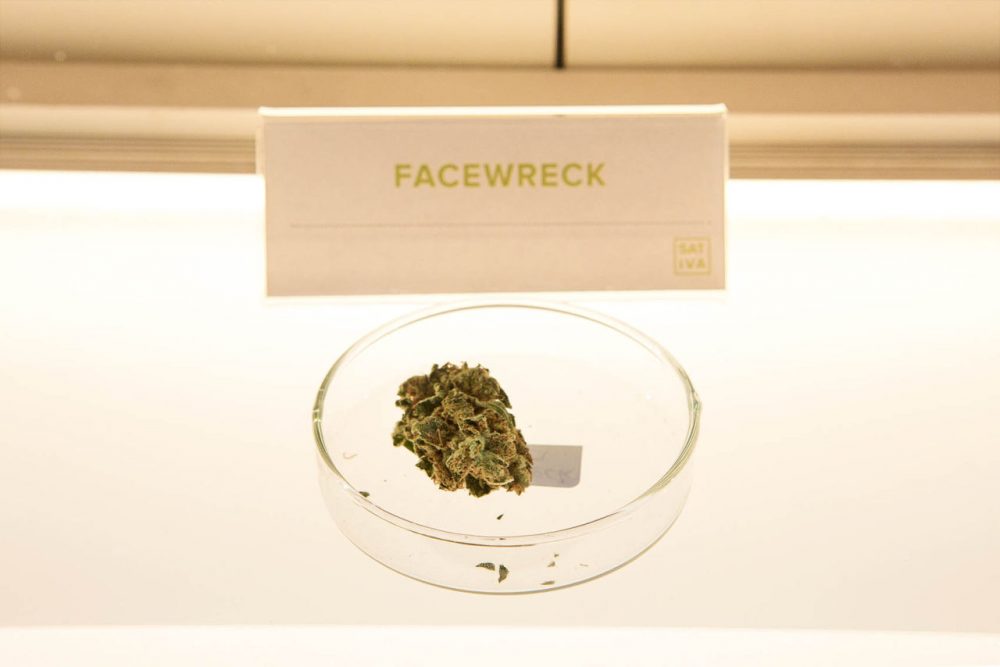 Brown chose Facewreck from a menu of eight varieties or strains of marijuana flower. The description for Facewreck says it "may be ideal for pain issues, energy and mood elevation." The menu lists the concentration of each cannabinoid or compound in all of the strains.
NETA plans to change the menu regularly, rotating between about 50 varieties it's growing or plans to grow at a warehouse in Franklin. If patients don't want the raw plant, there are pre-rolled joints, candy, tinctures or capsules.
There are no firm guidelines about which strain works for which ailments or how much to take. Many patients, like Brown, figure out what variety and dose works for them based on trial and error.
"I was self-medicating long before the medical option was legalized in Massachusetts," Brown says, "so I've come to realize what works for me over the course of time."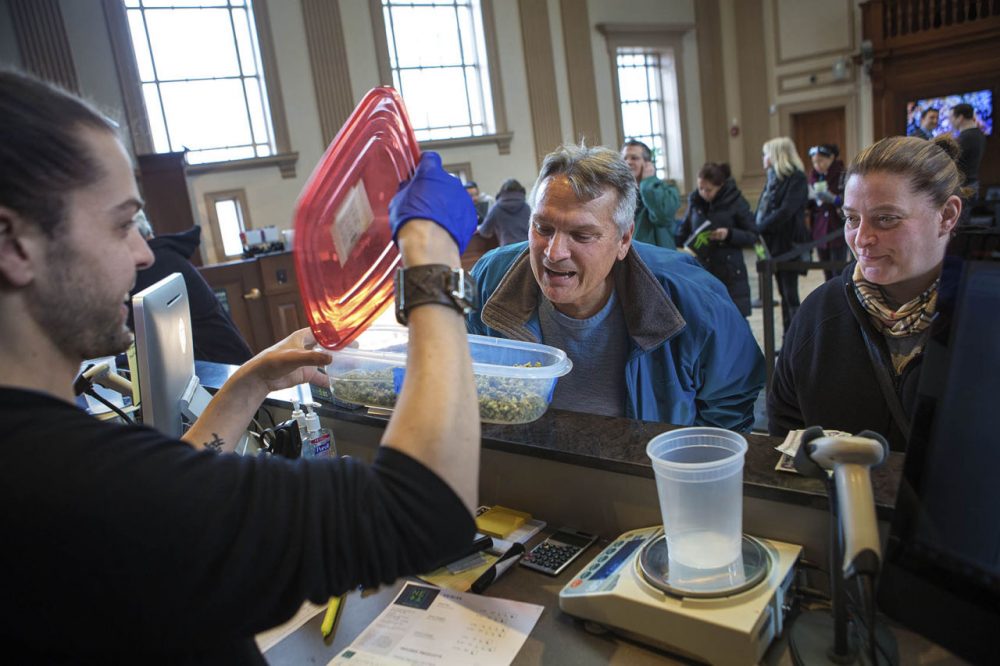 Other patients coming to the Brookline dispensary have used marijuana before, but maybe not for a specific medical purpose. The median age of patients is 47.
"We get a lot of people, the last time they tried this was in college many years ago," says Norton Arbelaez, a consultant for standards and practices at the dispensary. "So we really need to understand the baseline knowledge of the product and from there we go to method of delivery."
Salves, for example, might be effective for joint pain but not nausea.
At the counter, Brown watches Cabana drop handfuls of Facewreck onto a scale, then pour the half ounce of glittering bright green buds into a tamper-proof black plastic container.
"Can I get you any more flower today?" Cabana asks.
Brown is ready to pay and hands Cabana a credit card.
His total, $145, will be processed as a debit.
New England Treatment Access has a somewhat unusual pricing model. All varieties of marijuana flower are the same price every day. But Arbelaez says he can not talk about the dollar figures, except directly with patients.
"We can't publicize prices, that's part of the DPH rule," Arbelaez says.
Department of Public Health rules say dispensaries cannot advertise prices. There was concern, when the regulations were written, about the effect of publicizing dispensary prices. If dispensary prices were low, might patients be encouraged to sell the marijuana they bought legally, for a profit on the street?
A few dispensaries are pressing DPH to lift this restriction and some consumer groups may join the call.
"From a consumer's perspective, what's important is to know what the cost is ahead of time, to be able to budget the therapy, and not to be surprised once they're already present at a clinic to fill a prescription," said Health Care For All Director Amy Whitcomb Slemmer.
That pricing rule and some of standards for testing marijuana are in discussion as dozens more dispensaries move through the state application process. The state issued new testing protocols last week, but some dispensaries say they are still overly restrictive without improving safety for patients.
With NETA in Brookline and Patriot Care in Lowell, as of Feb. 16, there are now six medical marijuana dispensaries open in Massachusetts. And patient demand continues to climb.