Analysis: Massachusetts Independents Offer Hope To Moderate GOP Candidates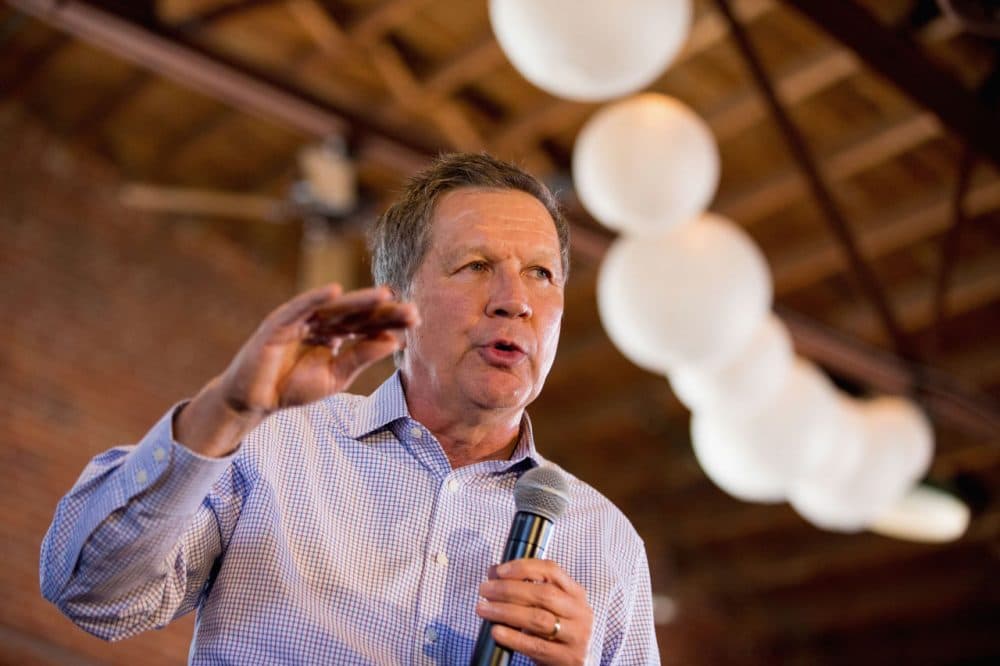 This article is more than 5 years old.
The Massachusetts Republican Party is the source of a lot of good-natured humor here. It's so small, at just 10.5 percent of registered voters, that GOP primaries are actually dominated by independents (called "unenrolled" in Massachusetts).
Unenrolled voters can vote in either party's primary in Massachusetts, just like New Hampshire. And at an impressive 53.4 percent of registered voters, these unenrolled voters can make a big difference in the outcome of primaries. In recent presidential primaries, nearly two-thirds of the voters on the GOP side were unenrolled. One effect of this was to make the Massachusetts electorate the least conservative of any state's primary in 2008, with 52 percent of voters identifying themselves as conservative.
This makes it a likely target for candidates counting on votes from the moderate wing of the Republican party. One of those candidates is Ohio Gov. John Kasich, who after finishing second in New Hampshire, announced that he won't even be in South Carolina for Saturday's voting. Instead, he is opting for a swing through Massachusetts and Vermont.
The two northern states may not seem like the logical place for a Republican candidate on the day South Carolinians are casting their ballots. But Kasich appears unlikely to do well in South Carolina, currently ranked in fifth place in poll averages. Head north, however, and there are states that appear on paper to offer him better prospects. This includes several (like Massachusetts and Vermont) that vote March 1, the same day as the poorly named "SEC primary." The southern states with Southeastern Conference colleges that vote that same day mostly offer little hope to Kasich, as they are dominated by more conservative and evangelical voters that have not been favorable to him. He may pick up a few delegates here and there, but is unlikely to do well overall.
Like South Carolina, these southern GOP contests will be dominated by conservatives and white evangelical voters. They are likely to be good states for Ted Cruz, who has done exceptionally well among these groups in both contests — Iowa and New Hampshire — so far. But as I have argued in the past, there is a risk of placing too much focus on the SEC states. They don't have a very good track record of choosing nominees. Mike Huckabee and Rick Santorum did well in these states in 2008 and 2012, respectively.
Sure, there is more cachet to winning Texas or Georgia than Vermont or Massachusetts in a Republican primary, but delegates are delegates, and moderates like Kasich or Jeb Bush stand a better chance of winning them up north than through the Deep South. Add the northern states together, and the delegate counts start to look real. Winning a handful of states that day could help one of these more moderate candidates working feverishly clear the "establishment lane" that New Hampshire voters left clogged.
There's also little need for candidates to reintroduce themselves to Massachusetts voters. Campaigns spent millions on ad buys in the Boston market to hit the towns right across the New Hampshire border. While polling here has been sparse, it is likely that many Massachusetts voters know more about the candidates than voters in a state like Michigan, where Kasich has also announced a major push.
All this is contingent, of course, on anyone beating Trump anywhere. As it stands, Trump leads nationally, in South Carolina, and most everywhere else that has been polled. The "lane theory" of the GOP race breaks down if the Trump campaign bus is jackknifed across the full width of the road, blocking anyone else's progress. If Trump wins through the South, Cruz loses much of the rationale for his candidacy; if Trump wins up north, the same for Kasich, Bush and possibly Marco Rubio. But if the lanes continue to exist, the establishment lane is clearly about to take a northern swing.
Steve Koczela is president of the MassINC Polling Group and a regular contributor to WBUR Politicker. He tweets @skoczela.