'Wong Kids' Take A Ride Through A Theatrical Fable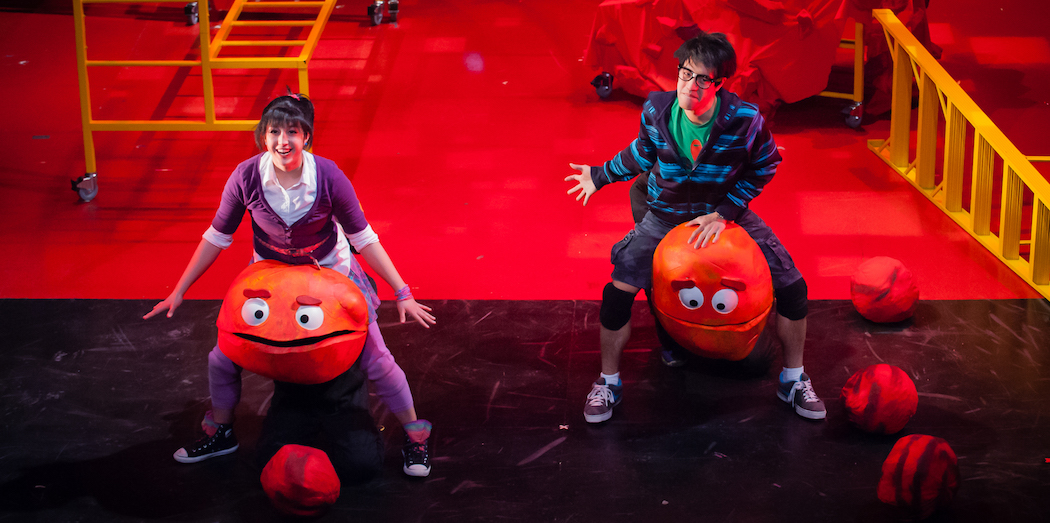 This article is more than 5 years old.
Glowing planets swirl through outer space, only to be gobbled by a huge creature with glowing red eyes. Look out, everyone! It's the Space Chupacabra!
The kid-friendly theatrical fable "The Wong Kids in the Secret of the Space Chupacabra Go!" is written by playwright Lloyd Suh, brought to the stage by the New York City-based Ma-Yi Theater Company and lured to Boston by ArtsEmerson. It's stuffed with music, puppetry, dance, a cadre of colorful villains and a pair of young heroes — namely, Bruce Wong (Alton Alburo) and his sister Violet (Sasha Diamond). The journey they take together is a quest to save the universe from the planet-gobbling monster, but they also take separate journeys to confront and defeat their own personal demons.
Bruce is a nerd, according to Violet; in a hyper-articulate monologue she lays out how his love for science fiction and fantasy is a way of retreating from social situations where he feels awkward and unsure. Violet knows all about this because she's facing the pressures and insecurities of impending adolescence. It's only when Bruce reminds her of the value of exercising her imagination that Violet discovers what Bruce has just found out: Both she and her brother possess the special talent of being able to make rocks levitate using the power of their minds.
This turns out to be good news, because purple lights in the sky herald the arrival of a terrifying menace. Scientists are stumped, but it just so happens that next-door neighbor Mr. Stinson (Matthew Gunn Park) and his friend Qweeguin (Jon Hoche) are a pair of extraterrestrial refugees who have fled a monster from outer space. All they really know about the monster is that it threatens their own planet and will soon be headed to Earth. The good news is that Bruce and Violet, with their special telekinetic powers, just might be the superheroes who can save the universe. All they require is a little training — how to breathe in outer space ("Without a helmet!" mind you) is one skill they need to learn. Another is how to teleport themselves from one planet to another by concentrating very hard.
Once they leave Earth, though, Bruce and Violet are on their own. They hear advice about the future from a Prognosticator (Park), run afoul of a hungry Bandersnatch (Hoche) and recruit the help of a terrifying dragon before facing their greatest challenge yet — a villain (George West Carruth) willing to destroy the galaxy out of a fear of "inclusion" and "diversity." Hello, 2016 elections.
All of this dovetails rather nicely with a subplot that finds Violet giving voice to her anxieties about bullies and the social pressures of the teenage years. For a time, Bruce and Violet are separated, and Violet has her own adventure in which she travels to "noplace" to confront "Nobody" (Kate Marley), a girl who turns out to be Violet's own risk-averse shadow self. Just as she critiqued her brother for withdrawing from the larger world, Violet realizes, she herself is on the verge of making the same mistake.
In style and message, "Wong Kids" is more than a little like watching a stage version of the old Sid and Marty Krofft TV shows; if H.R. Pufnstuf had come charging out of the wings, denizens of Lidsville had come swooping down in a fleet of flying derby hats, or Sigmund and his sea monster siblings had emerged from the floorboards (as a pair of helpful living boulders do), they would have fit right in. (The colorful, charming puppets are the work of David Valentine, and the equally whimsical lighting and sound design are by Paul Whitaker and Shane Rettig, respectively.)
But there's an even more familiar feel about this play: It has the pace and wild inventiveness of a long afternoon spent chasing around with a playmate, making up an adventurous narrative as you go. The play's borrowings from other works bolster the sense that this adventure is actually unfolding in a back yard on a summer's day. The Bandersnatch, a shout-out to the "Alice" stories by Lewis Carroll, is one overt example; you also get a pretty strong J.R.R. Tolkien vibe.
Director Ralph B. Peña never loses sight of the fact that the story takes place in young imaginations, which can be tumultuous places, fueled by the peculiar combination of innocence and observation. It is, after all, in fairy tales and games that children start to work out the complexities of the world and reconcile its dangers and disappointments with its happy-faced promises.
With its low-tech, high-energy execution, "Wong Kids" speaks to children in their own language, but the show will also give adults a nostalgic smile.
"The Wong Kids in the Secret of the Space Chupacabra Go!" continues through March 6.
---
Kilian Melloy has reviewed film and theater for a number of publications, including EDGE Boston and the Cambridge Chronicle. He is a member of the Boston Theater Critics Association and the Boston Online Film Critics Association.