Analysis: A Tight Race In Mass. Could Spell Trouble For Bernie Sanders
05:40
Play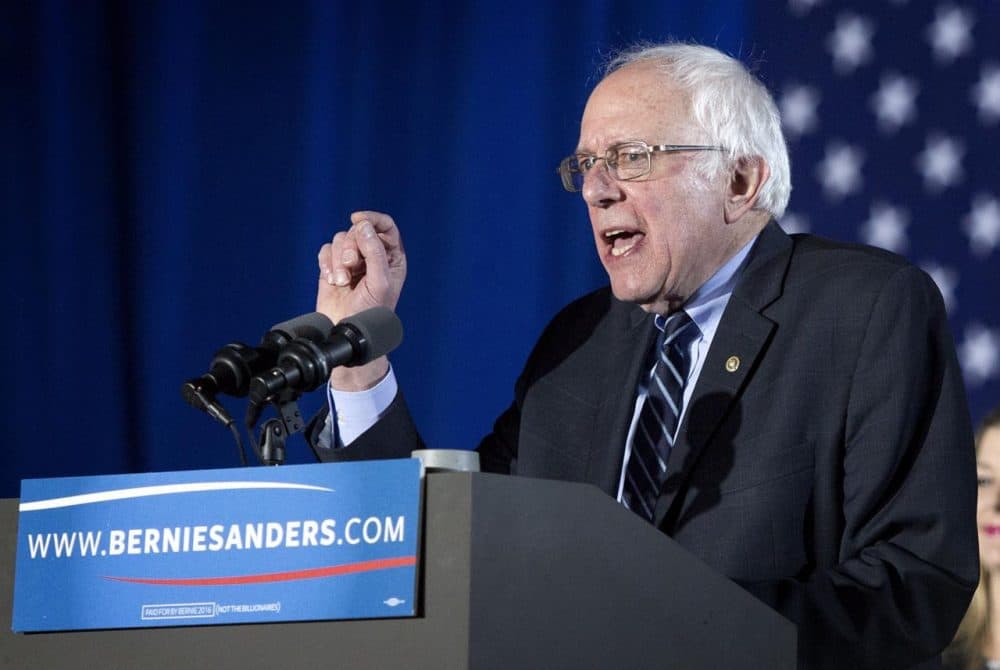 This article is more than 5 years old.
A new WBUR poll of the Massachusetts Democratic primary holds little favorable news for Bernie Sanders. It shows Hillary Clinton with a narrow edge: 49 percent to 44 percent. This is near the poll's margin of error, and another recent poll showed the race tied. But even if Sanders pulls out a difficult and narrow win in Massachusetts, it is not a good sign, and his climb to the nomination will become difficult indeed.
That's because Massachusetts should be among the best states for Sanders, apart from his home state of Vermont, where polls show him winning by a huge margin. In terms of demographics and ideology, Massachusetts resembles Iowa and New Hampshire, the two states where Sanders has done best so far.
So, if Massachusetts is an uphill battle for Bernie and his supporters, the other states voting next Tuesday are likely to be sheer cliffs.
Most Super Tuesday States Not Favorable Terrain For Sanders
Twelve states and American Samoa are set to head to the polls Tuesday, the first day of March. With more diverse and less liberal-leaning electorates, the other Super Tuesday states look more like Nevada and South Carolina than New Hampshire and Iowa. This will likely make it difficult for Sanders in these states, unless he can find a way to expand his appeal among more moderate and diverse voters. The polling reflects this difficulty, showing Sanders trailing by wide margins in all of the March 1 states with recent polling.
To be sure, Clinton has advantages in terms of endorsements and the political organization they can muster for her. But even in this blue state, a majority of voters are "unenrolled," or independents. That has been a strong group for Sanders so far. They will need to turn out big for him to beat Clinton here.
Sanders' Turnout Wave Has Yet To Materialize
Sanders has another problem: turnout. Throughout the campaign, Sanders has said that he is counting on high turnout in general and from young voters in particular to propel him to victory.
"I believe that our campaign up to now has shown that we can create an enormous amount of enthusiasm from working people, from young people, who will get involved in the political process and which will drive us to a very large voter turnout," Sanders said at the MSNBC Democratic debate this month.
But in the states that have voted thus far, neither has happened. It has been the Republicans, not the Democrats, that have been breaking turnout records in their contests so far. Democratic turnout has been lower than in 2008. Young voters' performance so far has been more mixed. But turnout, neither overall nor among Sanders' best demographics, has been hitting the kinds of numbers he seeks. If Sanders is going to win, he is going to need to count more on persuasion and less on the turnout tidal wave that has so far proven elusive.
Move To Dump Trump Could Stump Sanders
One final wild card comes from the page of The Boston Globe, which in a Tuesday editorial exhorted independent voters to choose Republican ballots and vote for Ohio Gov. John Kasich to try and blunt Trump's momentum. Like New Hampshire, Massachusetts has a semi-closed primary, in which voters not enrolled in either party can choose which party's ballot to pull at the polling place.
The catch for Sanders is that every unenrolled voter that votes for Kasich in the GOP primary is one less potential vote for him. The WBUR poll shows Sanders performing much better among these voters in Massachusetts than among Democrats, a trend that has held in other states this cycle. Sanders wants as many independents as possible to vote Democrat, which would give him the best hope of edging Clinton. Clinton, on the other hand, would benefit from a primary more dominated by Democratic partisans.
If independents heed the Globe's advice and choose to vote in the GOP primary against Trump, Sanders could end up being the biggest loser. And if he can't carry Massachusetts comfortably, the road ahead gets a whole lot steeper.
Correction: An earlier version of this story said 11 states vote on Super Tuesday. It's 12, plus American Samoa. We regret the error. 
Steve Koczela is president and Rich Parr is research director of the MassINC Polling Group. They are regular contributors to WBUR Politicker. Steve Koczela tweets at @skoczela. Rich Parr tweets at @richparr79. 
This article was originally published on February 26, 2016.
This segment aired on February 26, 2016.