Photos: What Issue Are You Voting For This Election?
This article is more than 7 years old.
Massachusetts voters (along with voters in 11 other states) head to the polls Tuesday to choose nominees for president. Our recent poll shows Donald Trump with a strong lead here on the GOP side, and Hillary Clinton with an edge on Bernie Sanders among Democrats.
But voters aren't just voting for a candidate, they're also voting for the issues that are important to them. So ahead of Super Tuesday, our photographers headed out to a few locations to ask people what issues they're voting for in this election -- or why they're not voting.
---

Helen Roy, of Ashland, worries about security and gun violence. "You are afraid, scared for your life," she says. "People have the right to carry their gun legally, but they can go attack people. If there could be a way to control how people buy guns ... guns can be sold like candy."
---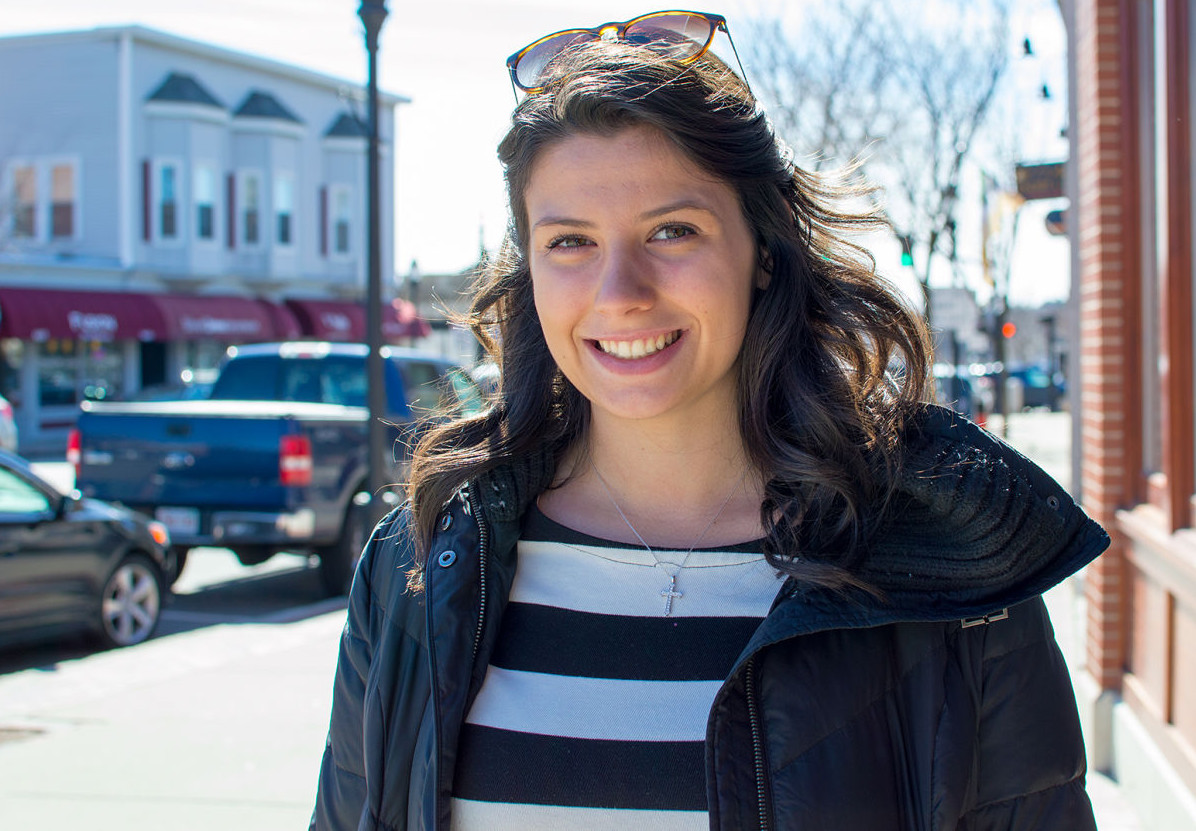 Rachael Simelaris, 18, of North Reading, is planning on voting for Marco Rubio. "He has strong opinions on family life, and I agree with his views on Common Core and abortion," she says.
---
Michael Graham, of Dracut, is a retired military veteran. His biggest concern in this election is "giving veterans their money for their disabilities. The government said they would always take care of veterans, and it's not happening."
---

"When you're poor and you're on the bottom, politicians don't care about us. They don't look at the under-class, they look at the higher-class. When do you see Asians, African-Americans, Hispanics in power?" asks 25-year-old Louis Davilla, right, of Lowell.
---

John Hugo, 36, of Newburyport, is a small business owner. His biggest issue in this election is health care. Hugo refers to the Affordable Care Act as the "affordable premium act." "The premiums are affordable and the health care is outrageous," he says. (Hadley Green for WBUR)
---

"The government needs to support poor people," says Makara Yeang, 36, of Lowell.
---

"We need to start bringing manufacturing back to this country and take care of people in this country. Legal people before illegal. I agree with Trump on the borders," says Arthur Cianelli, 63, of Methuen.
---

Evelyn Tilney, of Cambridge, says social justice issues are the most important to her. "For me it's complicated. I don't want to immediately just go for Bernie because it seems like the popular thing for millennials to do right now. He seems like a really honest guy, but I think a president needs to be able to get their hands a little bit dirty."
---

In this election, Dave Wentzell, 54, of Dracut, just hopes "that Donald Trump doesn't get in."
---

Wayne Forman, who grew up in Lowell, says he doesn't believe in voting. "Politicians always give you false hope, but they never deliver. That's why I don't bother."
---

Greg Hadden, 37, of North Reading, stands with his daughter Hailey, 3. He hopes to see changes in the immigration process. "The whole system needs to be improved and the legislation revised."
---

"I'm disabled," says Ruth Anne Rastellini, 63, of Lowell. "Since Obama has been in office, food prices have gone up, but the money [Rastellini receives] for being on disability has not changed."
---

Amy Russell, left, of Andover says "the threat of ISIS" is her biggest issue in this election. Joe Russell, right, says he is most concerned about the heroin epidemic and "drugs that are coming in through the border."
---

Alshane Williams was born in Jamaica and grew up in Cambridge. He is voting for Bernie Sanders. The most important issue for him is "tearing down the banking system."
This article was originally published on February 27, 2016.