Story Of Cocoanut Grove's Deadly 'Inferno' Brought To The Stage
This article is more than 7 years old.
A married couple (played by Steve Auger and Holly Schaff) reflect on how they were late getting to Boston's famed Cocoanut Grove nightclub on the night of Nov. 28, 1942, and weren't seated at the table they preferred. That minor misfortune turned out to be a lifesaving twist of fate.
A young tap-dancer named Marshal Cole (Billy Jenkins) is thrilled that he's been hired for his first professional gig — but his engagement is fated to be short-lived. A young woman named Louise Bouvier (Donna Marie Knight), evidently from a wealthy family, excitedly details her outing with friends and shares her outlook on life. She's always ready for an adventure and though she'd be happy enough to get married to the right man, she can't stand the thought of a stick-in-the-mud husband, which is how she views her own father. Later on, she gains an appreciation for the sort of man who, like her father, is steady and devoted, if a little boring.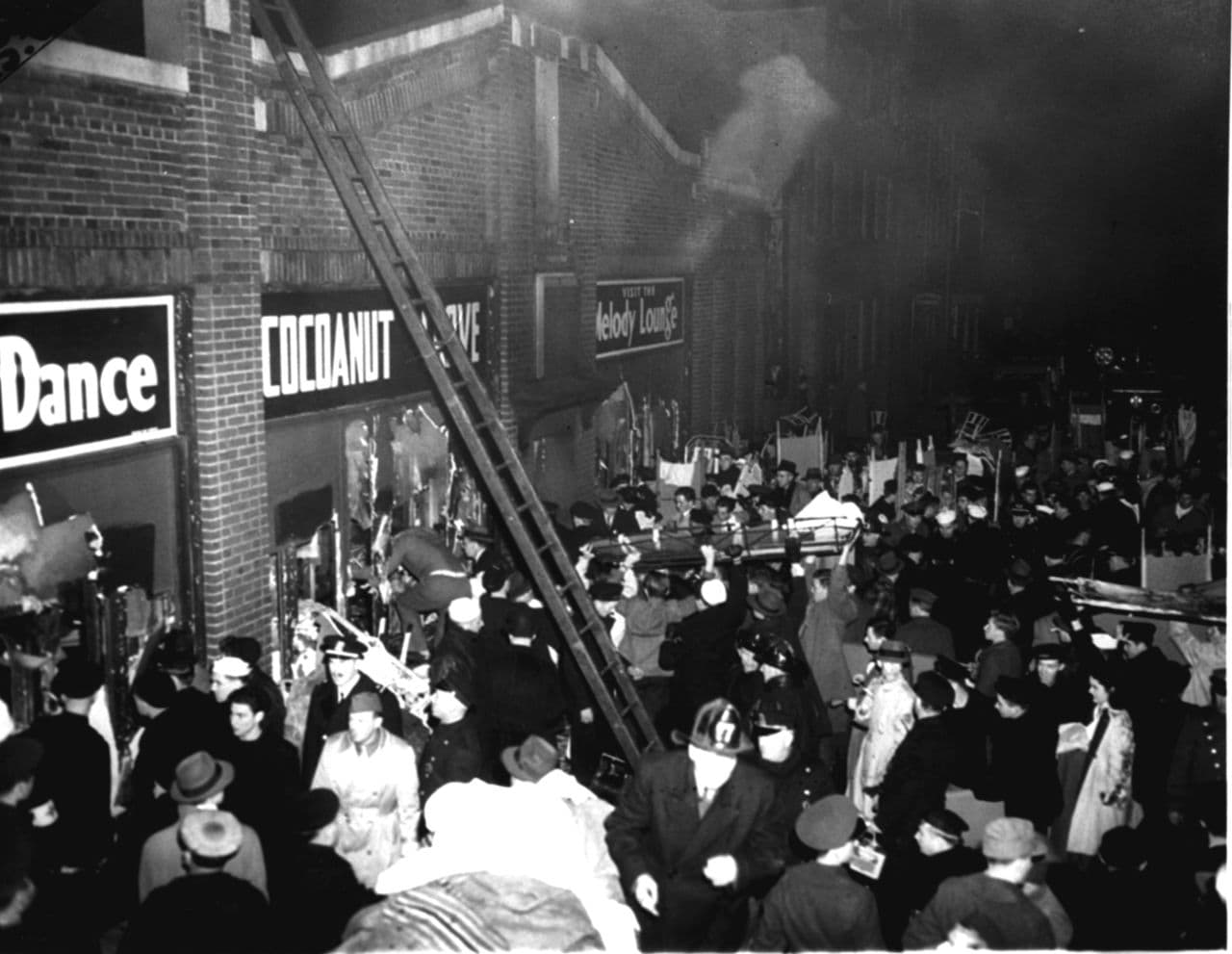 About 20 characters share their stories in monologues that are, in equal measure, personal, poetic, descriptive and documentary in the Core Theatre's production of "Inferno! Fire at the Cocoanut Grove: 1942," playing at the Boston Center of the Arts through April 3. Among them is the teenaged bus boy, Stanley (Owen Burke), who was pegged — perhaps unfairly — as the culprit who accidentally touched off the fire when he lit a match in a dark corner.
Dressed authentically in period wardrobe (Jeulet Noyes captures the styles of the era), the actors in this production are convincing, even if the manner of presentation is overtly artificial. This is not a stage version of the formulaic disaster movie; it might be a stretch even to say this play is a dramatization of the tragic events that unfolded that night.
That's not to say there is no drama, but it's diffuse and slow to build. The play's pacing is languid, there's little sense of place and no overriding sense of urgency. Rather than the crackle and heat of the flames, we get the stirring of history's cold ashes. That allows for a sense of the spectral and the melancholy, which permeates the production; also, the monologues are compelling, and there are moments of shock, horror and even humor. But seldom is there a sense of a story developing in real time. This show is like a séance, the voices of people from long ago recalled for us in the here and now.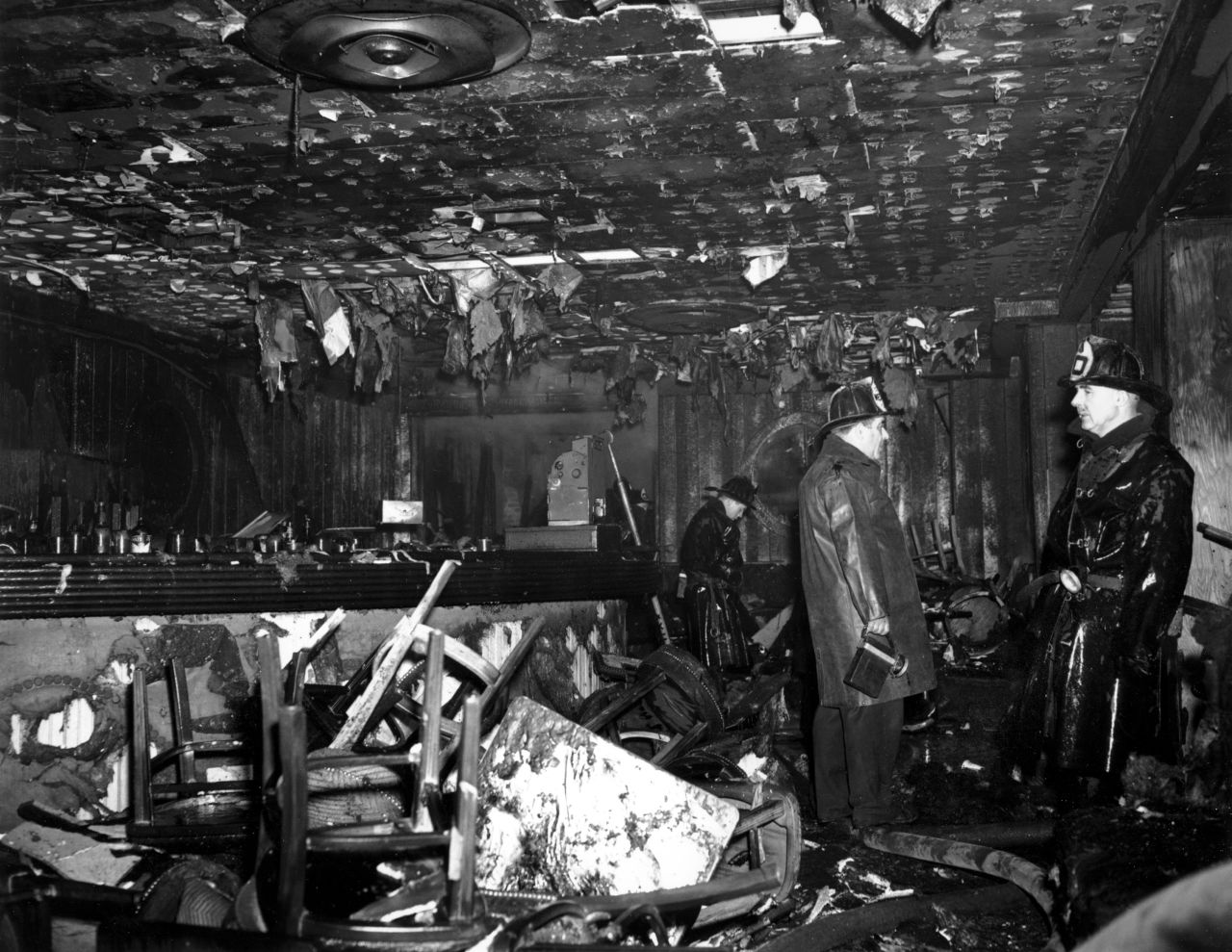 A handful of scenes are presented in a more familiar theatrical manner, with characters interacting in specific settings and engaging in dialogue. Several of these scenes have a fictional character, a woman reporter named Margaret Wilson (Eva Bilick), meeting with Cocoanut Grove owner Barney Welanski (Alexander Stravinski) before and after the fire. Before the tragedy, Barney also meets with a fire marshal, Lt. Linney (also played by Auger), who more or less rubber-stamps the club on fire safety requirements. Afterward, Barney meets with Mayor Maurice J. Tobin (John C. Hogwood), who makes it clear that Barney is going to need to act as fall guy to appease an angry city. His conscience tormenting him, Barney agrees, going to jail for four years.
Margaret also meets with Linney, though in her case it's after the blaze and she confronts him with a litany of the club's code violations. There's almost a procedural vibe about these scenes, but blame is never definitively assigned — nor can it be. As we're told by one of the ghostly narrators, the catastrophe implicates far too many of the city's political and business leaders. To investigate or prosecute too zealously would be to bring down Boston's entire good old boy network.
Instead, a slew of other meaningful results sprang from the scorched ruins, including revamped regulations and some early data about a newly defined condition called post-traumatic stress disorder, which survivors of the fire shared with American servicemembers returning home from the horrors of World War II.
One might have expected this slice of Bostonian lore to be brought to the stage by a local company, but the Core Theatre hails from Richardson, Texas, where the play premiered 72 years to the day after the fire. Writer/director James Hansen Prince details the play's origins in the program, telling readers about how a man named Jimmie, a 21-year-old Harvard medical student and a member of Hansen's wife's family, was among the 492 people killed at the Cocoanut Grove. (Hundreds more were injured.)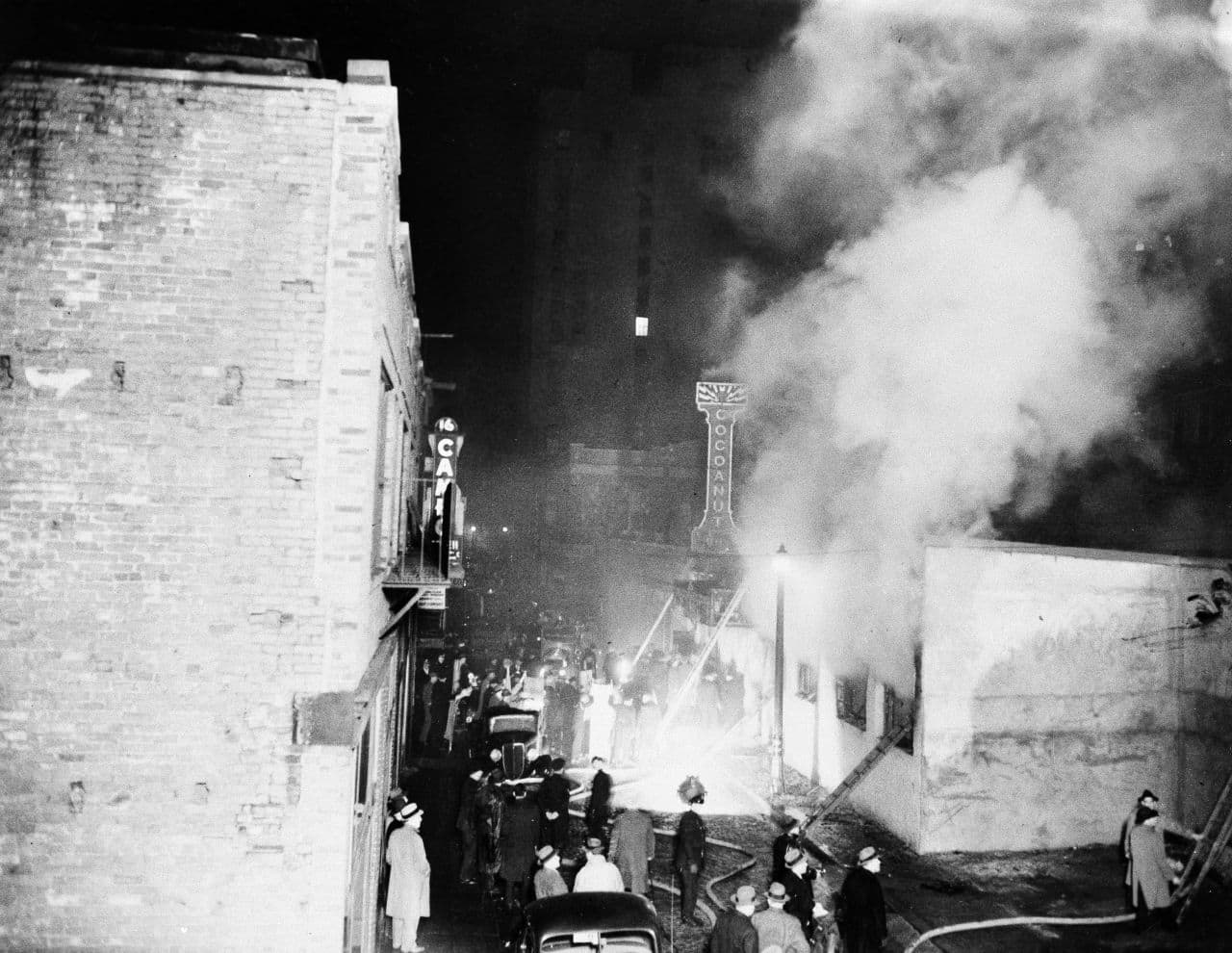 Prince relates how he promised Jimmie's elder sister that "someday I would write Jimmie's story." He made good on that promise in 2014, when the sister, called GranMary by family members, was 103. Bringing "Inferno!" to Boston is only fitting, and the BCA — as Prince noted to the audience in his pre-show remarks on opening night — welcomed the play, in which local actors were cast.
But the story of the Cocoanut Grove fire doesn't just belong to Boston.
As an epilogue reminds us, the deadly fire at the Station nightclub in West Warwick, Rhode Island, in 2003 proved once again that chance and care are all that separate a night's happy revelry from an overwhelming tragedy.
---
Kilian Melloy has reviewed film and theater for a number of publications, including EDGE Boston and the Cambridge Chronicle. He is a member of the Boston Theater Critics Association and the Boston Online Film Critics Association.