Officials Identify 2 Killed When Car Crashed Into Newton Restaurant
This article is more than 5 years old.
Authorities have released the names of the two people who were killed Tuesday night when a car crashed through a Newton restaurant.
According to a statement from the Middlesex district attorney's office, Gregory Morin, 32, of Newton, and Eleanor Miele, 57, of Watertown, were killed in the Tuesday evening crash.
Morin and Miele, both customers, were inside Sweet Tomatoes Pizza at 1275 Washington St. in Newton when the car barreled into the storefront shortly after 6 p.m.
Officials say the Volkswagen SUV was traveling down Chestnut Street when it crossed over Washington Street and collided with the front of the restaurant.
The DA's office has only identified the driver as a 55-year-old male from Newton. The man was injured in the crash and is in the hospital, the statement said. While no charges have been filed, the man's license was revoked.
Seven other people were injured in the crash, three of them seriously. Four were employees — a 19-year-old female from Marshfield, a 27-year-old female from Waltham, a 34-year-old male from Dedham, and a 32-year-old male from Dedham. The three injured customers included a 44-year-old male from Newton, a 35-year-old female from Newton and a 30-year-old male from Brockton.
The DA's office said at least three victims have been treated and released from the hospital.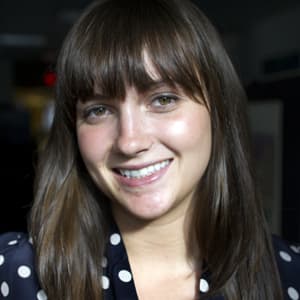 Abby Elizabeth Conway Digital Producer/Editor
Abby Elizabeth Conway was formerly a digital producer and editor at WBUR.