Where To Go Maple Sugaring Around Boston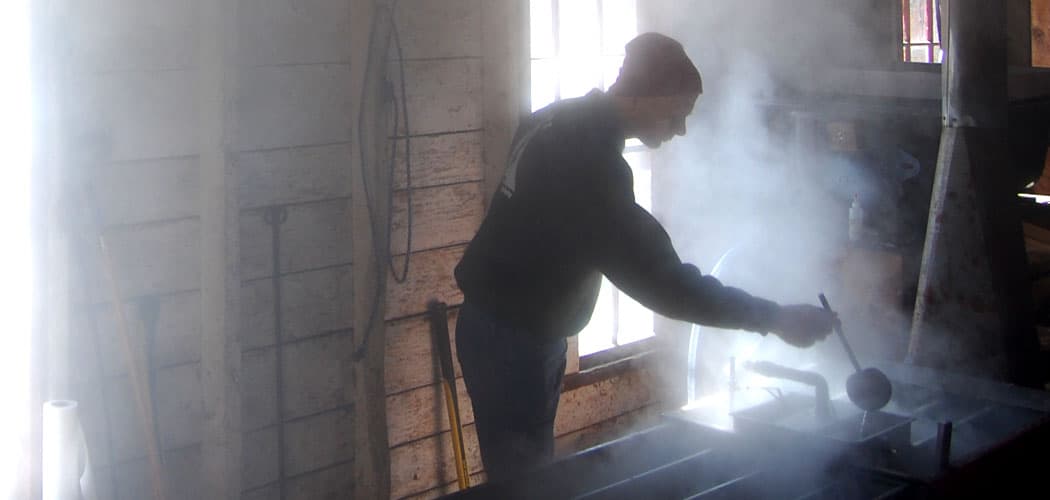 This article is more than 6 years old.
One of the great harbingers of spring in New England is maple sugaring. Below is our guide to sites around Boston where you can see trees tapped and visit steamy sugar shacks where sap is boiled down to rich amber sweetness. Events are listed in alphabetical order, by town. Note: These tours fill up, so advance registration is highly recommended.
---

IPSWICH
Appleton Farms
| 219 County Rd., Ipswich | 3 to 5 p.m. March 12 and 13 | $75
The March 12 "Sugar Shack Saturdays" at this Trustees property is sold out, but you may still be able to get a spot in the March 12 or 13 "From the Sugar Shack: Maple Culinary Class and Sugaring Tour." The one-afternoon class begins with a walk around the farm to see how sap is harvested and then boiled down to syrup. Chef Carolyn Grieco teaches how to prepare maple cornbread with whipped maple-walnut butter, candied maple and black pepper bacon, and maple-apple dumplings in the farm kitchen. Then sample maple dishes.
---

LINCOLN
Drumlin Farm Wildlife Sanctuary | 208 South Great Rd., Lincoln | 9 a.m. to 1 p.m. March 12 and 13 | $15
The "Sap-to-Syrup Farmer's Breakfast" at this Mass Audubon property offers a chance to see how sap is collected from maple trees, to learn about Native American sap-to-syrup techniques, and then eat a pancake breakfast with Vermont maple syrup. Seatings every 30 minutes. Register in advance.
---

MILTON
Blue Hills Reservation | Hillside Street, Milton | 10 a.m. to 4 p.m. March 19 and 20 | $6, younger than age 3 free.
Mass Audubon and the Massachusetts Department of Conservation and Recreation offer this "Maple Sugar Days Festival." Shuttle buses leave from the Houghton's Pond parking lot every 10 minutes to take visitors to Brookwood Farm in Canton. There take self-guided tours to learn about the history of maple sugaring and see sap boiled down into syrup. The event also offers games for children and a chance to watch artisans make historic crafts.
---

SHARON
Moose Hill Wildlife Sanctuary | 293 Moose Hill Parkway, Sharon | Tours every 15 minutes from 11 a.m. to 3 p.m. March 13, 19 and 20 | $9 in advance, $11 day of the event, children younger than 3 free.
The "Maple Sugaring Festival" at this Mass Audubon property offers 90 minute guided tours explaining the history of maple sugaring, complete with costumed reenactors making syrup at the "Native American and colonial site." Also see sap boiled down into syrup in a sugar shack, then get a taste. Registration is "highly recommended," as the program fills up.
---
SOMERVILLE
Groundwork Somerville | 22 Vinal Ave., Somerville | 10 a.m. to 2 p.m. March 12 | Free
At this "Maple Syrup Boil Down Festival," see sap from local sugar maple trees boiled into syrup. Plus syrup tasting, activities for kids and demonstrations. Waffles and hot drinks will be available for sale.
---
SOUTHBOROUGH
Chestnut Hill Farm | 9-99 Chestnut Hill Road, Southborough | noon to 3 p.m. April 2 | $20 per family
"Maple Syrup Day" at this Trustees property offers a chance to hike, see demonstrations, and sip sap.
---

TOPSFIELD
Ipswich River Wildlife Sanctuary | 87 Perkins Row, Topsfield | Tours at 10:30 a.m., 12:30 p.m., and 2:30 p.m. March 12 and 13 | $10 adults, $8 children, children younger than age 3 free.
Naturalists lead maple-sugaring tours showing how to identify sugar maples, tap trees, and collect sap at this Mass Audubon property. Then watch sap being boiled down in a sugarhouse and taste the final syrup. Advance registration required.