The Lives Of Artists On TV — From 'Flesh And Bone' To 'Mozart In The Jungle'
The plots of story ballets tend to be as byzantine and threatening as the legends and fairy tales that inspired them. Innocent girls are treated badly by mean guys. Sometimes they're rescued; often they're not. In movies, the lives of ballet dancers have long been portrayed in the same melodramatic terms — from "The Red Shoes" in 1948 to the "Black Swan" in 2010.
So when an eight-episode TV series about a ballet company is entitled "Flesh and Bone" (as opposed to, say, "Tutus and Sugarplums"), you have a clue that sweat and blood will splatter center stage. With a firm grip on the barre, you're ready for grueling rehearsals, oozing blisters and bulimia. But those just decorate the entry hall of this dark and creepy casa. Physical and emotional abuse are the wallpaper in a horror house of insanity, murder, incest, sex slavery and the best pole-dancing since "The Sopranos."
This Starz series premiered in the final weeks of 2015 and is now available On Demand.
You can appreciate "Flesh and Bone" for the gritty soft-porn melodrama that it is, and at the same time wish it were something else entirely: a ballet version of two earlier TV series about dedicated artists' lives. First came "Slings & Arrows," (DVDs on Amazon, 2003 to 2006) set in a Canadian Shakespeare festival, and then, the enchanting 2014-'15 "Mozart in the Jungle," an Amazon Original series about a fictional New York City orchestra.
These excellent series are witty celebrations of a satisfying creative life in theater and classical music.
"Flesh and Bone" is not of this ilk. Its characters are desperate and wounded. The ballet company is a prison, like "Orange is the New Black" without the laughs, companionship, and humdrum cafeteria food. When a ballerina chows down on a gourmet meal she may be asked to pay for it with sexual favors.
That said, there are unmistakable parallels running through each series. "Slings & Arrows," "Mozart in the Jungle," and "Flesh and Bone" all feature a charismatic, kooky artistic director who's haunted by a more or less well-meaning ghost-mentor. But in "Flesh and Bone" the gravestone of the departed collaborator/lover is pelted with raw eggs and serenaded by screaming "f--- you!" hysteria.
The categories assigned each series in Wikipedia are in themselves instructive: "Slings" is called a "darkly comic series"; "Mozart" is a "dramedy"; and "Flesh" is a "drama television miniseries" which I first read (more accurately) as "drama television miseries."
Most critics reveled in the "Mozart" jungle, and it won a 2015 Golden Globe for Best Television Series. Part of the joy is in the music that infuses each episode, played by professional Los Angeles-based musicians. More luminosity comes from the fine cast (led by Lola Kirk and Gael García Bernal, and featuring Bernadette Peters and Malcolm McDowell) and guests including Emanuel Ax and Joshua Bell. Add in the sheer madness of episode plots and it's a recipe for euphoria.
Inspired by the 2005 book "Mozart in the Jungle: Sex, Drugs, and Classical Music," (Atlantic Monthly Press) by oboist Blair Tindall, "Mozart"s jungle is the classical music world of New York City. (Tindall was married to Bill Nye for seven weeks before he ditched and filed for a restraining order, suggesting there are, perhaps, colorful life stories outside her musical purview.) The young-oboist-from-North-Carolina heroine stumbles through high and low adventures in New York, lucking into a gig with a major orchestra. That's the backdrop for episodes replete with laughter (the superstar maestro Rodrigo is Gustavo Dudamel on uppers with vapors), disaster (our heroine is hired, sabotaged and fired) and healing joy in the dedication of the players and the beauty of the music.
So much for the classical music series. What about the one on dance? Well, screw up your courage, peek into in the "Flesh and Bone" fictional American Ballet Company, and watch the heroine Claire Robbins (Sarah Hay, who in real life dances with a German ballet troupe). Claire wrenches a pulpy toenail off her big toe (a nauseatingly common ballet injury) and pounds the damaged toe when she's frustrated; that is, when she's not actually cutting herself. This is just the daily baseline level of her anguish.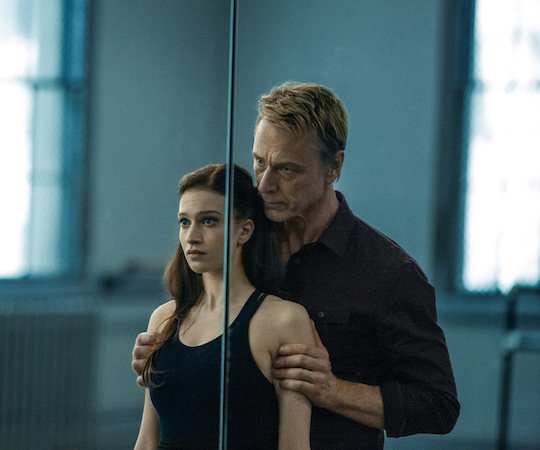 Claire's self-mutilation comes naturally: home is a bleak row-house in Pittsburgh, where her drunken, crippled father (she never knew her mother) has beaten and broken her brother Bryan (Josh Helman), fashioning family life on the habits of Marquis de Sade. Spoiler Alert! Brother and sister become way too close, and their baby is born to Claire while Bryan is sent off to join the Marines and fight in Afghanistan. The siblings are walking/dancing poster kids for PTSD. Claire runs away to New York City, and in a dazzling studio rehearsal moment, becomes the darling of the American Ballet Company, where instead of relief she experiences a whole new level of punishment.
The company's snaky artistic director Paul Grayson (Ben Daniels) kills baby birds by flicking them off a windowsill. He ridicules and overworks his dancers, and tries to pimp Claire out to the company's benefactor. Grayson also kicks out dancers with Trump-esque flair — "You're fired!" — underlining the fictional nature of this series, where no contracts and unions exist.
Perhaps the most upbeat character, the aging prima ballerina (Irina Dvorovenko, in real life a former principal dancer at American Ballet Theatre) complains about "the bloodthirsty bitches half my age." We know it's a true observation, if only by one young dancer's foot tattoo: "take no prisoners." But we see evidence of viciousness everywhere — especially in the dancers' dressing room, where Claire plays Cinderella to a bevy of bad stepsisters. A low point comes before a performance when she finds glass shards stuffed into her toe-shoe.
The creator of "Flesh and Bone" Moira Walley-Beckett, spoke of her own dance background in an interview during production of the series and commented on the brutal, depressing story, "It's a very twisted, emotional show." Widely celebrated for her writing on the AMC drama "Breaking Bad," Walley-Beckett tells an engrossing if hyper-sexed and merciless tale. She doesn't claim to be depicting the real ballet world — it's just a convenient canvas.
The bedrock of the three series about performers — "Slings & Arrows," "Mozart in the Jungle" and "Flesh and Bone" — is the talent, devotion and pure hard work of committed artists, and the bohemian lifestyle that defines their worlds. In the theater and music series, it's a vivid and colorful place to be. In "Flesh and Bone" it's a hellhole. So if you choose to be happy, you know where to go. And if you're into grief and debasement, you've got your vehicle.
---
Sharon Basco is a journalist, critic and public radio producer.