Analysis: Republican Delegate Rules Mean Trump Could Still Lose Mass.
This article is more than 6 years old.
The Republican presidential nominating contest may well be settled before it hits convention time in Cleveland. Despite losing winner-take-all Ohio on Tuesday, it is still mathematically possible for Donald Trump to capture a majority of delegates, eliminating the potential drama of a contested convention. The party may also yet find a way to rally around a nominee, preferring to settle on a less-favored candidate rather than enduring an ugly fight that hobbles the party heading into November.
But if no deal is made, and if Trump is short of a majority heading into the convention, things get really interesting. If no candidate wins a majority on the first ballot at the convention, many delegates are released from their obligation to vote the will of their respective states' voters. That means who those delegates are — and who has had a hand in choosing them -- could decide the nominee. Here in Massachusetts, the process of choosing the state's 42 delegates and allocating them to a candidate is convoluted to say the least, and leaves a lot of room for maneuvering.
Even though Massachusetts voters went to the polls earlier this month, the 42 actual delegates who will be flying to Cleveland in July have not been selected. And the final delegates' connections to the candidate they are sent to support may be tenuous or nonexistent, according to GOP delegate selection rules posted Friday. This leaves plenty of uncertainty as to what they'd do on later ballots, and means campaigns would be well served to focus on electing a slate of delegates friendly to their campaign.
To this end, 27 of the 42 Massachusetts delegates will be chosen through caucuses held across the state in late April. Another 12 will be chosen by the Republican State Committee in late May. The remaining three slots are reserved for party officials. Anyone registered as a Republican in Massachusetts as of mid-February is eligible to be chosen as a delegate.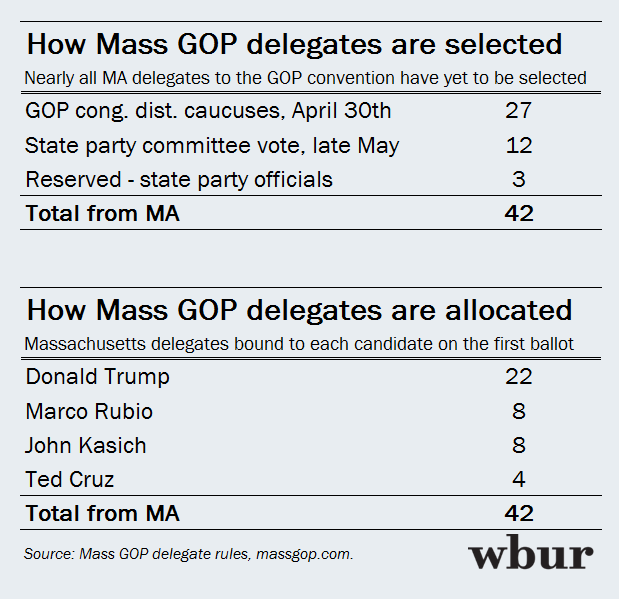 First: The Caucuses
The first round of selections happens on April 30, when nine Republican caucuses convene across the state, one in each congressional district. Unlike the Republican primary, which was open to unenrolled voters (i.e. "independents"), these caucuses are for registered Republicans only. Each caucus will choose three delegates, and each of these delegates will be pledged to vote for a specific candidate on the first ballot.
Beyond that pledge, however, there is no requirement that a delegate be loyal to a given candidate beyond that first ballot. That means that a John Kasich supporter could be elected as a "pledged" delegate for Trump, or vice versa. Though most voters are likely unaware we even have a caucus here in Massachusetts, the caucus may turn out to be as important or more important than the primary.
Though most voters are likely unaware we even have a caucus here in Massachusetts, the caucus may turn out to be as important or more important than the primary.
A savvy campaign would see this as an opportunity to secure a potentially major swing in delegates on the second ballot and beyond. If the caucuses were to elect supporters of Kasich or Ted Cruz, there could be a major shift in support after the first ballot.
If Trump wants to ensure that delegates pledged to him stay with him beyond the first ballot, he may need to organize for these caucuses, ensuring that delegate candidates and voters loyal to him show up and get elected. The problem for Trump is that his campaign has not shown much organizing prowess when it comes to caucuses. It's worth watching whether his campaign shows the foresight and interest to organize ahead of the Massachusetts caucuses in order to ensure his 22 bound delegates stick with him past the first ballot. But if he is outmaneuvered at the caucuses, his delegates' support could be hollow, and disappear after the first ballot.
Second: The State Committee
After the caucuses, the next action is at the state committee, which will choose another 12 delegates on May 15. The state committee was newly elected on March 1 -- the same day as the state presidential primary. Much to the chagrin of some party insiders, Gov. Charlie Baker pushed his own slate of candidates and won a majority of the seats.
Baker has made his distaste for Trump almost as widely known as his desire to focus on his day job rather than presidential politics. It's not clear the extent to which he will be involved, but if he wanted to express his anti-Trump feelings, he could likely influence the committee to elect a slate of delegates unfavorable to Trump.
Who Stays In Matters
Another rule adds one final bit of intrigue: Delegates for a candidate who drops out of the race automatically are no longer bound to that candidate.
Suspending one's campaign, as Marco Rubio did recently, does not count as dropping out. Rubio holds eight delegates, and Kasich another eight. Should either of them officially withdraw before the convention, the delegates previous pledged to them would become free agents. That makes the political allegiances of delegates pledged to Rubio, and possibly Kasich, even more important. It also means that a candidate dropping out and endorsing another would not carry any guaranteed delegates from Massachusetts.
Usually, being a convention delegate is a bit like being an extra in a made-for-TV movie: a spot in the credits and a moment on the screen. This year, there is serious potential for the delegates to become the stars. So the campaigns would do well to focus on choosing delegates who will give them the best shot at winning.
Steve Koczela is president of MassINC Poliing Group and a regular contributor to WBUR Politicker.