In Pakistan, She Felt Threatened, So She Made A Dazzling Lantern To Welcome All
This article is more than 7 years old.
The 6-foot-square metal lantern hangs suspended in the gallery at Salem's Peabody Essex Museum. A brilliant, 600-watt light inside the matte black cage casts dazzling, intricate patterns of flowers and stars across the walls and floor and ceiling and you. The effect is serene, meditative, magical.
"That feeling of making people laugh and cry at the same time. To me, that is spirituality. When you rise above the fray and you get to a place that is quiet," says Pakistani-American artist Anila Quayyum Agha, the artist behind the artwork, "Intersections," which is on view at the museum through July 10. (The museum is also offering paid visitors free "gentle" yoga classes inside the installation at 3 p.m. on three Sundays, beginning March 20.)
The patterns laser-cut into the lantern's metal walls were inspired by traditional Islamic designs that the Indianapolis-based artist saw when she visited the Alhambra Palace in Granada, Spain, about five years ago. "I knew about Alhambra when I was a little child. In the West, we look to the future a lot. In the Islamic world, people look to the past a lot," she says. "Because it's always been a sort of competition of which civilization was best."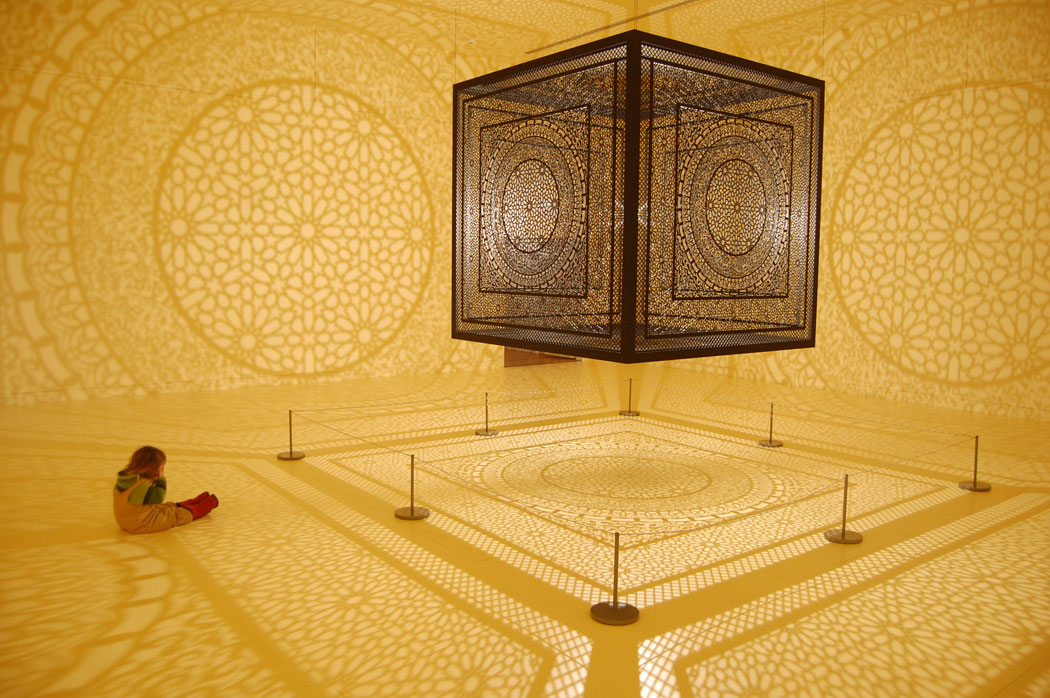 Muslim rulers developed the palace in the 13 and 14th centuries. Its handsomely decorated arches, halls, tile work, gardens, fountains and pools have made it one of the landmarks of what is sometimes called the Islamic Golden Age, as the Islamic world reached across North Africa and into southern Europe.
"It felt like just a place where I belonged in there. Nobody was chasing me out," Agha says. "That feeling that was negative when I was growing up, became a positive for me." Her lantern came from this inspiration. She says, "I wanted to make this space that would be open to everybody."
"In a public space in Pakistan, a woman would be groped a lot. Even if you're an older woman," Agha says. "It makes you feel almost like your person is threatened by the male gaze there. … I felt threatened. I think over the years, I perfected almost an androgynous persona that allowed me to deflect the male gaze."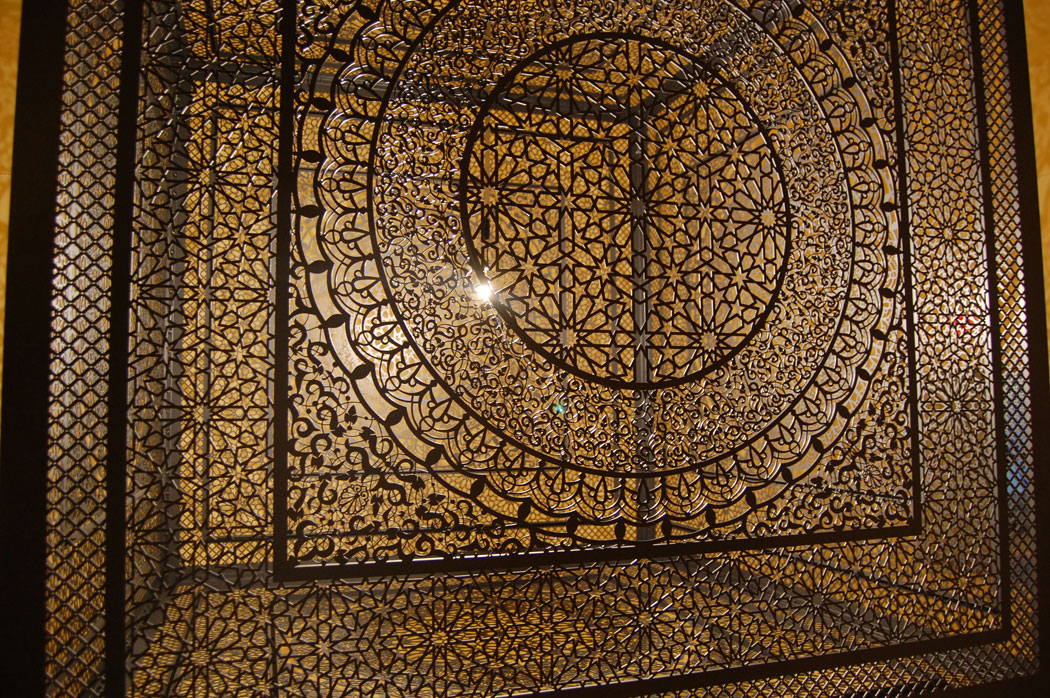 Agha says, "You're always a commodity, or always an object. And that's how I felt growing up."
She goes on, "To pray in the Islamic way, you have to lean down and you have to bend down. And then you kneel supposedly to God. So your hindquarters are raised high up in the air. … That's why women are recommended to pray behind the men. All this kind of puts women in an awkward position."
"Culturally women are not allowed to go into mosques," Agha says. "Because they're always worried about the kind of connotations it gives. … Other men will look at your women in a misogynistic way."
Pakistan is lacking in museums, Agha says. "Most people treat a mosque like a museum." But the beauty of the architecture and decoration, "that space is not available to a woman."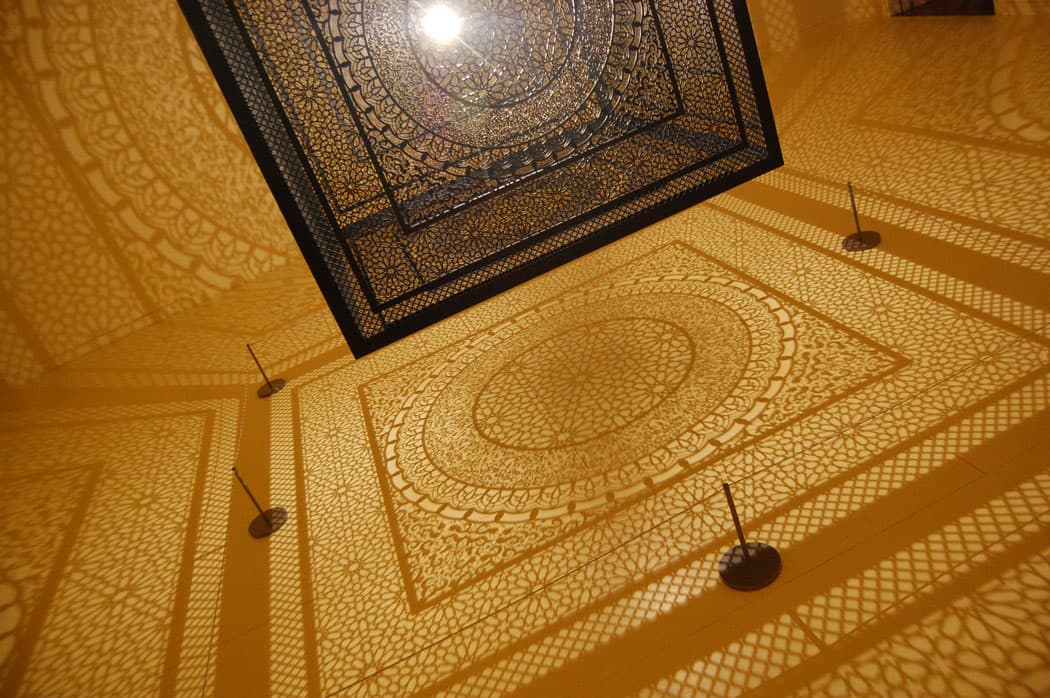 So at Alhambra, which is operated as a historic site and museum, she says, "I was really struck by how comfortable I was there as a woman."
"If you've ever traveled to the Mideast or South Asia, you may be familiar with these patterns that are available all over the Mideast. All the patterns come from this idea of not making human imagery," Agha says. Islam has traditionally discouraged representations of people—especially Muhammad—because it might lead to idolatry. Instead, patterns—often suggesting foliage—are central motifs. She says, "Representing nature in its many facets."
"This kind of filigree work you're going to see in old monuments in the Middle East," Agha says. "I appropriated tiny parts from different parts of the palace." From about 1,000 photos she took when she was at Alhambra, for her giant lantern, she copied patterns from a doorjamb, from ceiling stucco, from screens and floor tiles and fountain tiles. Then she had them laser cut out from the metal sides of what would form her lantern. The bright light in the lantern's heart makes these patterns cover everything in the gallery.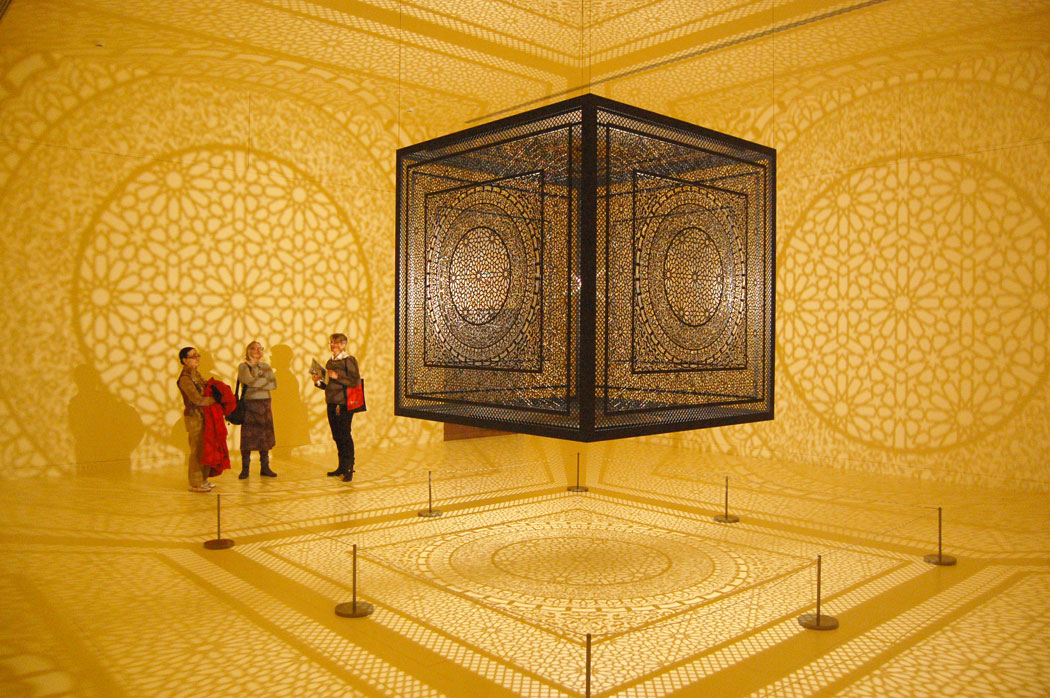 Alhambra, she says, "wasn't a holy space. There is a small mosque in there, but it was actually a living abode. They brought some of the traditions they'd seen in the Mideast. … They didn't only import the craftspeople from the Mideast. There's a combination of design that represents Christian and Jewish and Islamic."
"What made this particular space so beautiful is it had a combination of people," Agha says. "They seemed to live in harmony. And now we can't seem to do that."