Reckoning With 'The Curious Occurrence Of Taxidermy In Contemporary Art'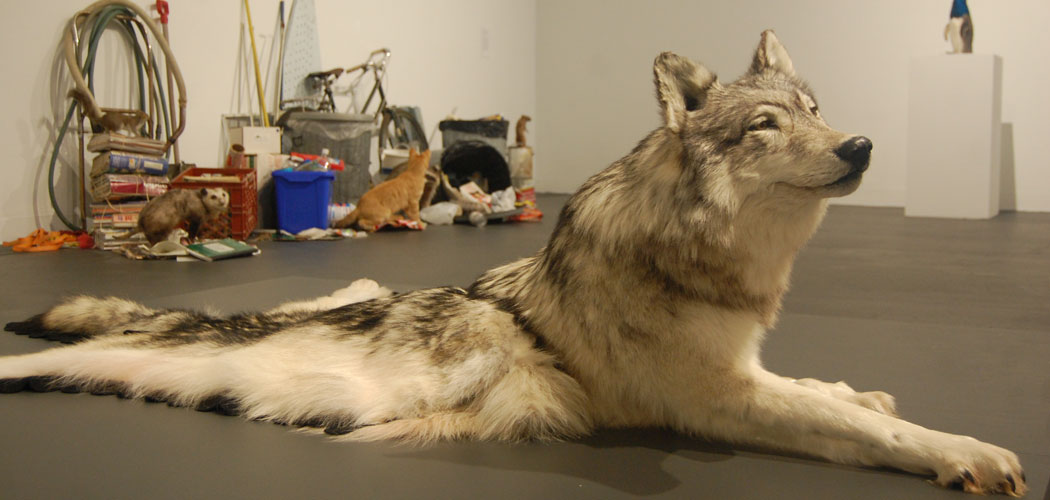 This article is more than 5 years old.
One of the iconic artworks of the 1990s was British art star Damien Hirst's "Away from the Flock." In the years since Hirst made it in 1994, the artist's reputation has faded as he's come to be seen as a sensationalist huckster. But viewed in the exhibit "Dead Animals, or The Curious Occurrence of Taxidermy in Contemporary Art"—at Brown University's Bell Gallery, 64 College St., Providence, through March 27—his little lost lamb, furry white, eyes closed, submerged in a cool, clinical steel framed tank of formaldehyde, can still break your heart.
Damien Hirst's preserved dead animals—a shark, sheep, cows—aren't all that different from the taxidermied moose, or the family of deer, or an opossum mom and babies displayed in handsome, naturalistic dioramas at Boston's Museum of Science. The science version is presented as research or education, but whether it is Hirst's art or natural history, it's all a form of spectacle. The emotional power of each is located in the fragility, the beauty, the terror, the sadness of death. Hirst justs put a clearer frame around it.
It's a curious and beautiful thing that in a culture with McDonald's selling meat burgers on every corner that so many of us continue to be shattered when we see dead animals. So much of our society is about the tastiness of meat and the simultaneous obscuring of where it all comes from.
These are some of the thoughts the haunting and very thought-provoking "Dead Animals" exhibit brought up for me in my wanderings in the weeks since I saw it.
"Dead Animals" presents photos of taxidermied animals (odd museum specimens of birds; weirdly arranged polar bears; old, threadbare lions posed as if fighting) as well as numerous examples of actual dead, posed critters (a bedazzled fawn; a deer with simulated viscera spewing from its decapitated neck; a pair of golden Labrador retrievers perhaps menacing, perhaps protecting a tiny chick).
Taxidermy has surged in contemporary art over the past couple of decades — both inside and outside the art academy. Perhaps more outside, where what is sometimes called "rogue taxidermy" has been a central player in art that tends toward the dark, gothic, absurd or wondrous.
In the introduction to her 2014 book "Crap Taxidermy," a collection of photos found on the Internet of intriguingly lousy taxidermy, Kat Su writes, "Regular taxidermy endeavors to give the illusion of life to the non-living, but crappy taxidermy highlights the subject's state of death due to the animal being contextualized in a completely surreal or absurd way."
The reality of these actual dead animals seems part of the renewed interest among artists in handcraft, emotion and authenticity in reaction against so much detached, artificial, contract-built, elite conceptual art, painting and installation since, say, 1959.
In his 2014 book "Taxidermy Art: A Rogue's Guide to the Work, the Culture, and How to Do It Yourself," Robert Marbury, one of the founders in 2004 of the Minnesota Association of Rogue Taxidermists, says the rogue impulse is a response to shifts in society at large: "The technological developments of the past 20 years have all but eliminated the importance of craftsmanship in consumer goods. Not surprisingly, there has been a backlash against this shift, with may people striving to be self-sustaining by rejecting mass production and instead embracing physical labor and handmade goods. Taxidermy joins yarn bombing, bookbinding and pickling as expressions of this handwork revolution."
The "rogue" style is represented in "Dead Animals" by the entertaining magic realism of Nicholas Galanin's 2009 wolf pelt sitting up as if it's come back to life and Polly Morgan's 2010 flock of yellow finches and canaries flying off with a metal cage. A number of the sculptures here—like Kate Clark's 2014 human-headed Kudu (an African deer)—amuse because of their oddity, though they're not terribly affecting.
The most sensational sculptures in the exhibit are Deborah Sengl's 2004 "Killed to Be Dressed." It's a grotesque fable rendered in 3D. A fox, stoat and mink parade by, standing upright, wearing human arms as a stole and carrying a handbag made from a person's face. It's shocking. I guess. But I feel like the moral of this story—see how weird wearing skins is if you reverse human and animal—is too blunt, too obvious.
An example of more regular, fine art taxidermy is Mark Dion's "Concrete Jungle (Mammalia)." The highly realistic 1992 diorama/stage set of a raccoon, rat, cat, opossum and other typical wild urban critters rummaging through garbage cans is a dry joke on the typical exoticism of museum taxidermy displays. Wildlife isn't just in the wilds, he seems to say, but right out your backdoor. But I'm not sure who needs this pointed out to them.
Personally, I'm more interested that coyotes, turkeys, beavers, falcons and other great-outdoors critters are taking up residence in our residential neighborhoods for the first time in a century or three. Back in colonial days, folks did their best to eat everything that was tasty and drive everything that was scary to extinction (or nearly). What fascinates me about today is that it may be one of the first times that a Western people is trying to live companionably with these beasts. The situation, obviously, remains touchy.
The sculpture here that stops me short is Thomas Grunfeld's tiny 2001 fawn with a baby goat's head. It sits curled up in a corner. The forced oddity of grafting the two animals together fades and instead you're walloped by cute baby—the cute dead baby.
As in much of the exhibit, you feel obliged to silence and reverence in the presence of death. It brings up thoughts of my responsibilities as a parent to protect my children. It brings up thoughts of my own vulnerability. I think of the title of another (in)famous Damien Hirst piece (not here)—a 14-foot-long tiger shark floating in a tank of formaldehyde that he called "The Physical Impossibility of Death in the Mind of Someone Living."
Which in turn reminds me of a quote from Barbara Ehrenreich's 1997 nonfiction book "Blood Rites: Origins and History of the Passions for War." She theorizes that the valorization of self-sacrifice in war arose in humanity's ancient transition from prey to predators. "It is my contention that our peculiar and ambivalent relationship to violence is rooted in a primordial experience that we have managed, as a species, to almost entirely repress," she writes. "And this is the experience, not of hunting, but of being preyed on by animals that were initially far more skillful hunters than ourselves. In particular, the sacralization of war is not the project of a self-confident predator, I will argue, but that of a creature which has learned only 'recently,' in the last thousand or so generations, not to cower at every sound in the night."
I've visited Boston's Museum of Science a few times since seeing "Dead Animals." I've paused each time at its "painstakingly reassembled" version of Colonel Francis Thompson Colby's (1882-1953) "gun room" from his home in Hamilton, Massachusetts. It's a classic great white hunter trophy room. Skins of a tiger and leopard hang from the rafters. The mounted heads of a bear, rhino and various deer scowl down from the walls. "For a great many years a pleasant meeting place of the colonel and his friends," according to a plaque on the wall.
Then I've stopped at the museum's more naturalistic taxidermy dioramas of bears gathered atop a mountain or seabirds dotting a marsh. And I've thought of Carl Akeley.
Nearly a century after his death, Akeley (1864-1926) epitomizes the conflicting resonances of taxidermy today. He was a master artist, sometimes called the father of modern taxidermy. But he's also rightfully criticized as a late Victorian colonial pillager, a man who hunted rare animals to create taxidermy that celebrated them. In the end, he became a conservationist, including starting the first gorilla preserve in the world.
Akeley's major achievement was to revolutionize taxidermy in natural history museums—first in Milwaukee in the 1890s, then at Chicago's Field Museum and New York's American Museum of Natural History. He shifted the typical display from lots of dead animals stuffed onto shelves to vivid habitat dioramas that give you the feeling that you've just stumbled upon a group of mountain gorillas roaming the Congo.
One might trace a through line from Akeley's astonishingly realistic animal dioramas backward to John James Audubon's 19th century efforts to paint bird specimens with a greater sense of verisimilitude and action. Then one might trace that line forward from Akeley to the transformation of zoos from bare cages to cages costumed to look like the wild, cages turned into theatrical stages that are considerably prettier to human eyes.
And I think: So much of popular animal science's shift toward ever more vivid naturalism seems driven by twin drives toward greater entertainment and toward soothing our consciences.
---
ARTery co-founder Greg Cook can be found on Twitter @AestheticResear as well as on the Facebook.