'Blackberry Winter' Depicts A Life With Alzheimer's, Without Jerking Tears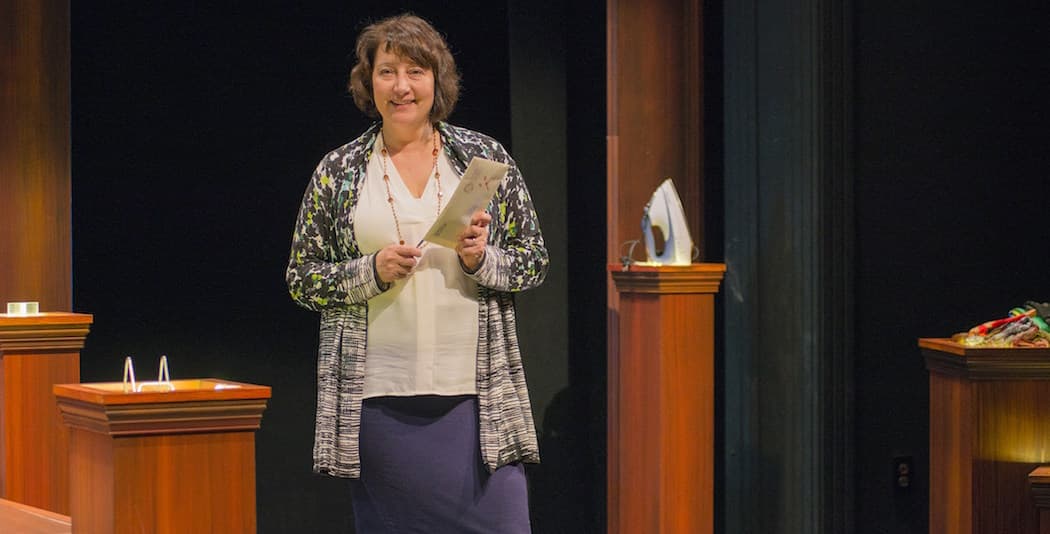 This article is more than 5 years old.
"Blackberry Winter" doesn't quite go for the jugular, and that's mostly a good thing. Yes, this direct-address show is spoken by a character whose mother has Alzheimer's disease, and refers readily to the emotional drain the situation makes upon the caregiver.
But playwright Steve Yockey chooses to place his story at a moment of transition in the treatment of the afflicted, not a climax. This isn't quite the endgame, but we're long past the beginning and the middle is fading from view. As Bob Dylan sang: "It's not dark yet, but it's gettin' there."
So this isn't quite the tough-to-get-through tearjerker you may have been expecting. Instead, it's a reflection of the gradual process one endures in the midst of a tragedy that occurs in slow motion. This carefully textured production, helmed by Bridget Kathleen O'Leary at New Repertory Theatre, finds quiet moments of beauty. But even if its sense of restraint is appreciated, Yockey's piece still is an oddly shaped thing with a subtle payoff.
Adrianne Krstansky is Vivienne, a professional baker whose mother, she reports to the audience, is having increasing difficulty at her assisted living facility. Habitually affable and accommodating, Vivienne wears an all-purpose smile like a suit of armor. (It's "made of granite," she tells us early on.) Krstansky's performance is expertly calibrated, as Vivienne gamely forces life into her flagging sense of humor while revealing only in glimpses the hurt and confusion sitting just under the surface. The success of this production is unthinkable without Krstansky's unambiguous triumph in the role.
She's joined by Ken Cheeseman and Paula Langton for a chunk of stage time, as the two narrate an "origin story" for Alzheimer's that Vivienne has written. The fable is told in verse, and involves a white egret (vaguely personified by Langton) and Ken Cheeseman's gray mole. Though there's a slight implication that Langton's character can also be understood as Vivienne's mother, and we may wonder if Cheeseman's is some version of her husband, the actors are credited in the program only by their animal personae.
These sequences, in which Matthew T. Lazure's two-dimensional puppetry design is projected on an upstage screen, are delightfully transporting. Cheeseman, whose ready smile makes him an instantly likable onstage presence, is particularly evocative as he tells of a mole digging deep into the ground. (Watch, too, Langton and Cheeseman's silent reactions to Vivienne's monologue, as they remain seated upstage between sections of their story.) The synthesis of poetry, projections and puppetry creates a jewel of a folk tale — though Yockey really makes no attempt to have this extended flight of fancy make sense in terms of Vivienne's character. The effect is too winning to call it a diversion, but it doesn't sit comfortably amid its surroundings.
Helping in that cause, though, is Lazure's set design, which proposes a series of wooden pillars that offer a stylized presentation of everyday objects — a box of recipes, a pen, a piggy bank. The items are displayed almost as if at a museum, becoming artifacts of the mundane put into a disorienting context. David Reiffel's original music and sound design are also commendable.
Yockey has Vivienne hint at some troubling implications presented by her mother's condition, but never lingers in that territory. In fact, when the time arrives for the character to let her emotions take control for a moment, she pointedly looks away from the audience. The piece skirts melodrama safely, but there's a sense of circling around and gesturing at an even more directly engaging and risky play, from a remove.
This is a world premiere, of a fashion. The New Rep production, onstage through April 17, is fourth in a series of seven productions around the country this season that collectively compose its rolling world premiere. This initiative by the National New Play Network admirably assures that select new works will get multiple productions, but does strain the meaning of "world premiere."
"Blackberry Winter" doesn't take upon itself the burden of drily educating us about this awful disease, nor does it ever stare directly into the heart of darkness that lurks all around. It presents, in Krstansky's hands, a fully formed character who is a pleasure to observe. This sensitively evoked piece is ultimately life-affirming, and it's not too much to digest. But while its emotions are tastefully restrained, so too are its rewards.
---
Jeremy D. Goodwin contributes regularly to The Boston Globe, The ARTery (where he is also an editor), American Theatre and many other publications. See more of his work here. Follow him on Twitter here.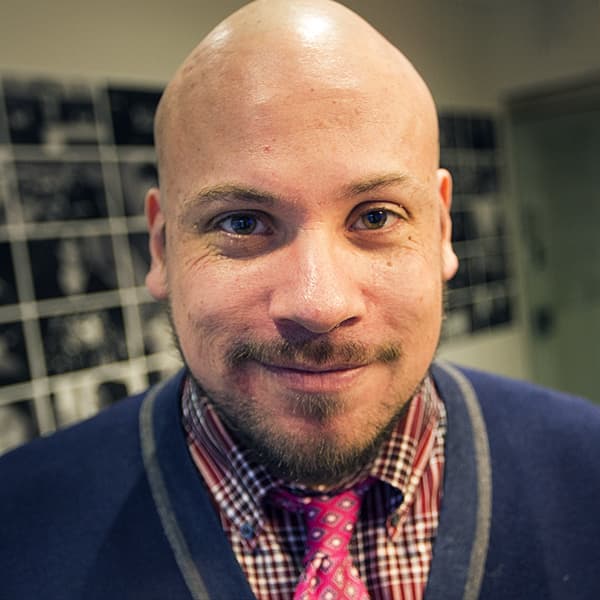 Jeremy D. Goodwin Contributor, The ARTery
Jeremy D. Goodwin was a writer and critic for WBUR's The ARTery.