Officials Ask You To Not Bring Backpacks, Or Drones, To The Boston Marathon
This article is more than 6 years old.
Public safety officials say they've taken what they learned from the recent terrorist attacks in Paris, San Bernardino and Brussels into account as they prepare for the upcoming Boston Marathon.
On Wednesday, FBI and state officials joined marathon organizers in Boston to outline security plans for the city's 120th marathon, on April 18.
Unlike the 2013 marathon bombing, which was concentrated near Copley Square in Boston, the recent Paris and Brussels attacks were located in multiple parts of those cities.
Harold Shaw, FBI special agent in charge of the Boston division, pointed out that the Paris attacks included a mix of shootings and suicide bombings. He says security forces in Boston have a plan to adjust to both.
"And these are all things we've seen as a result of the information gleaned, whether it be from the Parisians, the Belgians or even our field offices in Los Angeles," he said.
Shaw says there are no known credible threats to the marathon, but he cautions that it's the unknown that security officials worry about.
Kurt Schwartz, director of the Massachusetts Emergency Management Agency, says nearly 5,000 law enforcement officers will be stationed on the race course on Marathon Monday, and security may be higher along some portions of the route than others.
"In certain areas, there will be checkpoints and in certain areas and at certain times, police officers may ask to inspect bags or other things being carried by spectators," Schwartz said.
Officials ask that spectators help by leaving backpacks — and drones — at home. Read more of MEMA's spectator guidelines here. See what other items not to bring to the marathon in the graphic below: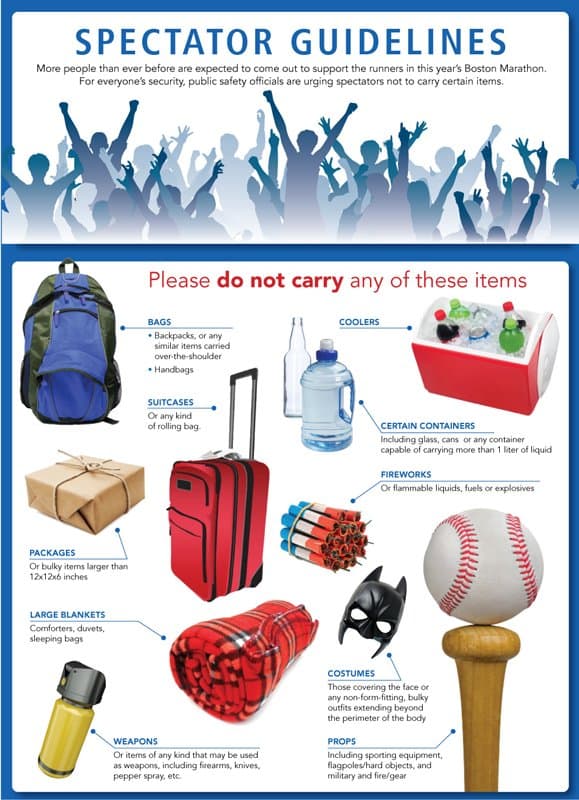 With reporting by WBUR's Fred Thys