3 Years Later, Boston Pauses To Remember Bombing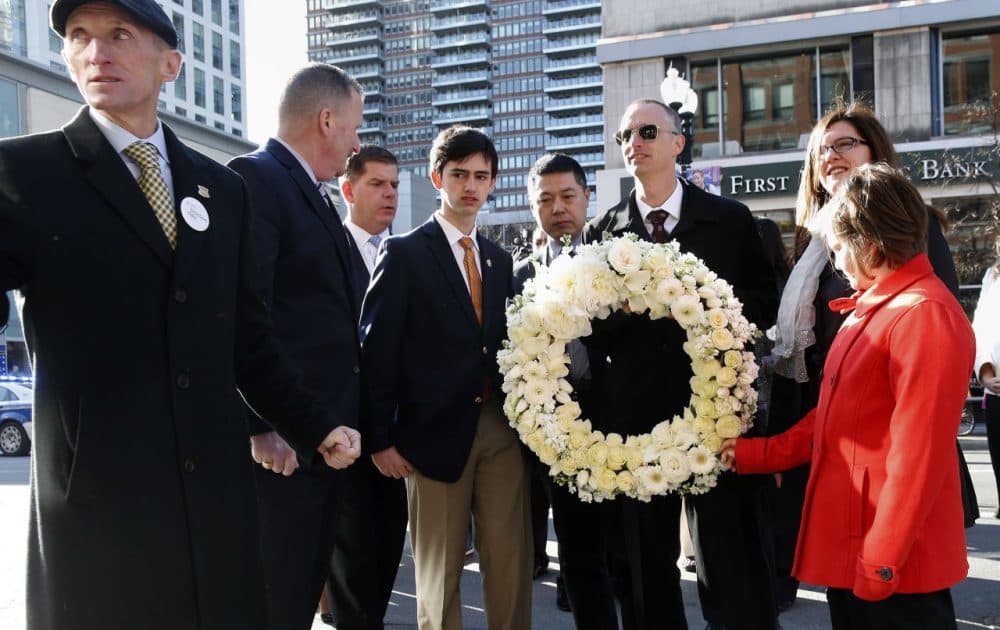 This article is more than 5 years old.
Friday marks three years since the bombing at the finish line of the Boston Marathon.
Gov. Charlie Baker and Boston Mayor Marty Walsh joined survivors of the bombing and families of victims for a wreath-laying ceremony Friday morning at the bombing sites on Boylston Street.
Later Friday, survivors will gather for an interfaith service at the Old South Church in Boston. Senior Minister Nancy Taylor told WBUR the survivors want to share their experience of resiliency.
"This year I'm happy to say that the survivors are turning a corner and are asking for a service that is about hope and moving into the future unencumbered, or less encumbered, by their burdens," she said.
There will be a statewide moment of silence at 2:49 p.m. Friday — to mark the time the first bomb exploded on April 15, 2013.
"I'll personally be taking part in the wreath-laying ceremonies and then some other events throughout the day and then also taking some me time to reflect on the last three years," survivor Adrianne Haslet-Davis said.
Haslet-Davis lost half her left leg in the bombing, but she's running Monday's Boston Marathon to raise money for a charity that helps to provide prosthetic limbs to people who can't afford them.
She's among one of the many bombing survivors running on Monday.
As race director Dave McGillivray said in a press conference Thursday, "What I find amazing is 31 survivors from the 2013 tragedy three years later are coming back to run in this race. That's mind boggling. Talk about inspiration. That's where it is, right there."
Walsh has established April 15 as One Boston Day, a day to celebrate the city's resilience through acts of kindness and generosity. Throughout the day, residents will be taking part in blood drives, food and clothing collections and other community service projects.
The family of victim Martin Richard, for example, is leading a cleanup in their Dorchester neighborhood, while the family of another victim, Lingzi Lu, is making a donation to the Police Department's Athletic League.
The mayor's office is also collecting premixed baby formula, baby wipes and hand sanitizer to send to Flint, the Michigan city struggling with lead-tainted drinking water.
There will be a statewide moment of silence at 2:49 p.m. Friday — to mark the time the first bomb exploded on April 15, 2013.
Here's more on Friday's anniversary from marathon reporter Alex Ashlock:
With additional reporting from The Associated Press
This article was originally published on April 15, 2016.