Toodaloo, Tonto: 'Through Indian Eyes' Tells It Like It Is At The Brattle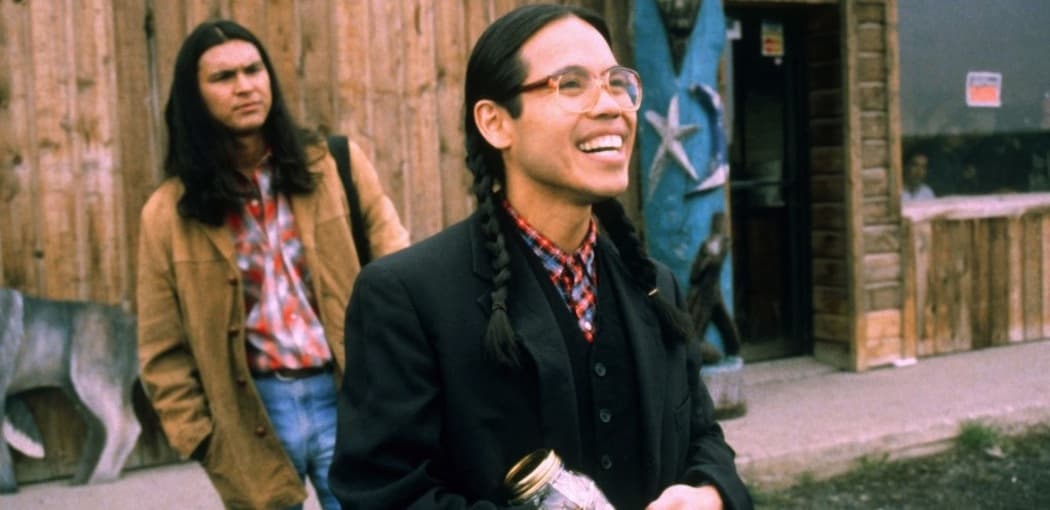 This article is more than 5 years old.
One of the earliest film recordings ever made was the silent film "Buffalo Dance" in 1894 that featured Native American performers. Since then, the role of American Indians in the movies has been siloed into stereotypes, from the "noble savage" featured in countless numbers of popular Westerns, to the depiction of all Native tribes in the same relegated dress.
The whitewashing of Native Americans has been a part of filmmaking for decades, from Audrey Hepburn in "The Unforgiven" (1960) to Johnny Depp in "The Lone Ranger" (2013) and Rooney Mara in "Pan" (2015). However, Native American artists and filmmakers have been actively taking control of their representation, and now their films come to the Brattle Theatre this April in the film series "Through Indian Eyes: Native American Cinema."
Chris Eyre's film "Smoke Signals" (1998) kicks of the Brattle Theatre festival at 7 p.m. Friday. "Smoke Signals" was the first film by a Native American filmmaker featuring Native American actors that achieved mainstream success. The film follows two young men, Victor and Thomas, who are unwillingly brought together by Thomas' father as they go on a journey to retrieve his ashes.
"Smoke Signals" has had a lasting impact on Native American cinema, and as Joanna Hearne says in her her book "Smoke Signals: Native Cinema Rising": " 'Smoke Signals' is an energetic and ambiguous film in part because it refuses to function as an outsider's guide to Native cultures. It reaches out to both Native and non-Native viewers, yet declines to answer questions or divulge cultural information; viewers are expected to keep up." With the rise of more affordable video equipment, Native filmmakers are telling their stories, from their perspectives in a way that is unique and engaging.
Another film to look out for is "Atanarjuat: The Fast Runner" (2001) playing at 1 p.m. Sunday. It follows a thousand-year-old legend about a man who must flee after a conflict kills his father and brother in the beautiful yet barren landscape of northern Canada. This film is the first Inuktitut-language film in history.
Winner of the Caméra d'Or at the 2001 Cannes Film Festival, "Atanarjuat" offers a glimpse into the fables of a world rarely seen. Acclaimed for its cinematography, "Atanarjuat" is an important time capsule for preserving and telling the stories and history of a culture through the people who live it.
"Through Indian Eyes: Native American Cinema" was curated by Native American members of the UCLA Film and Television Archive to show stories directed by Native American artists. There are over 550 tribes throughout North America, each with their own lore and methods of storytelling. "What is so important for me as part of this whole retrospective is it gives audiences such a broad view of who we are as a people," commented Valerie Red-Horse, a Cherokee filmmaker and series co-curator. The film series has a range of storytelling styles, from linear to circular, with landscapes that are both naturalistic and allegorical. The richness each of these films carries is emblematic of the cultures they each come from.
The final film showing in the series is "Naturally Native" (1999) on Wednesday, April 27. "Naturally Native" follows the story of three American Indian sisters who are raised in separate foster homes who come together to begin a cosmetic line together called Naturally Native.
Directed by Valerie Red-Horse, "Naturally Native" dismantles the "Indian Maiden" stereotype. Red-Horse wanted to show the realities of young women living on a reservation and the individual struggles and triumphs told from a Native American perspective.
In total, 11 Native American films will be shown through this series at the Brattle, ranging from comedy to documentary and retelling of tales passed down from generations. These stories show the complexity and richness in Native American cinema, as well as the contributions Native American artists have had on filmmaking.
---
Phaedra Scott is a writer, dramaturg and director in Boston with a focus on sharing diverse, socially conscious stories. She is a graduate of Washington College. Currently, she is the literary apprentice at Huntington Theatre Company and the assistant to the artistic director at Company One Theatre.