The Delicate, Dazzling Art Of Paper Cuts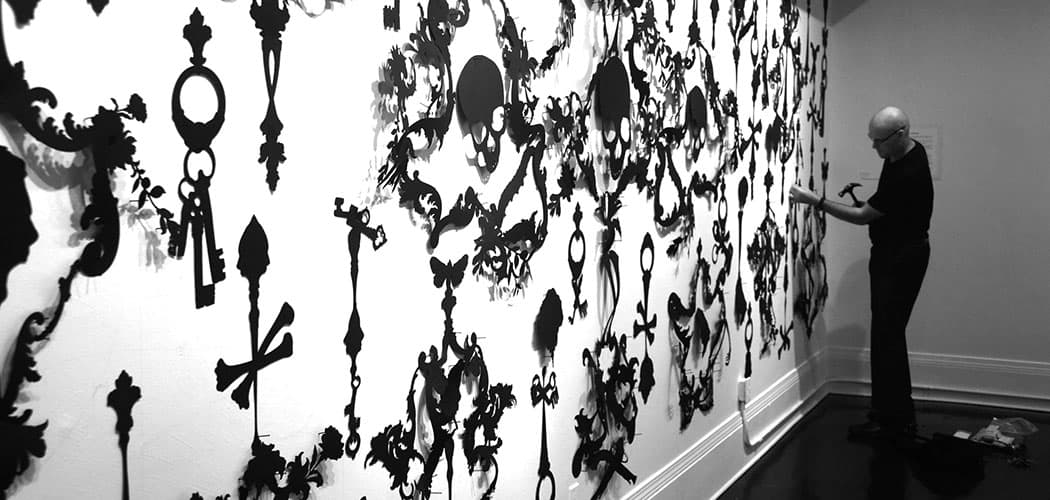 This article is more than 5 years old.
"As we become an increasingly digitized society, I think there's this shift back to working with your hands, working with paper and not relying so much on screens," says Beth McLaughlin, curator of the exhibit "Paper and Blade: Modern Paper Cutting" at the Fuller Craft Museum in Brockton through July 31.
Traditionally, making art by cutting designs out of paper has ranged from the portrait silhouettes of 19th century American high society to Chinese traditions dating as far back as the 6th century. The Japanese technique mon kiri — also known as kirigami — involves cutting and folding paper to create three-dimensional forms. Mexican papel picado — strings of cut paper banners — are hung to mark holidays and other special occasions. Polish wycinanki feature mirrored or kaleidoscoping patterns of flowers and birds.
Now a new generation of artists is exploring the traditional craft of paper cutting. Below McLaughlin talks about a number of the contemporary artworks in the Fuller Craft Museum exhibit.
"To see that precision that's possible. It's astounding," she says. "I like the idea of the lengths people go to with the simplest of materials."
---
Maude White, "And I Knew Everything Would Be All Right"
"Her process of cutting away is about revealing our inner selves," McLaughlin says. The Hudson, New York, artist says of this piece from a series cut from white paper sandwiched between two pieces of glass, "Each woman exhibits intense inner stillness while still suggesting the wild, untamed energy of life and movement."
---
Beatrice Coron "CurioCity"
The French artist, now based in New York, mixes reality and fantasy in her cityscapes cut from black Tyvek.
"My silhouettes are a language I developed over the years to explore our relations to the world, to project myself and hopefully my viewers into a view of reality that is both detailed and monumental at the same time," Coron writes. "Instead of looking through windows at the world outside, the viewer stands on the outside and peers through windows at the many lives inside. The city is turned inside out by this process. Each window suggests a different story."
---
Randal Thurston "The Counting House"
The Somerville artist "calls it a meditation on life and death," McLaughlin says. "He came in with all these folders full of skulls and scrolls and dogs. He studies the space." Then he begins taping up the pieces, feeling out where each should go, before pinning them up in their final spots. "He took about five days to do the installation."
---
Michael Velliquette "Oneness"
The Wisconsin artist turns paper chains and fringe into technicolor, three-dimensional creations that recall masks or totems. "They're very tribal if you see them in person," McLaughlin says.
---
Bovey Lee "Rake"
The Los Angeles artist became interested in paper cuts, McLaughlin says, when "she went to visit her father in China and started looking through a collection of paper cutting." Returning home inspired, she began creating digital templates that she then lays over thin, delicate rice paper and cuts out. "It's the perspective of the trees," McLaughlin says of this artwork depicting autos passing under palms. "A lot of her work has to do with humans' relation to nature and environmental concerns."
---
Elizabeth Alexander, "Gunpowder"
A tea set seems to melt into a rug in Alexander's sculpture, made from handcut vintage wallpaper. The North Carolina-based artist lived for years in Massachusetts and "hails from working class New England where the bulk of her upbringing was split between her father's fabrication shop and the kitchens and gardens of her mother and grandmother," she has written. "Her work is deeply rooted in her pride of this dual identity: both masculine and feminine, domestic and industrial, decorative and utilitarian, frivolous and practical. However, the contradiction of upholding both, seemingly opposite faces, often causes tension rather than harmony. By dissecting and reordering material she is not just making sense of the understood order of things, but making anew, creating relics of a place that could be."
---
Charles Clary "Patiflasmic Flamungle Gestation Movement #4"
The South Carolina artist "takes heavy weight paper of different colors and he will cut out the individual rings and he will stack them to create towers or land formations," McLaughlin says. "A lot of his work is related to science. He has called them viral colonies or petri dishes. … His parents died from cancer within two weeks of each other and he channeled his grief into exploring this notion of virus and spreading and outbreak."
---
Katherine Glover "Fire in the Lake"
The Cambridge artist arranges torn strips of brightly painted, handmade khadi paper on end and glues them to plywood to imitate organic designs.
"I created this work's flow patterns using a math-and-physics software program designed to analyze fluid dynamics," Glover writes. "The colors, wave patterns and energy flow in 'Fire in the Lake' capture both leaping flames and turbulent water currents. In nature, the gas-and-heat flows generated in combustion respond to the same forces that shape the flow of water. This piece attempts to incorporate the visual energy shared by both—one becomes the other, and they become indistinguishable."
---
Nikki McClure "Outside"
The Olympia, Washington, artist is known for her work in illustration—generally featuring graphic images cut from black paper. McLaughlin describes her paper-cut scenes as "quiet moments" and "simple joys."
---
Mayuko Fujino "Birthday Party"
The Japanese artist, now based in New York, cuts designs from white paper and then lays them atop collages of magazine images so that the holes in the white paper let the collage show through. McLaughlin says of this particular one, "It reminds you of Hieronymus Bosch in a way. It's these forms that are turning into a tree."