Analysis: Trump May Lose Mass. Caucuses, But Not For The Reasons You Think
This article is more than 7 years old.
In the Massachusetts primary vote back in March, Donald Trump wiped the floor with the competition, racking up 49.3 percent of the vote, second only to his dominance last week in his home state of New York.
Despite this, he could come up short in loyal delegates from Massachusetts -- but not for the reasons some have been touting.
Trump's impressive wins across the country guarantee him the largest swath of delegates on the first ballot at the GOP's nominating convention. But if Trump doesn't reach an outright majority of delegates on the first ballot, most states' delegates become "unbound" and can vote for whomever they choose on subsequent votes. That means the loyalties of those delegates could be of crucial importance.
Caucuses Shouldn't Favor Ted Cruz, But May Anyway
The task of selecting Massachusetts delegates is divided among nine caucuses to be held April 30 and a meeting of the Republican State Committee in May.
Conventional wisdom points to two ways that the Massachusetts delegate selection process puts Trump at a disadvantage. Only one of them is really valid. It is certainly the case that caucuses reward campaigns with superior ground organization, and up to this point, Cruz has gotten the better of Trump in this regard, much to the front-runner's frustration. And despite Trump backers' confidence that they are organized for Massachusetts, most insiders think Cruz still has the edge here as well.
Some observers have also argued that the closed nature of the caucuses — only registered Republicans can participate — also hurts Trump. A Boston Globe article reported it this way:
Whereas Trump won Massachusetts thanks to the backing of independent voters, only registered Republicans can vote for or run to be a state delegate to the national convention — giving Cruz an edge, said state representative Jim Lyons of Andover, Cruz's Massachusetts chairman.
And Massachusetts state Committeeman Reed Hillman, a supporter of Ohio Gov. John Kasich, told Politico:
[Excluding independents] is going to change the dynamics in terms of the universe of potential participants. The Trump percentage will be significantly lower. The caucuses — I think they're going to have a lot of energetic people showing up for either Kasich delegates or Cruz delegates.
But there is scant evidence to back this theory up. Both pre-election polls and exit polls confirm that Trump was equally dominant with Republicans (both registered and self-identified) as he was with independents. He also did equally well with moderate and conservative Massachusetts voters.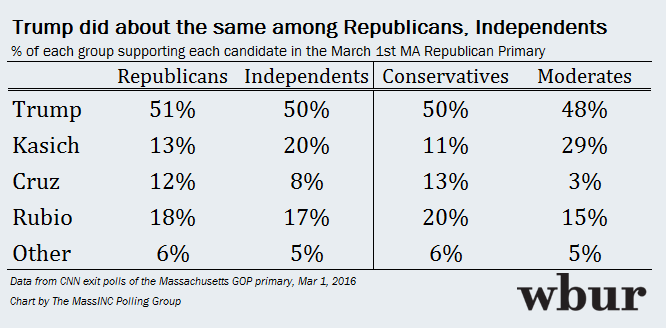 According to the polls, Cruz may benefit slightly from excluding independents, but any advantage in this regard comes not at the expense of Trump, but of Kasich, who did better with independent and more moderate voters. If Kasich hopes to maintain or improve his delegate count, he will have to do it with superior organization. The likely ideology of caucus-goers will not be to his added benefit.
State Committee Delegate Selection Remains A Mystery
The April 30 caucuses are only part of the process of picking delegates. Another 12 delegates will be chosen  by the state GOP committee, with the final slots reserved for state party officials. But interviews with party insiders suggest little consensus as to how the state committee will vote on the delegates it gets to pick. Insiders say that fairness is a key concern, but because the state committee votes after the caucuses next week, even determining what is fair is difficult at this point.
One method would be to choose delegates whose loyalties align with the candidate for which they are bound to vote on the first ballot. That would mean that, if the convention went beyond a first ballot, Trump's bound delegates would stay with him, Cruz's with Cruz, and so forth.
On the other hand, if Cruz does rack up big wins in the caucuses, the state committee could tilt toward delegates loyal to Trump, so as to better reflect the results of the primary.
But while the state committee's decision may come down to one's definition of fairness, the caucuses are anybody's game. And if Trump loses there, he will have no one but himself and his organization to blame.
Steve Koczela is president of the MassINC Polling Group and a regular contributor to WBUR Politicker. He tweets @skoczela.