Photos: 9 Inspiring Natural Hairdos For African-American Girls At 'Rock My Locs' Expo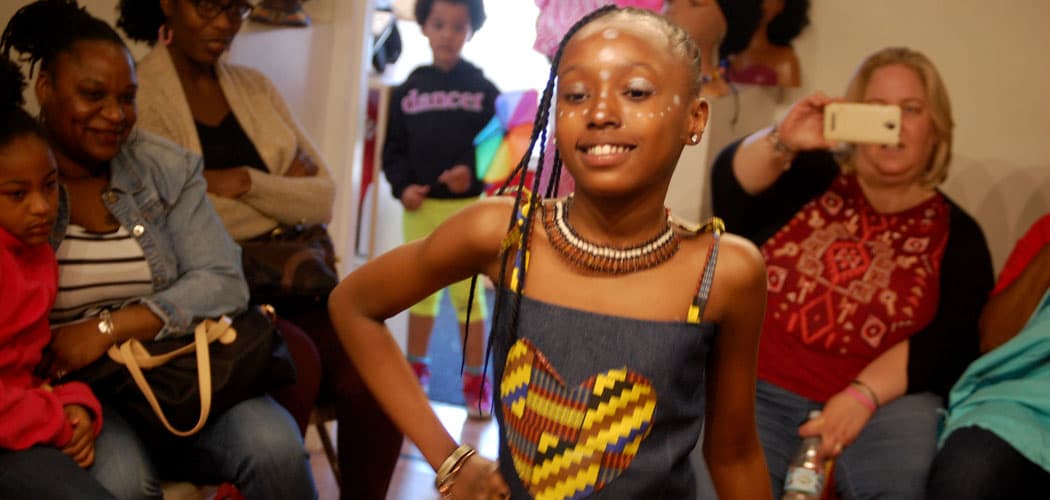 This article is more than 5 years old.
A crowd squeezed into OrigiNation Cultural Arts Center in Jamaica Plain for the nonprofit's first "Rock My Locs Hair & Wellness Expo for Kidz" on Saturday.
The schedule included a live hair styling demonstration, dancing (OrigiNation is primarily known for its youth dance programs designed to build confidence and teach "the extent of African influences on various contemporary art forms"), and a talk about family health. The highlight, though, was a hair show in which girls, ranging from age 6 to 14, strutted across the room like runway models.
"These are styles that are geared toward African-American girls who have natural hair. What we're trying to do is make them comfortable and confident with their hair," Mamie Dorsey-O'Neal owner of The Hair Kingdom in Boston's Roxbury neighborhood, told me afterward. She styled the young models' hair (featured in the photos here) with help from Shaumba-Yandje Dibinga, founder of OrigiNation, and Janelle Dibinga. Alecia Thomas also assisted her during the live demonstration. "All of the hair styles are very simple and elegant, for simple maintenance and everyday beauty."
"Growing up, I was picked on a lot and my hair was one of the reasons," Dibinga said. "My hair was natural and I loved it, but a lot of people wanted us to conform to what they were doing with their hair. Working with schools, working with girls and boys, they're [still] getting picked on."
"Society has our young girls believing because their hair is coarse that their hair is not as pretty as European hair," Dorsey-O'Neal said. "What we're trying to do is get them to understand is no matter what the texture our hair is it's beautiful."
"The way the world is is crazy. All you see in the media for girls and boys is not natural. You have to put chemicals into your hair and do all these other things. It's not right," Dibinga said. "Natural hair means you're taking back who you are. … You have to be proud of what you were born with. Period. You shouldn't have to feel like you have to change."