How Would You Describe Your Emotional State When Stuck In Boston Traffic? Here's What You Said
"Everyone is an idiot, and doesn't know how to drive." That's one frustrated Boston area driver's take, offered in an online survey conducted in conjunction with the latest WBUR poll on traffic in the Boston region.
There are many striking numbers in the WBUR poll (topline, crosstabs). A majority (57 percent) of respondents think traffic has gotten worse in the past five years. Two-thirds of drivers experience delays just from the sheer volume of cars on the roads at least once a week; 35 percent are delayed by traffic volumes every day.

As stark as the numbers are, they don't tell the whole story. Commuting is taking up nearly an hour of Bostonians' time, round trip, every single day.
It seems like everyone has their own horror story; WBUR's Fred Thys collected some of them by following up with poll respondents.
We sought to do something similar, using a separate online survey to ask Massachusetts residents a simple question: How would you describe your emotional state when stuck in a major traffic jam?
As the word cloud below shows, negative emotions tended to dominate. But there was some variation by type and intensity. And there are some who have made their peace with their time getting to and from work.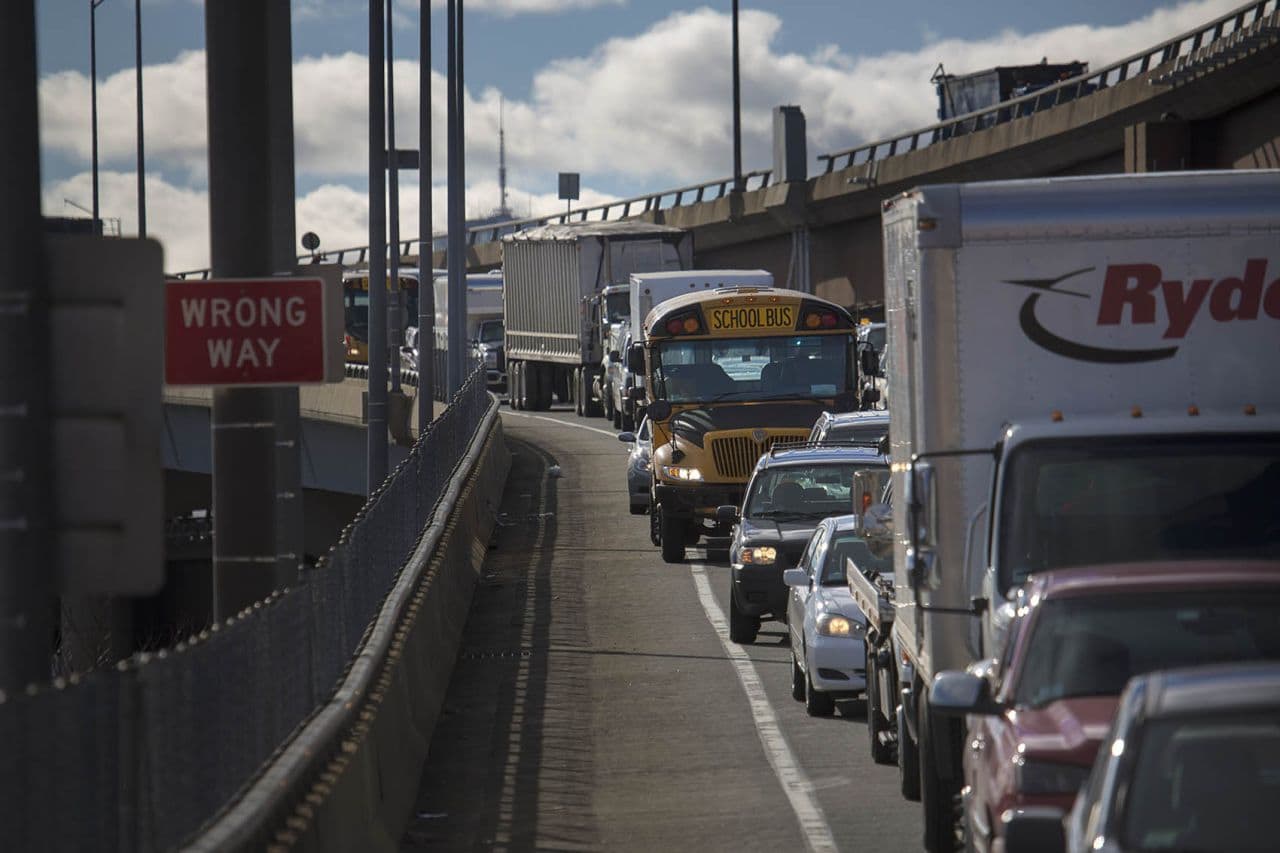 Frustration, Anger And Anxiety
"Frustrated" was the single most frequent response, comprising 13 percent of the 703 responses. "Annoyed," a similar sentiment, was second, making up 9 percent of responses. Both of these also appeared in other forms or as synonyms ("frustration," "irritated," "aggravated").
For a few respondents, frustration and irritation boil over into outright anger. "Transcendentally angry," wrote one respondent from the suburbs. "Angry" made up 7 percent of responses, and its synonyms and related phases contributed a few percent more.
The full responses were more colorful. "Psychotic" wrote another. "All caps rage," typed another, though inexplicably in lower case.
For others, traffic provoked more anxiety than anger. "Stress," "stressed" or "anxious" showed up in about 5 percent of all responses. Some also felt tense, nervous or upset. For very few, the feelings shaded toward depression: feeling "miserable" or "despair."
Indifference And Pragmatism
If some drivers feel sharp emotions, others seem to feel very little at all. "Calm" showed up in 5.5 percent of responses, and "bored" or "boredom" in a little less than 3 percent. Others responded "fine," "OK" or "normal."
For some, their reaction, or lack thereof, depended on the situation. "Mad if I need to get somewhere calm if I'm not," wrote one respondent. "Impatient but kind of indifferent. Getting emotional isn't going to make it go faster." "Bored if I'm not late, anxious if [I] need to get somewhere."
Technology seems to be a boon, as a few respondents noted they could call or text their friends or coworkers to let them know they'd be delayed.
Resignation And Acceptance
A few enlightened souls seemed to move even beyond indifference into something closed to acceptance. Some of these responses were tinged with sadness ("Resigned to my fate"), while others were more serene ("At peace with my lot in the world").
A few went dark in this vein, although perhaps with their tongues firmly in their cheeks. "Accepting of death and ready for the end," wrote one young woman. "Death," wrote another, more concisely.
Others shared their coping mechanisms: "I just turn up the radio and enjoy music while waiting," wrote one respondent. "Getting frustrated gets you nowhere." "Breathing deeply and think[ing] pleasant thoughts of somewhere far away," wrote another. "Relax by taking a sip of coffee & listen to the radio," wrote another.
"Calm," "zen" and "philosophical" also came up. "I make peace with the situation," one respondent wrote. "What good is it to stress over something you can't control?"
Such equanimity is admirable, but it's very much outweighed by the negative sentiments expressed by other residents. The WBUR poll found that 14 percent think traffic is so bad that they have considered leaving the area altogether, just in the last few months. Just as many (13 percent) say they've considered changing jobs for a better commute.
These are far from a majority, but even a small percentage of residents choosing to pull up stakes could put a dent in the region's reputation and economic prospects.
The question for Boston and its economy is, at what point does traffic become so bad that even the most placid and philosophical commuters start planning their escape route instead of their route to work?
Rich Parr is research director at the MassINC Polling Group. He tweets @richparr79.