The Massachusetts Poetry Festival Spotlights Poetry As Activism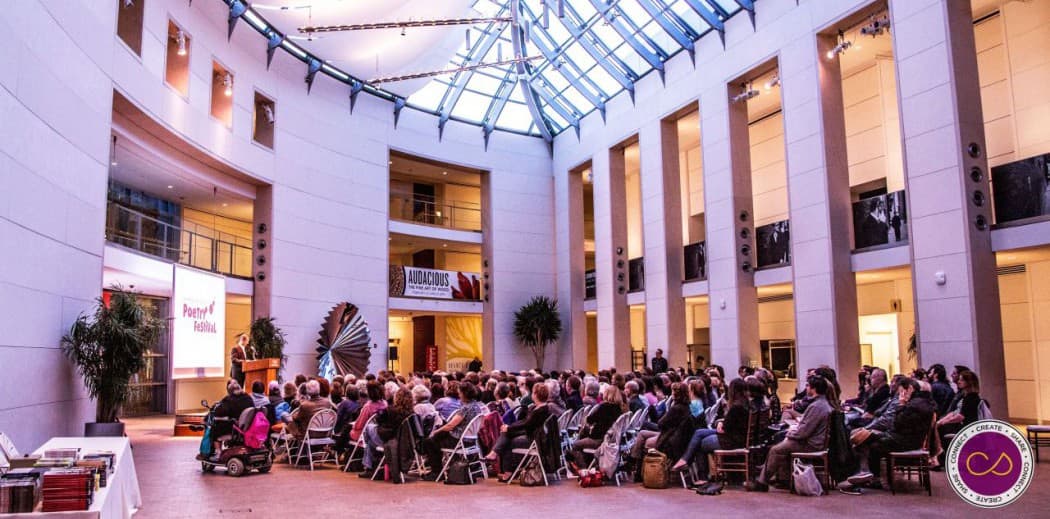 This article is more than 5 years old.
"The world needs dreamers and the world needs doers. But above all, the world needs dreamers who do."
- Sarah Ban Breathnach
Our culture's image of the poet is one of a man or woman with their head in the clouds — a hopeless romantic (How do I love thee? Let me count the ways), or a depressed existentialist (April is the cruelest month of all).
But what's striking about the Massachusetts Poetry Festival is the recurrence of real-world themes of social awareness and activism. The festival, which runs from Friday to Sunday in Salem, presents a potpourri of poetic communions. On Friday afternoon educators can participate in a workshop focused on teaching poetry about racial and social justice issues to develop tolerance and activism in high school classrooms. Just an hour later you can listen to a reading of poetry of Afghan women speaking out against the Taliban, and on Saturday attendees will learn about exploring gender identity through poetry.
Perhaps it shouldn't come as a surprise. After all, moderator and poet Danielle Jones-Pruett says that the entire festival — in fact, all poetry — is a form of activism.
 You may write me down in history
With your bitter, twisted lies,
You may tread me in the very dirt
But still, like dust, I'll rise.
- "Still I Rise", Maya Angelou
What is it about poetry that makes it a useful part of social movements? The festival brings people together to listen to each other's voices, Jones-Pruett says. She is moderating a slam poetry program featuring some of her students from Merrimack College and others from Salem State University. Slam poetry events are a powerful form of the transmission of emotions and the sharing of voices. She says hearing the brave manner through which students explore their "fears and anxieties about the world" is an empowering experience.
Festival Executive Director January Gill O'Neil describes gatherings like this as a celebration of voices in support of the community of poets. With poetry, you "make an idea available to make a connection" with your audience, she explains.
A gray hoodie will not protect my son
from rain, from the New England cold.
 I see the partial eclipse of his face
as his head sinks into the half-dark
 and shades his eyes. Even in our
quiet suburb with its unlocked doors,
 I fear for his safety—the darkest child
on our street in the empire of blocks.
- "Hoodie", January Gill O'Neil
Gill O'Neil points out that poetry readings are an opportunity for listeners to realize they're not alone, that others share similar feelings. That moving experience spreads beyond the festival. "Revolutions start small," she says.
The festival, though, is not just a place to hear people say in words what you already feel. Jones-Pruett emphasizes that diversity propels change. "Rather than nodding our heads we have our ideas challenged," she says.
Sunday's schedule features a workshop called "Writing for Social Change and Writing To Bear Witness." The written word can serve a unique purpose in promoting social change because of the freedom artists have. Jones-Pruett claims that poets have the freedom to tell the truth because poetry, as a niche art, can't be controlled the economy.
 Tobi Dress-Germain, who is moderating the workshop, says that in a world full of boundaries and limitations, the process of creative writing is unrestricted. She feels that "writing is one of the few times when we, as human beings, are truly free."
Carolyn Forché said when "The Colonel" was published in 1981 that it was a story only a poet had the freedom to tell.
Dress-Germain is a lawyer who has written papers for the United Nations on peacebuilding and often turns to poetry when she wants to explore thoughts about complex, chaotic themes and issues. She describes writing as "taking disorderly strands of thought and untangling them" to provide a frame for ideas and help organize observations into a context.
The writing that results has both the power to move and the insight to provoke. Gill O'Neil emphasizes that poetry has a power and energy because poets write from within their own being. Poet Oonagh Doherty, who is reading her poetry at "Working Class Poetics" on Sunday, says that poetry provides "a window into what other people are going through."
Jones-Pruett is writing a collection of poetry to memorialize the citizens of Anniston, Alabama harmed by industrial coolants dumped in open-pit landfills in the town. She wants to "put faces and bodies to names and lists" and bring the stories of those most affected by the contamination forward.
Poets' critical viewpoints in part inspire their insight, says Doherty. Gill O'Neil says that poets are able to get to the heart and look at all sides of an issue.
The result is that not only can poetry bring about a catharsis for the writer, but it also can catalyze the writer to action. "I have to write about something before I can act on it," says Dress-Germain.
The festival is also focused on bringing change to the world of poetry. At the panel "Small Independent Presses," five editors will take the stage to discuss increasing diversity in the press. In "Random Acts of Poetry," participants will bombard Salem with poetry, walking around writing poetry and setting up pop-up readings throughout the city.
Ultimately, says Gill O'Neil, when you're writing poetry, your objective is not to change the world. Rather, it's to shift someone's perspective. As society becomes more open, accepting and inclusive, so does poetry. "This is the best time to go see poetry," she says. "It's edgy, it's raw, it goes there."
To purchase festival buttons, visit the Massachusetts Poetry Festival's website.
---
Will Sullivan is an ARTery intern. He studies math and music and runs on the cross country and track and field teams at Swarthmore College.