A Ride On The MBTA With Transportation Secretary Pollack
08:17
Play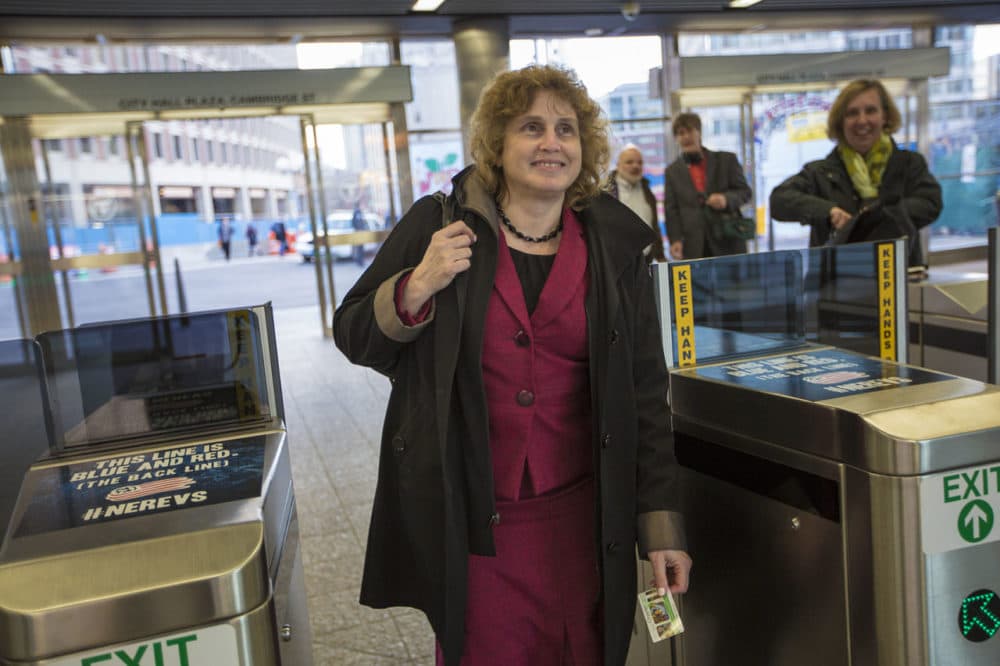 This article is more than 6 years old.
Are you on your way to work right now? Maybe you're navigating busy streets in a car or on your bike — or maybe you took the T in?
All this week we've been exploring the aches and pains of Boston's traffic and congestion as part of our BostonomiX series, "Driving Us Crazy."
Today, we speak with the woman in charge of how we're all moving around the state — Secretary of Transportation Stephanie Pollack.
We caught up with Pollack on a recent late afternoon as she commuted from the Government Center T station to Newton on the Green Line on what she described as a lighter-than-normal rush hour.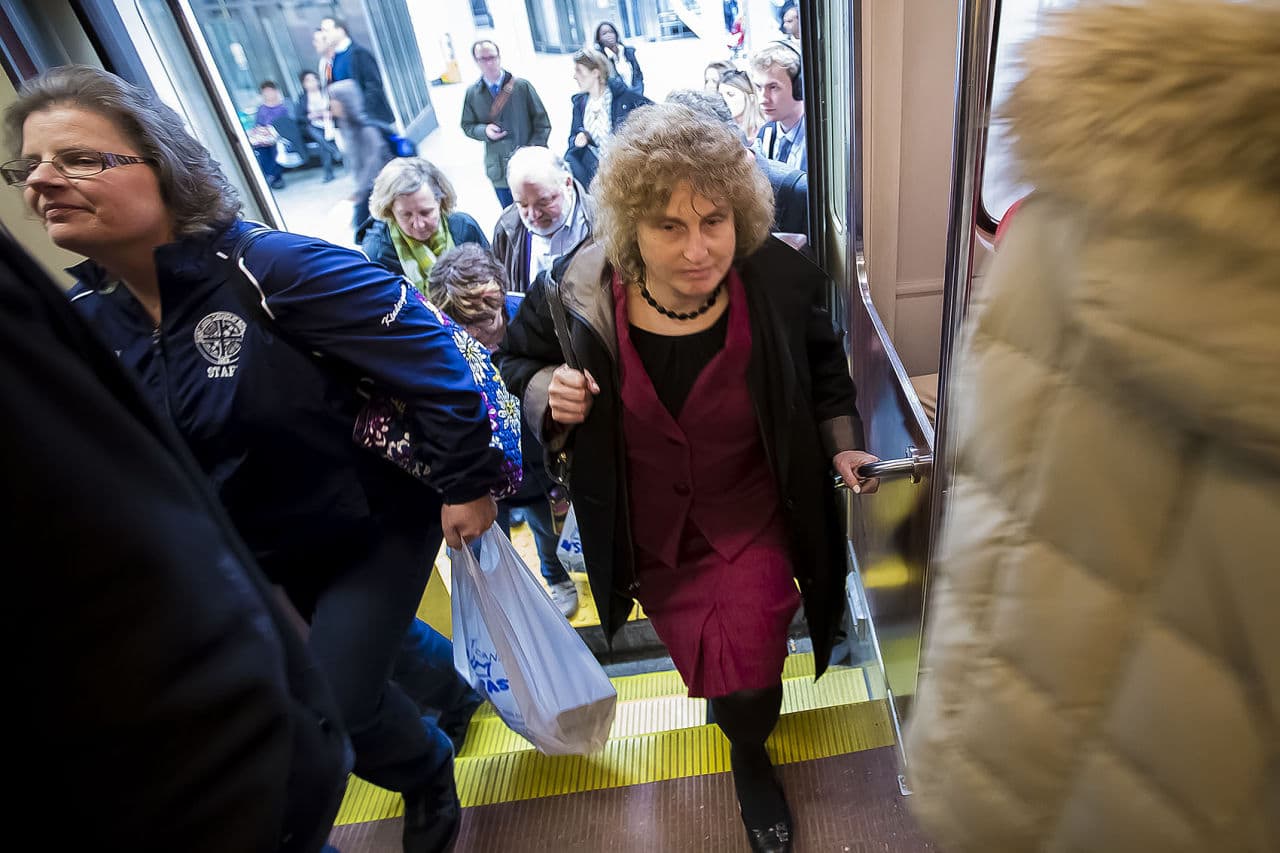 ---
INTERVIEW HIGHLIGHTS
On whether she likes riding the T
Stephanie Pollack: I do like my T commute. I've always liked the T. I hate to drive. I guess I'm millennial in that sense. I use the commute to sort of read the papers in the morning and check my emails. ... If you look at the polling on why people like transit even though the trip is longer, it's because you can do stuff on transit.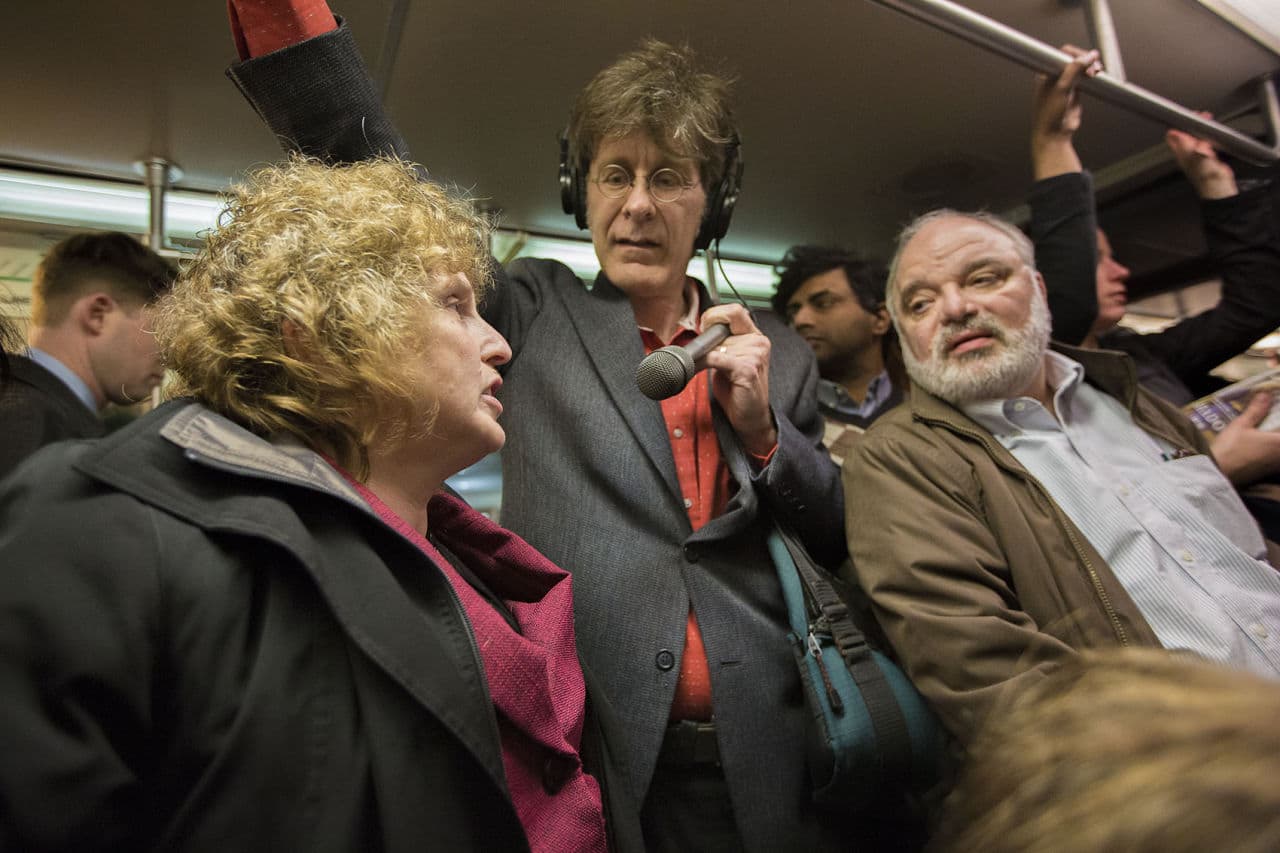 On the importance of public officials taking public transit
I think it's actually important for people like me who make policy decisions about transportation to know what it's like, whether that's driving the Mass Pike at rush hour or being on the Green Line at rush hour. But if I didn't take the system, I wouldn't know: Are the trains clean or dirty? Are the trains crowded or not? Are our on-time signs working?
I don't see how you can kind of keep track of what the regular commuting experience is by not using it. For me that means, sometimes Green Line, sometimes commuter rail, sometimes Mass Pike, because all of them I need to kind of keep an eye on.
On what makes people crazy about the T
I think for rush hour people understand that the trains are going to be full. I think the thing that actually makes people crazy is not being able to get on a train. That's kind of where you cross the line from crowded to unacceptable. When you're on the platform waiting for a train, as full as it [may] be, you should be able to climb on. ... If you're still standing there, we're not running enough trains.
On how the Green Line is the most 'challenging' MBTA line
I think the Green Line is really our most challenging line. It's way more complicated than the Red or the Orange or the Blue Line. These tunnels are 100 years old. They don't meet current standards. The vehicles are non-standard size. It's hard to even know where the trains are. That's why it took us so much longer on the Green Line than the other lines to have those little signs that tell you when the next train is coming, because we didn't know.
The Green Line is a real challenge, but over 200,000 people a day take the Green Line so it's a challenge we're going to have to figure out.
On what the biggest problem is for rider experience on the T
Reliability. People won't use transit if it does not get them where they're going on time. People will tolerate crowding, people will tolerate muffled or no announcements. People want to know: If I leave my house at this time I will be at my desk at this time, and if we can provide that day in and out, they'll provide a lot. But if some days it takes you 20 minutes and some days it takes you 40, people can't live their lives that way.
This segment aired on April 29, 2016.