Analysis: Massachusetts Is Still Not Trump Country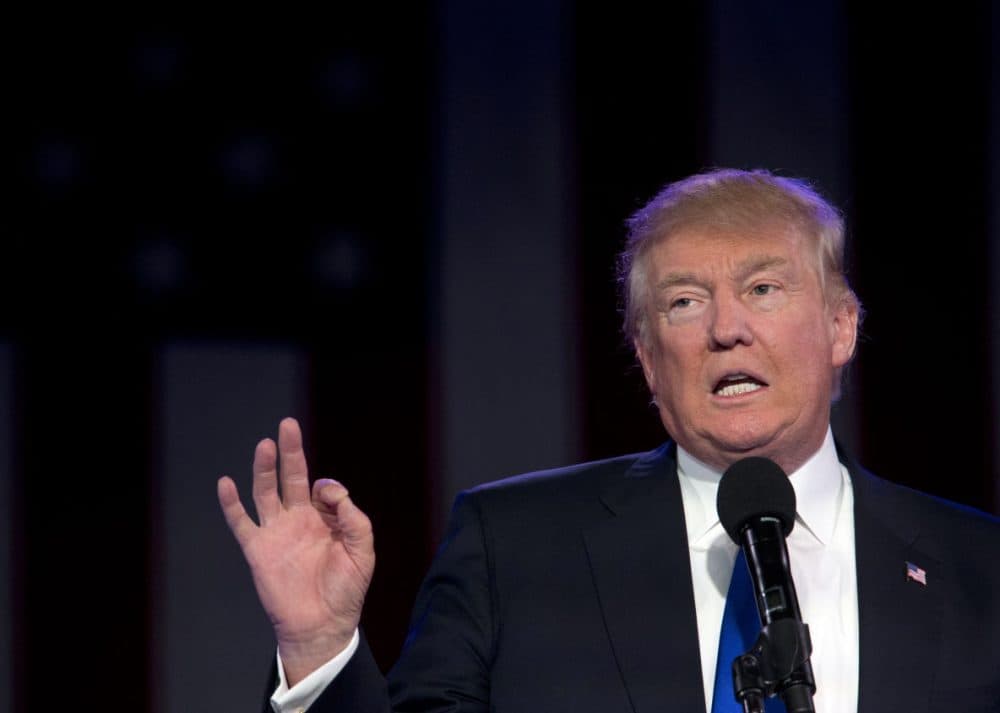 This article is more than 5 years old.
Donald Trump is the de facto GOP presidential nominee, making him the party's national standard bearer for at least the near future.
In Massachusetts, he strode across the primary landscape, clobbering all comers by 30 points or more. When the dust had settled, he had won just under half of the record 637,703 votes cast in this year's Republican primary — a landslide by any definition.
Then, last weekend, Trump's campaign dismissed any lingering questions about his ground game, thumping both John Kasich and Ted Cruz in the state's delegate selection caucuses. One news report used the occasion of this latest victory to declare "Massachusetts is Trump Country."
Some, both inside and outside the Trump campaign, have even suggested he could be the first Republican since Ronald Reagan to carry the state. Local Trump supporter state Rep. Geoff Diehl told the State House News Service that the Trump campaign thinks Massachusetts is in play for November, and said Massachusetts volunteers will be used locally rather than dispatched to New Hampshire, a traditional swing state.
Talking about expanding the electoral map is understandable tactical bravado, even if the goal appears dubious here in Massachusetts.
Everyone should chill out. Massachusetts is still not Trump country.
Trump's victories here were impressive, but his reception moving forward is looking chilly, bordering on frigid.
Record-breaking though it was, the turnout in the GOP primary represents around 15 percent of all voters in the state; only about half of those, or 7.3 percent of all Massachusetts voters, voted for Trump.
Primaries usually draw only a small slice of the electorate, so this is not damning on its own. What is unusual about Trump is that the number of people with a favorable view of him is not much larger than the number of people who backed him in the primary. Usually, a primary winner hoping to be competitive emerges with the support of the party and room to grow. Trump seems to have neither.
Looking beyond GOP primary voters, Trump's poll numbers are rock bottom. He is viewed favorably by just 18 percent of the state's voters, according to a recent WNEU poll. We assembled a database of 238 favorability ratings included in any of our statewide public polling we at The MassINC Polling Group have ever conducted. Trump's staggering 75 percent unfavorable rating in the WNEU survey is a higher figure than for any person, thing or group we have ever measured in Massachusetts.
Trump's net favorability, which shows how many more (or less) view him favorably than unfavorably, is also historically terrible. At -57, Trump's net favorables are second lowest in the rankings, trailing only then-GOP presidential candidate Newt Gingrich in early 2012.
(Click here for an interactive version of the chart.)
Even the state's Republicans aren't sold on Trump. Just 43 percent view him favorably, compared to 51 percent who view him unfavorably, per WNEU. By comparison, 80 percent of Massachusetts Republicans viewed Mitt Romney favorably in a WBUR poll from early 2012. Charlie Baker and Scott Brown, the two Republicans to win statewide in recent years, were also both wildly popular with their own partisans.
A clear-eyed evaluation of Trump's chances shows a wipe out remains the most likely outcome. This is not even really a knock on Trump. Republicans just don't win here very much, especially for president. Everything has to go just right, and even then it can be close. Trump is not currently winning or close to winning any of the demographic groups he would need to prevail here in the fall. Winning 7.3 percent of the state's voters in a primary, and organizing the delegate caucuses, are not strong evidence of potential general election strength.
Trump has also alienated the most popular politician in Massachusetts: Gov. Charlie Baker. As de facto leader of the state party, Baker has repeatedly condemned Trump's statements and has now said he will not vote for Trump in the fall. This sets up a potentially awkward relationship between the state party and Trump campaign, which apparently intends to compete in the state. Will the state committee offer resources or assistance to a candidate with 17 percent favorables and only the most distant chance at victory?
Trump has defied most pundits' expectations throughout the primary, so it would be foolish to write him off completely. But looking at the numbers right now casts serious doubt on the idea that Massachusetts is Trump country.
Steve Koczela is president of the MassINC Polling Group and a regular contributor to WBUR Politicker. He tweets @skoczela.