'The Body Politic' — Ovid Meets Contemporary Issues In A New Opera From Juventas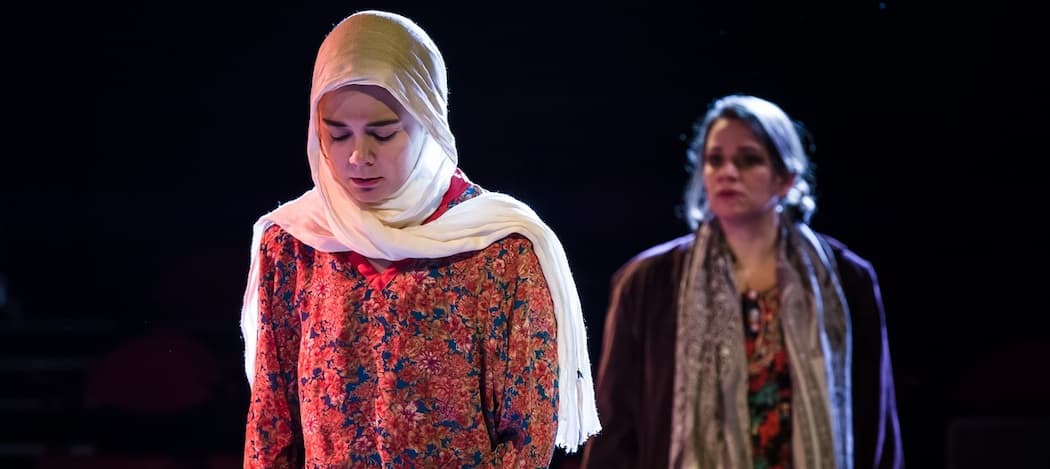 This article is more than 5 years old.
On Wednesday the United States Justice Department warned North Carolina that its House Bill 2 violated civil rights laws, stymying efforts to deny transgender people the right to use the bathroom of the gender with which they identify. Meanwhile, Donald Trump, who has called for Muslims to be banned from entering the country, is now the apparent Republican nominee for president.
So an opera about a transgender man moving from Afghanistan to the United States premiering in Boston this weekend could be perceived as a political statement, a critique of the government, a call to action. Composer Leo Hurley and librettist Charles Osborne could have conceived the idea for the opera while flipping through The New York Times the last month. But this opera's story doesn't  begin on the front page of The Times, and that's not really what this story is about.
The seed of "The Body Politic" was planted in Hurley's mind eight years ago by a much older source — Ovid's "Metamorphoses." Book IX of Ovid's epic tells the story of Iphis, female by birth but forced to grow up disguised as a boy since her parents can't afford to pay a dowry. When he comes of age, his father chooses a bride for him. She falls in love with Iphis, and Iphis with her. The gods answer Iphis' prayers to be transformed into a man, and Iphis and his bride live happily ever after.
It was this story that Hurley was inspired to tell in "The Body Politic" in operatic form. (It's being performed tonight through Saturday at the Boston Center for the Arts Plaza Theatre by Juventas New Music Ensemble.) "I am just as much a storyteller as I am a composer," he says. "It's not fun to write something that doesn't have a story." He and Osborne, the librettist ("a partnership I thought I could only dream of," he says) feel the need to listen to today's voices and reflect them in their work, so they decided to set the story of Iphis in modern times. "We don't need another myth," he says. "We need something that is culturally relevant to our times."
To tell the story of a modern Iphis, Hurley used the still-prevalent Middle Eastern practice of bacha posh to create a situation in which someone born female but identifying as male would be disguised as a man. Since sons have the political freedom to better help support their families, parents without a son might raise a daughter as a boy.
It took time for the opera to find a home, says Hurley, partly because he was transitioning out of college during its development, and partly because it was difficult to find someone willing to present a performance of such controversial subject material. But Juventas New Music Ensemble and artistic director and conductor Lidiya Yankovskaya agreed to produce the premiere performance.
Yankovskaya says she was willing to take a risk on "The Body Politic" for a couple of reasons. For one, she has found collaboration between composer and librettist to be a challenging process, but knew that the duo had worked well together in the past. The two also had musical theater experience, so Yankovskaya was confident that they would be able to deliver the most essential element of an opera — the story. But choosing to produce an unusual work like "The Body Politic" was not an unusual choice for Juventas. Taking such risks on little known artists is exactly was Juventas was created to do.
Currently celebrating its 10th year, Juventas describes itself as an "incubator" for young composers, giving them opportunities they wouldn't be able to get anywhere else. She explains that it's difficult for young composers to find ensembles to perform their compositions because ensembles like to hear high quality recordings before agreeing to perform a composition. And making such recordings is expensive. Yankovskaya will agree to produce a composition after just seeing a score.  A performance with Juventas gives composers a recording that they can distribute to possibly kickstart the rest of their career.
Juventas, consisting of directors, an administrative team and seven core instrumentalists, also prides itself on its dedication to presenting multidisciplinary art. As part of a "Music in Motion" collaboration with Puppet Showplace Theater two years ago, they performed Varese's "Density 21.5" for solo flute with the flutist joined by a dancer dressed in black. The flutist, similarly dressed, and dancer perform a carefully choreographed dialogue through the dancer's movements and the flute's music. At one point, the dancer reaches out and touches the flutist's toes, eliciting an angry chirp in response from the flute.
Giselle Ty, who is directing "The Body Politic," says that a performance we view in America as multidisciplinary may not be perceived as such in other cultures. "Our genres are more narrowly defined."
It's also helpful, says Yankovskaya, to give the audience more than one way to connect to the piece. Since modern classical music is an esoteric art form, the other disciplines can give the audience a point of reference. They provide "another window into understanding music for those without a musical background," she explains.
Finally, the two believe that bringing people with different backgrounds together enriches the final product. Ty says that the music and staging have a symbiotic relationship in the best productions. "The sum of the parts is better than the individual parts," explains Yankovskaya.
"The Body Politic" could certainly be categorized as multidisciplinary. While structurally it's a traditional opera — it has arias, it has recitative — it has musical theater and American and Afghan folk music influences. A drag queen sings a country number. But Hurley wouldn't describe his creation as an amalgamation of these different genres. He again insists that what he's focused on is telling an interesting story. In contrast to traditional opera, "the plot and text are just as important as the music," he says. You can listen to two of the opera's arias on Juventas's website.
What is the story of "The Body Politic"? On the surface, it's the story of Iphis, a transgender man raised bacha posh, growing up in Afghanistan and moving to the United States. And while the challenges Iphis faces in the opera are specific to his experience as a transgender man in a cisgender society and as a Muslim in the United States, the opera's creators and producers stress that its themes are universal and its story a personal one.
Yankovskaya says that the primary purpose of the story is to show Iphis' personal journey and development, as well as his interactions with the world around him. She says that while it's impossible to not acknowledge the tensions surrounding trans issues and religious issues in the world today, the opera doesn't aim to pass judgment. She says that while all the characters are very different, and you certainly won't agree with all of them, you can still connect deeply to each of them. "Every character has their failings," explains Hurley. "There are no right characters and wrong characters and you can defend the actions of every character in the opera."
Hurley says that he didn't want any pure villains in his opera because he feels that as a society, "We all need to start listening to each other … everyone is trying to live an honest life and do what is best for their families and loved ones. The tragedy is when those goals conflict with other people's goals."
While neither Hurley nor Osborne is a member of the trans community or is of Afghan descent, the two  certainly did their homework in writing the opera. Hurley said their main concern in writing the opera was respecting the communities they aren't a part of, listening to them and reflecting them accurately. Yankovskaya says they spoke to a variety of people with experience in these issues, including academics in gender studies, several trans individuals and a sex change surgeon. Hurley immersed himself in Afghan folk music.
Hurley and Osborne ended up focusing on the similarities between American and Afghan culture. Hurley says that Americans need to stop "other-izing" all these non-majority groups. Ty points out that dominant countries tend to erase the history of others. But the more research the two did, Hurley says, the more similarities they found. The opera features scenes in Afghanistan with mirrored scenes in the United States, and Hurley says that American and Afghan folk music have their share of overlaps as well.
"The Body Politic" tells a story that has not been explored in depth by mainstream American media, which Ty views as a tragedy in and of itself. "In an ideal world this story wouldn't be perceived as so unusual," she says. Yankovskaya says that the biggest challenge is to carefully present the issues with nuance.
But, says Hurley, Iphis as a character does have a message. "I decide who I am, and you can't take that away from me."
Will Sullivan is an ARTery intern. He studies math and music and runs on the cross country and track and field teams at Swarthmore College.