Scaled-Down Plan For The Green Line Extension Will Move Forward
This article is more than 6 years old.
Open air stations with platforms with weather shelters. Fewer changes to bridges. A simplified and shorter community path alongside.
The state transportation board and the MBTA's fiscal control board voted Monday to tentatively move forward with a scaled-down proposal for the long-delayed Green Line extension (GLX), which would relocate Lechmere Station and bring six new T stations to Somerville and Medford.
The new plan, which is estimated to cost $2.3 billion, will go to the Federal Transit Administration, which also must approve the modified proposal.
State transportation officials will also need to ensure the financing is realized for the new estimated project cost.
The project was halted last year after its estimated cost ballooned from $2 billion to about $3 billion. In December, Transportation Secretary Stephanie Pollack had said the entire extension could be scrapped.
The new plan brings that estimated cost closer to the original proposal.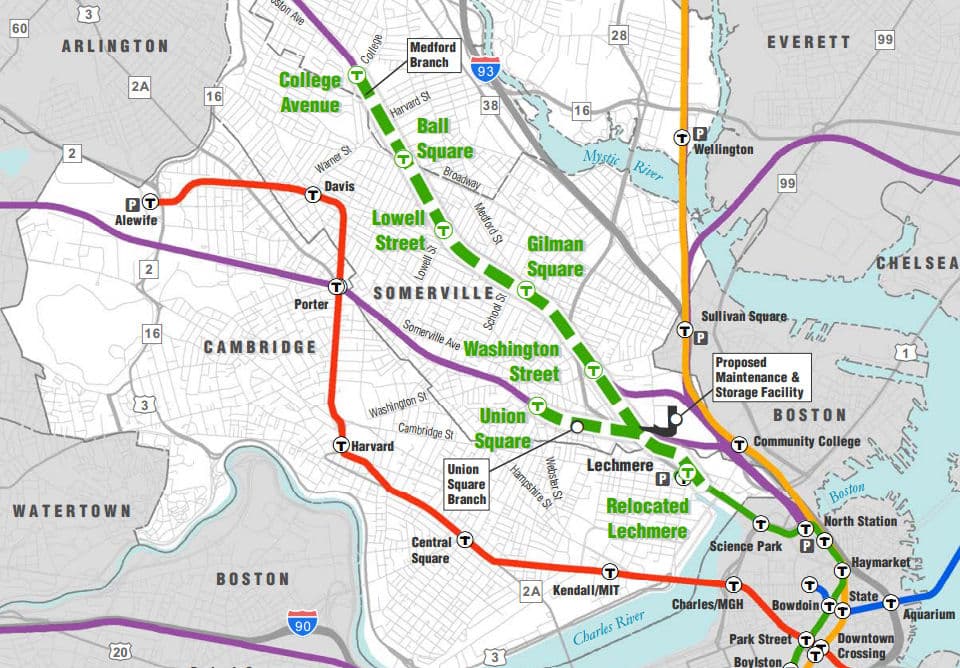 Nearly half of the new plan's savings comes from scaled-back stations.
Previous GLX estimates had the stations costing about $409 million; the modified plan pegs their cost at $121 million.
The new plan would also include a much smaller vehicle maintenance facility, fewer design changes to bridges and a shorter community path.
Even with the changes, the project has an estimated $73 million funding gap. That's also after the cities of Somerville and Cambridge announced last week they're pledging a combined $75 million toward the project.
Nearly $1 billion of the project's funding comes from federal grants.
Monday's meeting was preceded by a public comment session. Somerville Mayor Joe Curtatone, one of the project's most vocal supporters, was among those to speak.
Over the weekend, he told WBUR in an interview that plans for the extension should move forward, as $800 million has already been spent preparing for the project.
"We've been waiting for the Green Line for generations," Curtatone told WBUR.
[S]ince the state is required to complete the project as part of a lawsuit settlement to mitigate the environmental impacts of the Big Dig, canceling it could leave the state open to litigation.
With reporting by WBUR's Benjamin Swasey and Steve Brown
This article was originally published on May 09, 2016.