Why Some Entrepreneurs Embrace Failure
Play
This article is more than 6 years old.
It's estimated that between half and 90 percent of startups fail in less than five years. Nevertheless, the Boston region has a long history of banking its economic future on risk-taking entrepreneurs to create innovative companies, new services and high tech products.
And one area that's booming is the startup industry itself, where a growing number of accelerators and incubators help wannabe entrepreneurs.
'Businesses Have Lifetimes'
Typically, we celebrate success and frown deeply on failure, dividing the world into winners and losers.
But that's not the way serial entrepreneur Bob Caspe sees things.
"I just don't believe the concept of failure means anything," he says.
That's not to say a company's fate is not measured in dollars and cents.
Caspe, who started three high tech companies and is founder of the International Entrepreneurship Center in Newton, says from his perspective, failure -- and, for that matter, success -- are just moments in time, highs and lows on a continuum.
"You and others tend to think of failure in financial sense," Caspe says. "Did an oak tree fail if it died from a fungus but its acorns grew and spawned new oak trees? Businesses, like organisms, they have lifetimes associated with them."
Companies live and die, and along the way create jobs, products that save time and lives; employees make connections, creating new companies and forming communities of competitive collaborators.
"If you so narrowly define your success as purely the question of how much money is left in your pocket at the end of some episode, then the question is even, when does the episode stop?" Caspe says.
For Maynard-based Digital Equipment Corp., the episode lasted 40 years. The Massachusetts company was the second-largest computer maker in the world, employing 120,000 workers.
But financial success can mask managerial and marketing mistakes.
Digital Equipment founder Ken Olsen was known as the "ultimate entrepreneur" but stubbornly dismissed small desktop PCs as "toys."
"And Digital Equipment Corporation essentially disappeared in a short number of years," Caspe says.
In the 1920s the average lifespan of an S&P 500 company was over 60 years. Today, it's 15, as the fates and fortunes of entrepreneurial companies and founders ebb and flow at an accelerating pace.
"It's just part of a process, and especially because so much of business is driven by random chance and the happenstances that occur," Caspe says.
Failure As A Badge Of Honor
Even the best-laid business plans, smartest technologies and savviest investors frequently get it wrong, and until a few years ago failure was a forbidden topic among entrepreneurs.
"We weren't even talking about failure, it just didn't happen," says Cass Phillips, a conference organizer in San Francisco who says the high tech culture was fearful of... you know what.
"If your company failed you kind of vanished from existence, you disappeared back into the normal corporate world," Phillips says.
Phillips made a successful business out of failure. Seven years ago she founded FailCon, a networking service in the the startup-frenetic Bay Area. FailCon offered a place where entrepreneurs could feel safe discussing lessons from their struggles and shortcomings.
"So I think failure plays a really important role, if not the most important role, in innovation and in entrepreneurship," she says. "If your startup does not fail at some point, you have a bad startup. It means you didn't set your goal high enough."
"I think companies fail, people don't," says Scott Bailey, who advises entrepreneurs not to take failure personally, but do take it to heart.
Bailey is managing director of MassChallenge, a boot camp for startups located in Boston's so-called Innovation District.
Compared to the Bay Area, Boston is late to the culture of the value of failure, but Bailey says, we're catching up fast.
"Failure is becoming more acceptable," he says. "I think Boston is actually one of the top places where it's, like, respectable to be a failed founder."
It's even a badge of honor.
MassChallenge is in its seventh year. It bills itself as "the most startup friendly business accelerator on the planet."
Scores of startups are selected through an intensive competition. Winners are provided with a four-month, rent free mentorship program with experts in marketing, finance and management.
But Bailey says the most important thing MassChallenge offers is a problem-solving community where peers can openly discuss mistakes.
"Failure is something that they're all familiar with. There's failure every day," he says. "And you have to embrace that because honestly it makes you better, it makes you realize what the opportunities are. And if you're failing that means you're trying."
A Few Of The Companies At MassChallenge
"The failure of a company is death. You know, most startups and businesses don't make it," says Chibueze Ihenacho, CEO of ARMR Systems. Ihenacho delayed medical school to participate in MassChallenge. He's hoping his company will be one of the winners in the accelerator's competition for startup funding, so he can begin manufacturing lifesaving devices for soldiers wounded on the battlefield.
"We're always analyzing what can happen to us that we won't make it," he says. "No one can tell the future but, you know, if you're smart, alert, prudent, you can navigate."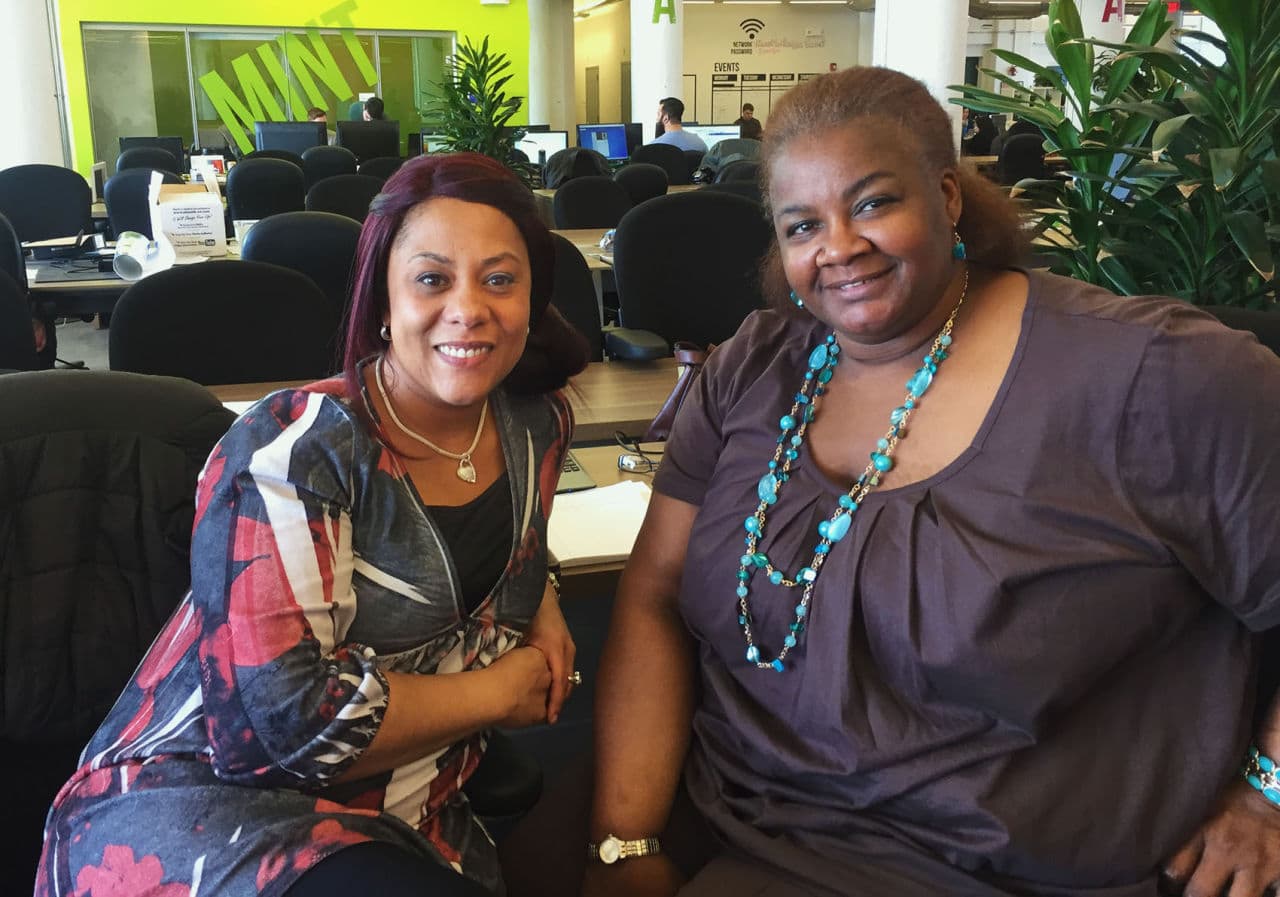 Entrepreneurship isn't about avoiding failure. It's about embracing the inevitable.
"I didn't have an option because I resigned from Corporate America to open my business," says Marlena Carter-Diaz, who was at MassChallenge preparing her pitch for the semifinal funding competition.
"When did the dream get planted? Three years ago," she says. That's when she gave up a 20-year career in banking. She hasn't looked back since.
"Failure is something that can happen. It's a process. I just learn from it, and then I learn not to do it again," Carter-Diaz says. "I stick focused to my dream and my passion and why I'm doing this."
A startup requires a business plan, but passion provides resolve and resilience. Carter-Diaz's company, Care Management Temporary Staffing Agency, hopes to supply home care workers in minority neighborhoods.
"They didn't want to come into my community," she says. "I'm a Bostonian to the heart, so I take that personally. But most providers don't want to come into Roxbury, Dorchester, Mattapan. No problem: I will have the people for the people."
Forty-four percent of company founders at MassChallenge in this round are women. Ten percent are African-American and 13 percent are Latino.
By example the startup founders hope to allay fears of failure.
"They don't have that second chance to fail," Carter-Diaz says. "That's how that is in the minority community: We have that one shot. And if we fail we don't know failure is part of the process, we haven't been told that. You know, they feel, 'I failed, nobody is going to invest in me again,' or 'I can't learn from that and still take that failure and build on that.' "
Kathy Washington was a doula; she delivered babies. Now she's office manager and trains RNs and social workers for the case management startup.
"There are people out there who need jobs," Washington says. "There are people out there who need training. So regardless, the work, the mission that we have, what we have to do -- we have to do."
And if she doesn't go to the final in this MassChallenge round?
"I would like MassChallenge support behind me, but MassChallenge isn't going to make or break me," Washington says. "The mission is too strong and the purpose has to be done."
Failure may be inevitable in the cycle of business life but some startups will learn the lesson well, giving failure a good run for investor's money, and succeed far into the future.
This segment aired on May 12, 2016.