A Magic Realist 'Latin American Spectacle' Parades Through Boston's Hyde Square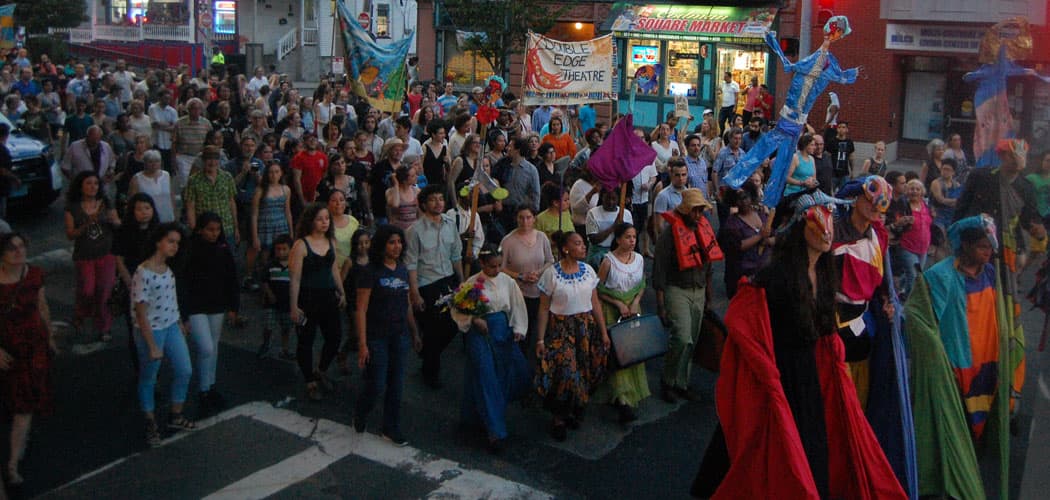 This article is more than 5 years old.
"Tonight I'm remembering my village, a moment in time, my village, Agua Santa, that was its name … Sacred Waters," the Narrator played by Carlos Uriona, co-artistic director of Double Edge Theatre, says at the start of the Ashfield-based company's "Latin American Spectacle."
The free pageant gives a final performance in Boston at 7:30 p.m. Sunday, May 29. Based on Double Edge's 2015 show "Once A Blue Moon," this version of the spectacle is directed by the company's founder and co-artistic director Stacy Klein and produced in partnership with Hyde Square Task Force and Charlestown Working Theater.
The magic realist show begins with music and dancing on the steps of the former Blessed Sacrament Church at 361 Centre St. in Jamaica Plain. Actors invite the audience to follow them into the vacant church, which has been turned into a village populated by stilters, aerialists, musicians and dancers. "I was born in this place that exists before human time, before words," says a woman perched in a yellow swing.
"Keep working," brays a buffoonish "Englishman," who flies over the crowd on a zipline and professes plans to supplant the community with aqueducts and estates. "How fortunate it is that this country was discovered by an Englishman and not one of those."
"There's a lot of material from my life. The issue about displacement," Uriona tells me after the show. "I'm one of the survivors of the 'Dirty War' in Argentina" of the late 1970s and early '80s.
The company mixed elements of his biography with Latin American fiction—inspired by Isabel Allende and others. But there is no war in the show. The villain is a caricature of a colonial businessman, an imperial developer. "We adjusted those themes. War has a corporate trigger. There is no attack on any country that is just done by the military. The military serves the corporate purposes," Uriona says. "In this case what we're saying is corporate developments are taking away places from people and displacing people. … And it all produces inequality and violence."
"We replaced elements of the story too with some elements of what this neighborhood here is concerned about," Uriona says as we stand along Centre Street, "displacement."
Which can make the pageant sound gloomy, but it's actually a sunny spectacle of music, dancing, a parade. "It is a metaphor," Uriona says. "It is not a dogmatic statement."
After the village scenes in the church, the actors invite the audience to follow them back outside for a parade with stilters and musicians down Centre Street to Mozart Park. Amid windows set up in the sprinkler park, the Narrator says that his hometown, Agua Santa, only now exists in memory. "It is in the memory where anything can turn miraculous."