What Can We Learn By Remembering Forgotten Radical 1930s Yiddish Puppeteers?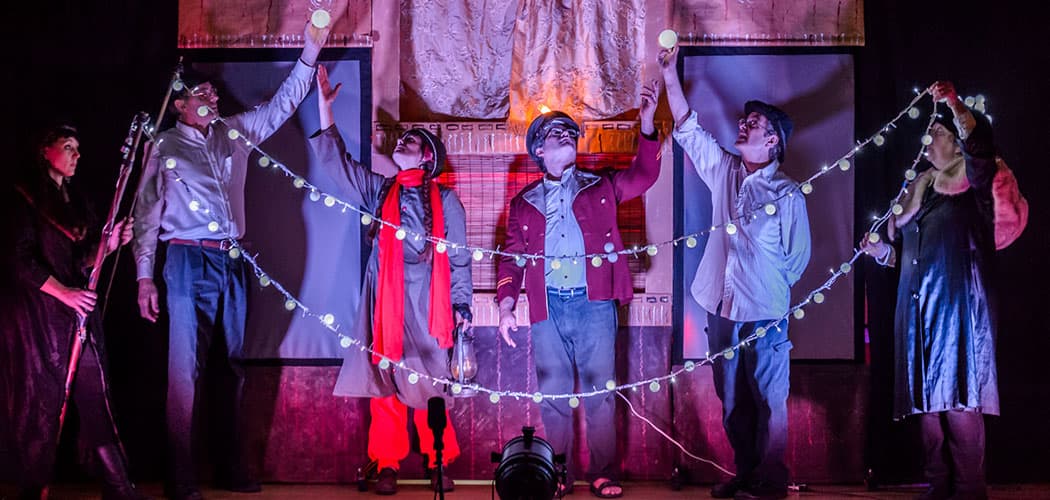 This article is more than 6 years old.
What can we learn by remembering a forgotten pair of radical 1930s Yiddish puppeteers?
That's the question animating Great Small Works' performance "Muntergang and Other Cheerful Downfalls" at Charlestown Working Theater at 8 p.m. Saturday, June 4, and 2 and 7 p.m. Sunday, June 5.
The show is partly a biography of puppeteers Zuni Maud and Yosl Cutler and partly a revival of their work—via a puppet show in Yiddish and English that's built on the duo's original graphics and songs plus new handpuppets, projections, rod puppets, panoramic scrolls, handmade lighting and an original music score performed live by the Cambridge and New York-based company (John Bell, Trudi Cohen, Stephen Kaplin, Jenny Romaine and Roberto Rossi plus musicians Jessica Lurie and Hannah Temple and puppeteer Sam Wilson).
"This piece is about Zuni Maud and Yosl Cutler," Great Small Works writes, "but it is also a meditation on how to embody values that change social power relationships."
Maud and Cutler were two Jews, who left oppressive Eastern Europe and met in New York in the 1920s while working on a satirical Yiddish political magazine. They joined forces to found the Modicut Yiddish Puppet Theater in 1925. "Cutler talked about seeing the very anti-Semitic puppet shows in Volhynia where he grew up, but loving the puppets," says Great Small Works' Jenny Romaine.
"They were movement guys," Romaine says. "They formed this puppet theater that was just bringing a lot of fun to the proletarian movement. And it was all in Yiddish." Their shows drew on Jewish tradition. "They used types from their culture and very lovingly recreated gestures, language, types of people, humor, charm from the Old World. But they were talking about revolution. … They were talking about general class revolution because they're coming out of this Russian peasant situation."
That said, Romaine insists, "They were not dutiful. They were clowns and tricksters."

Maud and Cutler traveled to London, Warsaw, Moscow, performing their puppet version of S. Ansky's landmark Yiddish play "The Dybbuk." Inspired by Jewish folktales that the author gathered while doing ethnographic research in Eastern Europe, it relates the tale of a woman haunted by a dybbuk, in this case the spirit of her dead beloved. Great Small Works works the show into their performance.
When Maud and Cutler returned to the United States their partnership dissolved. Cutler headed to Hollywood, hoping to make a puppet movie, but died in a wreck while driving across the country in 1934. Maud lived until 1956, continuing to perform puppetry, running a Catskills hotel, performing on television. But in the decades since then, their art has fallen into obscurity.
Great Small Works' "Muntergang" show began as a commission from the YIVO Institute for Jewish Research to develop a show inspired by the collection of Modicut manuscripts and puppets in the New York institution's archives. "Zuni Maud and Yosl Cutler are undoubtedly our artistic ancestors," the company writes, "as puppeteers, modernist folk artists, and Yiddish storytellers drawn to making work about social relationships that can change."
"In the next century, we have to change to create a multi-class, multi-race resistance to abuse. But we need new practices," Romaine says. "How do you do it?"
Great Small Works argues that Maud and Cutler's work could be a model. "They were dead serious in their political critique and they were connected to movements with real power," Romaine says. "We want to build with it. We want to build on the power of other artists and other cultures, artist ancestors."