As Mass. Prepares For First Experiment With Early Voting, Election Officials Sort Out The Rules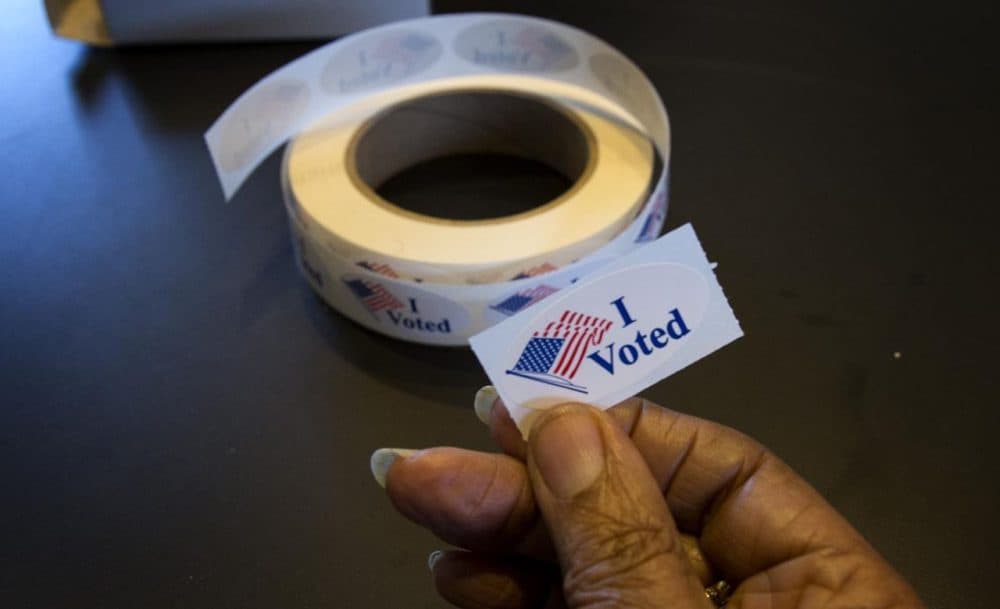 This article is more than 6 years old.
Twenty weeks from now, the first Massachusetts voters will be casting their ballots days before the Nov. 8 election, in the state's inaugural early voting period.
In the meantime, election overseers at the local and state level must figure out and develop a new set of practices to grapple with a new range of issues: Where and when should early voting be made available? How do you make sure people only vote once? How do you keep the process fair? What will it all cost?
"We're building the system right now as we go, but we know these are issues that are likely to emerge," said Secretary of State William Galvin, the state's top elections official.
In late May, Galvin's office posted online a set of regulations governing the early voting process, with a public hearing on the guidelines planned for July 27.
The regulations, Galvin said, align with the 2014 election reform law that created an early voting period in Massachusetts. Along with procedures for processing early ballots and duties of local officials, the regulations outline areas where communities have options, like how many early voting locations they set up, whether the sites are open on evenings and weekends and if police officers are stationed there.
"The way the law was drafted by the Legislature — and I don't have a problem with this but I'm just stating the facts — there's a great deal of autonomy for the cities and towns," Galvin said in an interview. "They do have to have the 10-day period, but for instance the issue of multiple sites is left to their discretion."
The establishment of early voting, starting with the November 2016 election, was among a series of measures included in a broader election reform law, heralded by supporters as a way to increase access to the polls. The 10-day period begins eleven business days before the election — this year, Oct. 24.
"Early voting is one of those reforms that really helps to provide opportunities to voters, particularly those with the busiest schedules and the most unpredictable schedules, and it also helps to alleviate those lines during our biggest elections," Common Cause Massachusetts Executive Director Pam Wilmot said.
Under the law, Massachusetts cities and towns are required to have at least one early voting site open during business hours. Galvin's regulations call for early voting to be set up in municipal offices or other centrally located buildings that are large enough to accommodate voters and accessible to people with disabilities.
Wilmot said the regulations "don't provide a lot of guidance for municipalities" but allow them flexibility in how they choose to implement early voting, including how to staff the voting sites.
"It is clear that the full complement of poll workers is not required, and municipalities are just going to have to play it by ear and do a learning process," she said.
Common Cause has joined with other Massachusetts organizations to form a coalition that plans to issue awards to communities that best live up to their recommendations for early voting, including offering evening and weekend hours and opening one early polling site for every 35,000 people.
Wilmot said she has worked with "a number of communities" where officials are seeking "robust implementation" of early voting and are appropriating necessary funds, including Cambridge, Worcester, Arlington and Boston.
Boston Mayor Marty Walsh in April announced his city would open nine early voting sites — one in each City Council district — with evening and weekend hours. Walsh has committed $670,000 for early voting, his office said.
"Here in Boston, we are committed to giving all of our residents the opportunity to participate," Walsh said in a statement.
Galvin said his office encourages multiple early voting sites and acknowledged that additional locations can present extra challenges.
He said large cities like Boston with several sites would probably require "some kind of electronic polling book," giving each location a consistent record of who voted at any polling place so that the same person cannot cast multiple ballots.
"Do I think there's a massive conspiracy to vote? No," Galvin said. "But you'll always have folks who want to prove that you can do this, so I'll vote here and I'll race in my Uber cab and run over to this other location and try to vote again."
The secretary said he doesn't expect municipalities to site their early polling places in ways that could sway numbers or outcomes but is ready to act if that occurs.
"Suppose you had somebody who decided that well, this side of town votes Republican, I'm going to put an early voting one over here, or this side of town votes Democrat . . . ," he said. "Well, we're going to have some supervisory authority so if you put it in such a place where it's so obviously not convenient to the whole community or you have one site and it's not, then we're going to intervene."
Galvin, who in February told legislative budget writers that he didn't think proposed funding levels provided enough money for early voting, said he remains concerned about the cost. With details of the early voting processes and requirements still being worked out, he said, it's hard to determine an exact amount of money that would be needed.
"Some of this is going to generate costs. How much, I can't say," Galvin said. "I don't think it's the state's obligation to pay every single city and town clerk extra to do their job. I don't, but I do think it's our obligation to help them with the support that they do need."
Gov. Charlie Baker's fiscal 2017 budget proposal included $400,000 to implement early voting, a sum matched in both the House and Senate budgets.