Podcast Pilot: The Magic Pill, Your Daily Dose Of Get-Up-And-Go
10:02
Play
This article is more than 6 years old.
Here it is! The pilot episode of The Magic Pill -- an audio injection of get-up-and-go. It's 10 punchy minutes of new science, big ideas, human stories, quick tips, and a grand finale of some gotta-move music you might never have heard otherwise. Click on the play button above to listen.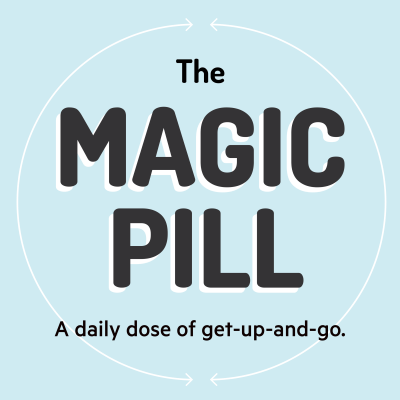 This is just a taste. You'll get the full treatment — a 21-day podcast challenge — beginning Sept. 1. But in the meanwhile, this pilot episode will give you a sense of what it's all about: The shift in mindset from seeing exercise as a chore and a pain to seeing it as a gift, a treat, even a joy. Getting into that mode not only feels better, it works better at keeping us going, says fitness motivation expert Michelle Segar. We draw quite a bit on her new book, "No Sweat: How The Simple Science of Motivation Can Bring You A Lifetime of Fitness."
If you haven't signed up for The Magic Pill yet, you can do it by clicking here. Once the 21 days begin, we'll send you a daily email along with the podcast, featuring bonus stories, visuals and pointers.
For example: Check out the Magic-Pill-style tricks below. Podcast co-host Dr. Eddie Phillips is director of the Institute of Lifestyle Medicine at Harvard Medical School, and he's chock full of sneaky ways to slip more activity into your life. At his office at the Boston VA, he demonstrated a half-dozen moves even cubicle-dwellers may be able to use. (OK, yes, your co-workers may laugh at you at first, but then they'll envy your glow....)
His point isn't to do these specific exercises, or buy a bike-desk; it's to demonstrate that you can slip dribs and drabs of exercise — even strength training — into your life, something like mortar between the bricks of your bigger tasks. Much more on that later...