City Unveils Arts Plan For Boston — And Where The Money Is Coming From To Make It Happen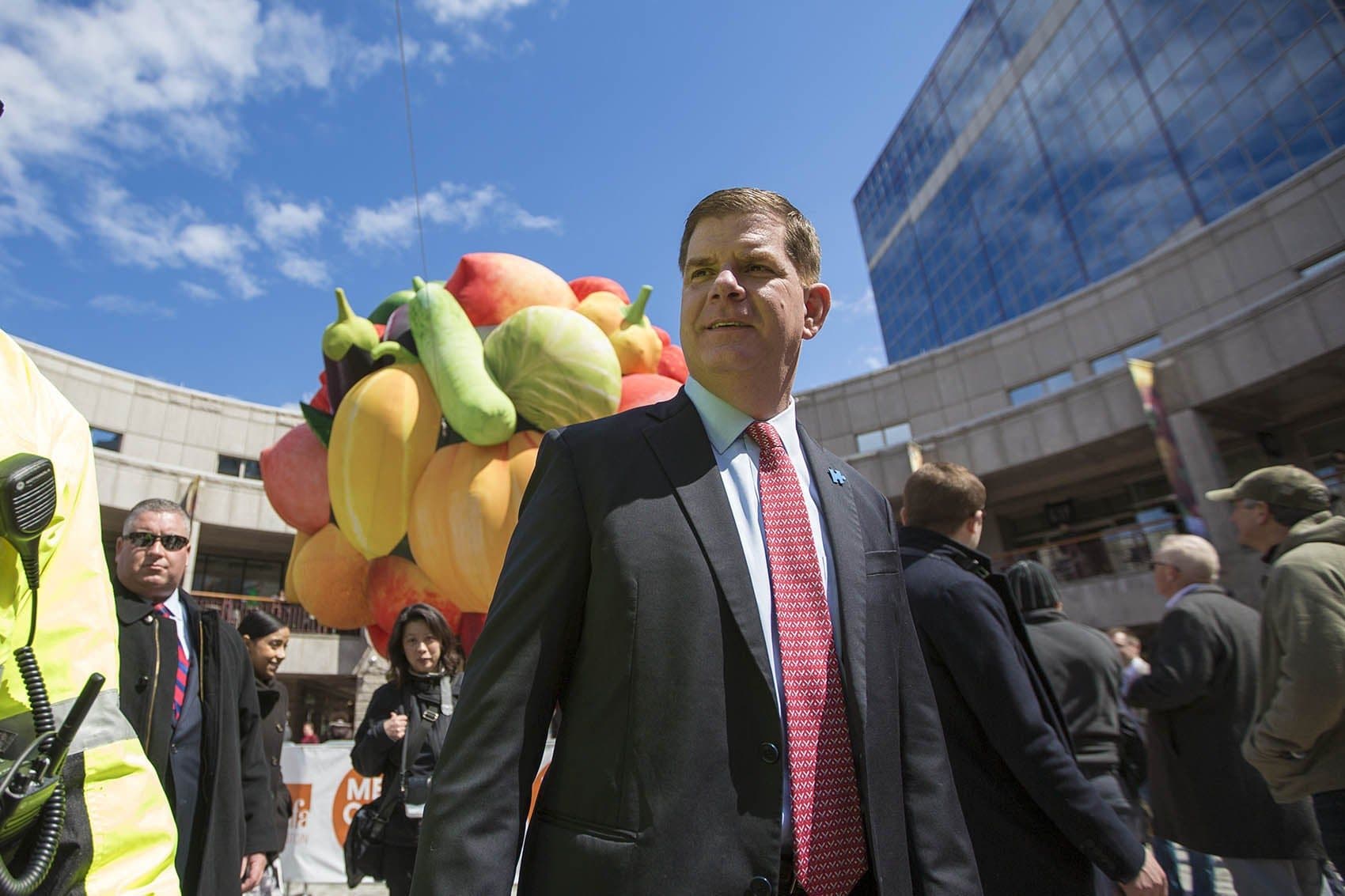 This article is more than 6 years old.
In what City Hall billed as a major policy speech, Boston Mayor Marty Walsh announced a series of initiatives on Friday aimed at bolstering the city's arts scene.
In line with the recommendations of a newly minted master plan for the arts ecosphere, the measures include city-led efforts as well as partnerships with philanthropies, area museums and other outside groups. In some cases, specific dollar contributions are promised; in others, organizations are pledging in-kind donations in the form of facility space or professional expertise.
Included is a new grant-making program aimed at small arts organizations, with funds earmarked for the creation of new work.
"For Boston to be a city that leads, a city that innovates, a city that inspires, the arts have to be at the heart of what we do. If artists don't thrive here, we'll be borrowing our culture, and ultimately our vision, from somewhere else," Walsh said in prepared remarks.
Walsh made the announcement at a morning press conference before speaking at the Americans for the Arts national conference, held this year at the Sheraton Boston hotel. It coincides with the release of the master plan developed over the past year through an extensive public outreach process dubbed Boston Creates.
That report offers a sometimes-theoretical framework including broad, qualitative goals; though Boston Creates launched in June 2015 with significant goodwill, some arts advocates complained of a lack of specific measures included in the draft version released in May. The new initiatives rolled out on Friday include some more-tangible efforts.
The Boston Foundation is contributing $1.5 million to a new fund that will issue grants of up to $15,000 to smaller performing arts organizations working in the fields of theater, dance, spoken word, performance art and circus arts. Only organizations with annual budgets of $250,000 or less, or independent performers, are eligible.
The Barr Foundation is contributing an additional $250,000 to the program, making for a total of $1.75 million to be distributed across three years.
Allyson Esposito, the Boston Foundation's director of arts and culture, says the new fund will support "new work, culturally specific work, and avant-garde and contemporary work."
"There's a need to give artists and small organizations some wiggle room to create new works, to experiment," she added. "The need is great, the talent is high, and it's a great opportunity to really create a lot of new activities and some exciting new work in Boston."

At the State of the City address in January, Walsh announced $1 million in additional arts funding, to go toward a second round of artist-in-residence grants (following an initial round funded by a grant from the National Endowment for the Arts), the creation of a full-time City Hall staffer to serve as the point of contact for arts-related queries from the public and direct grants to artists. Those artist grants will be divided into awards of up to $1,000 distributed throughout the year, and fellowship-style grants of up to $10,000 intended to support artists' work broadly.
EdVesters, the Boston-based philanthropy centered on bolstering public education, was expected to announce about $650,000 in new grants for its program known as Boston Public School Arts Expansion; the city school system will also begin a revamp of its arts-education policy, which dates to the early 1990s.
Though the prospect looms as a long-term goal, neither the Boston Creates report nor the newly announced programs call for any specific mechanism to create a dedicated revenue stream that would fund efforts like these into the future — something that would potentially be of much greater import than any initiative unveiled this week.
"I am committed to finding a sustainable public funding stream for arts and culture. When the time is right to pursue that kind of investment, I'm going to need the culture sector, the philanthropy community, and Bostonians who understand the power of art to help make the case," Walsh said, near the end of his prepared comments.
Some moves unveiled Friday are meant to put the machinery of city government to work for the arts world without necessarily requiring new funds.
The city will begin including set-asides of affordable units specifically for low-income artists in public housing projects, starting with the planned redevelopment of the Bunker Hill Housing Development in Charlestown. (In another financial contribution, the Boston Foundation is providing $100,000 for a study to develop a broader strategy for developing artist housing.) A new city program called "Percent for Art" will stipulate that one percent of the budget for major infrastructure projects will go toward public art in the new facilities. In an attempt to drive development around existing assets including the Strand Theatre, the city will designate Uphams Corner in Dorchester as an "arts innovation district," with at least two more locations to be added as part of the ongoing planning process known as Imagine Boston 2030. More details as to what exactly that designation entails will follow.
"Part of the goal is to leverage the development boom in ways that can create new artistic and cultural venues," said Ted Landsmark, the noted architect, arts advocate and social activist who was appointed to the Boston Redevelopment Authority board in 2014. "We're in a position to negotiate with real estate developers who are building all across the city, to [encourage them to] incorporate spaces and appropriate support for the arts — whether you're talking about gallery spaces or practice and rehearsal spaces or office spaces at reduced rents or performance venues for artists who are working and living in the city."
In addition to the high-profile sagas over the future of prominent venues like the Colonial Theatre and the BU Theatre, a concern that emerged early in the Boston Creates process was an acute need on the part of smaller performing arts organizations for access to more and better rehearsal and event spaces. A cultural facilities study is underway, but Walsh also announced a pilot program to encourage Boston organizations to make existing spaces available to performers.
Initial participants are the Massachusetts Eye and Ear Infirmary, which will make an auditorium available in evening hours; the AT&T flagship store, with a balcony space suitable for rehearsals; and the Plummers & Gasfitters Local 12 union hall in Dorchester.
Though AT&T is involved in the rehearsal space pilot program and Eastern Bank has pledged new money to the Boston Cultural Council, other corporate support — or corporate dollars – does not appear to be a key component of the newly announced efforts.
When asked if the city reached out to General Electric — which was lured to its planned headquarters in the Seaport District with help from a package of city and state incentives including $20 million in property tax breaks — to contribute funds or otherwise participate, Joyce Linehan, the mayor's chief of policy, said only that the city is "approaching any corporation that wants to talk to us about this plan."
"Once corporations start to see the incredible investment of the city and of the philanthropic world, and the mayor gets up to use the bully pulpit to say 'This is something that's very important to me,' as he's said all along, then corporations will begin to come along," Linehan said in an interview at City Hall.
In-kind donations from area museums include a pledge from the Museum of Fine Arts to assist the city with maintenance and preservation of publicly owned art. The MFA, Peabody Essex Museum and DeCordova Sculpture Park and Museum will offer guest curators to manage City Hall galleries.
Julie Burros, who Walsh installed as the city's first cabinet-level arts czar in decades, led the Boston Creates process. She says the underlying theme of its final report and of the first implementation steps announced Friday is the need to support independent artists and small organizations who are often overshadowed by the city's better known arts groups, and to expand access to the arts for all communities in Boston.
"The vision for the arts is that everybody has access," Burros said in an interview, "and we have plentiful and sustainable cultural space, and we have artists who can stay and thrive in Boston — and that Boston becomes as well known for its arts scene as it is for sports and history."