Thanks To Efforts Of 4 Moms, Broad Institute Digs Into Biology Of Food Allergies
Resume
Peanuts. Milk. Eggs. Words that trigger panic for many parents, teachers and kids. Today one in 13 children has a food allergy, a rate that increased 50 percent between 1997 and 2011. No one seems to know why.
But four moms in Boston are determined to find out. They've raised close to $10 million to launch a Food Allergy Science Initiative (FASI), based at the Broad Institute in Cambridge.
FASI aims to "tackle head on, the underlying biology of food allergy," said Ruslan Medzhitov, a professor of immunobiology at Yale University, who will lead the initiative.
"The promise is really that by focusing on that fundamental level, we'll be in a position to discover some transformative changes," Dr. Wayne Shreffler, the chief of pediatric allergy and immunology at Massachusetts General Hospital (MGH) and a member of the FASI team, said. But "the gaps in our understanding are very significant."
Food allergies is a field "we know remarkably little about," said Aviv Regev, a professor of biology at MIT, a researcher at the Broad and one of the FASI scientists.
The Moms That Made It Happen
That's a fact the moms behind FASI know all too well. They all have young children and harrowing stories about watching their son or daughter swell up, vomit, break out in a rash, gasp for breath or all of the above. They connected late last summer, through friends who work in medicine or finance in Boston, and the shared daily fear of trying to protect a child from a severe food allergy reaction.
Lesley Solomon's story starts in a clinic at Boston Children's Hospital. Solomon was there last summer with her then 6-year-old son, who is allergic to milk. The boy's doctor thought he might be able to tolerate milk baked in, say, a muffin.
"If you can have baked milk it helps you grow out of your milk allergy," Solomon explained.  She agreed to try what's known in the world of food allergies as a food challenge.
"We brought him for a challenge because part of the way that they can tell you if you have an allergy is, you have to eat the food," Solomon said.
"I can't think of another area in medicine where we do that," said Dr. Christine Olsen, a radiation oncologist at MGH, who listened as Solomon told her story during one of the moms' regular meetings. "In order to figure out if your child is reactive, you have to give them something that may kill them."
"Which is not OK with us," said Ellie Chu, an attorney who has done a food challenge with her son five or six times.
In Solomon's case, she made muffins at home, with milk, following a hospital recipe. She brought a muffin to the hospital and fed her son a tiny bite in a clinic to see if he could pass this medical test.
"And he failed it miserably," Solomon recalled, her voice flat. Her son turned bright red and "his throat closed up."
"It was very emotional, very scary, we were on our way down to the emergency room after two EpiPens — he still couldn't breathe," Solomon said.
As Solomon's son recovered, she sat by his bedside, scouring the web, thinking there must be a better way to diagnose a food allergy. She vowed to find one and help bring it to market. That's Solomon's day job. She's director of the Innovation Hub at Brigham and Women's Hospital. Solomon tracked down experts in food allergies, assuming they'd know what new tools and treatments were in the pipeline. But she kept hearing the same thing: "There's just not enough basic science yet."
"We know that our body senses the food and for some reason it thinks it is something horrible. And not only does it think it is something horrible, it thinks the right response is to go completely berserk. We don't really know why," Regev said.
In fact, there are lots of "why" questions scientists have not answered about food allergies, including why some foods trigger allergic reactions and not others; why some children are born with or develop food allergies and not others; and why reactions are more severe in some people and not others.
"And we don't really understand the full chain of events, from one cell type to the next, from one molecule to another, that leads to this chain reaction. If we did know, we might be able to stop it," Regev said.
Building A 'Dream Team'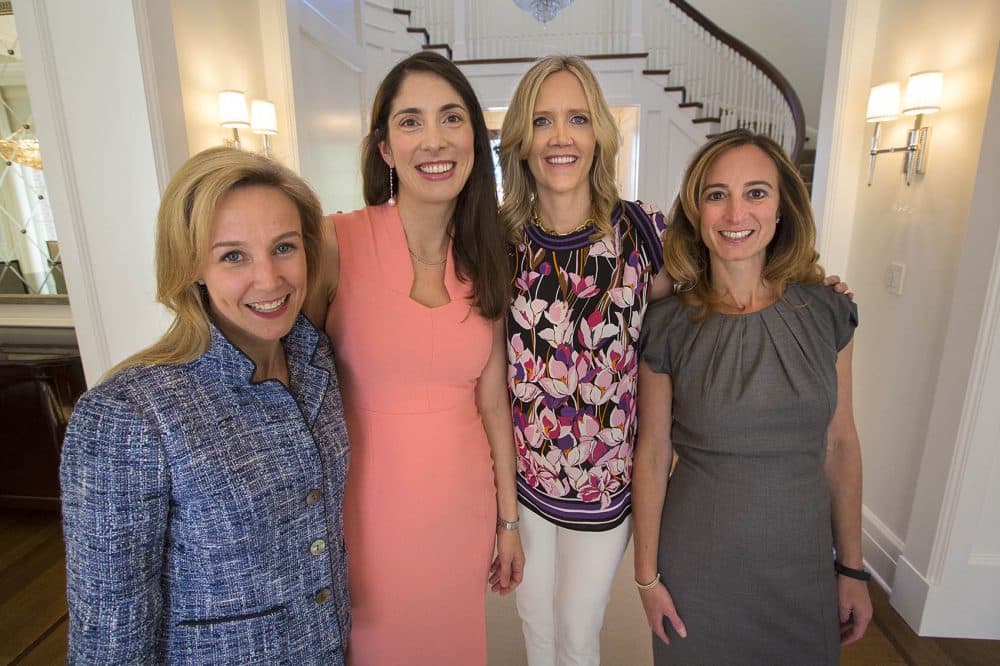 A few weeks after that sleepless night, Solomon found Olsen, Chu and Dr. Karen Nanji. Nanji is a anesthesiologist at MGH. Her young daughter is allergic to wheat, dairy, eggs, nuts, some legumes and sesame. She says she carries "four EpiPens, at all times."
Nanji is afraid of the years ahead, when her daughter will become a teenager who she can't protect in the same way.
"That's part of the sense of urgency for all of us, we want to have better answers," Nanji said.
The moms met weekly last fall and organized a symposium in Boston of top food allergy researchers. Experts in genetics, allergy and immunology and the microbiome, continued meeting, eventually forming FASI -- the core group of six scientists representing six institutions.
"The dream team" as dubbed by the moms includes: Vijay Kuchroo, professor of neurology at the Harvard Medical School and associate immunologist at Brigham and Women's Hospital; Christopher Love, an associate professor of chemical engineering at MIT; Ramnik Xavier, chief of gastroenterology, also at MGH; as well as Medzhitov, Shreffler and Regev. Most of the scientists have some affiliation with the Broad, which is known for collaborative research.
"Not only are they the dream team," said Chu, "but they also have amazing networks. They've collaborated with tons of people nationally and internationally." FASI will "grow exponentially, the same as the incidence of food allergies."
The moms have raised about $7 million among their families and $3 million from the Richard and Susan Smith Family Foundation. They've pledged to raise $20 million more to support FASI for the first five years. That's about how long these scientists say it will take to establish some of the basic science, like which cells are involved in a food allergy response, how they react to different foods, how they relay messages and why some cells learn to tolerate foods. The researchers will also look at environmental and genetic factors that contribute to food allergies.
Eventually, they aim to find better ways to diagnose and treat food allergies. Right now, the guidance from many doctors is: Avoid any dangerous foods and carry an EpiPen at all times, which Olsen said some parents are reluctant to use.
"The EpiPen is scary," Olsen said. "They have to take this needle and jam it into their child's thigh and hold it there for 10 seconds while their child is having trouble breathing. I've done it before on my child. It's a terrible thing to have to do."
Long Overdue Attention
There are a number of theories about why there's a steady increase in the rate of food allergies. One theory suggests a food allergy is an inappropriate immune response. But Medzhitov sees a connection between food allergies and the body's defense mechanisms.
"This is an exaggerated version of a normal defensive reaction, or normal defensive process, that operates to screen foods that we consume," Medzhitov said.
He suggests the body may be overreacting because food these days is so carefully screened and preserved. It's hard to tell which foods are good and which may be harmful. The answer, Medzhitov says, may be to return to more whole foods, although they may not be as pretty or as tasty as what we eat today.
"I definitely try to avoid refined foods," Medzhitov said. But he knows he's in the minority. "It's just not something that is part of general culture yet, but it's something that will become soon. I think the battle here will be the food industry, primarily."
Choosing the spotted tomato, densest bread or foods with no preservatives will be a change for many consumers. But that's getting ahead of the story. For now, there's excitement that the field of food allergies will get attention some say is long overdue.
"When you have something that jump starts an area and brings in new people with resources and funding, that, in and of itself, creates an acceleration to the field that is needed at this point," Dr. Anthony Fauci, director of the National Institute of Allergy and Infectious Diseases at the National Institutes of Health, said.
While the FASI scientists dive into the basic biology of food allergies, moms, dads, babysitters and school nurses will keep arming themselves with EpiPens, hoping they get through today without needing to reach for one while calling 911, in a panic.
"If someone is sitting next to my son having an ice cream cone, it is like someone is next to him with a gun," Solomon said. "That's how I feel every day."
Correction: An earlier version of this post incorrectly reported that the moms have pledged to raise $20 million total. They've pledged to raise an additional $20 million. We regret the error.
This article was originally published on June 22, 2016.
This segment aired on June 22, 2016.