South Coast Rail Cost Estimates Soar, Officials Eye Alternative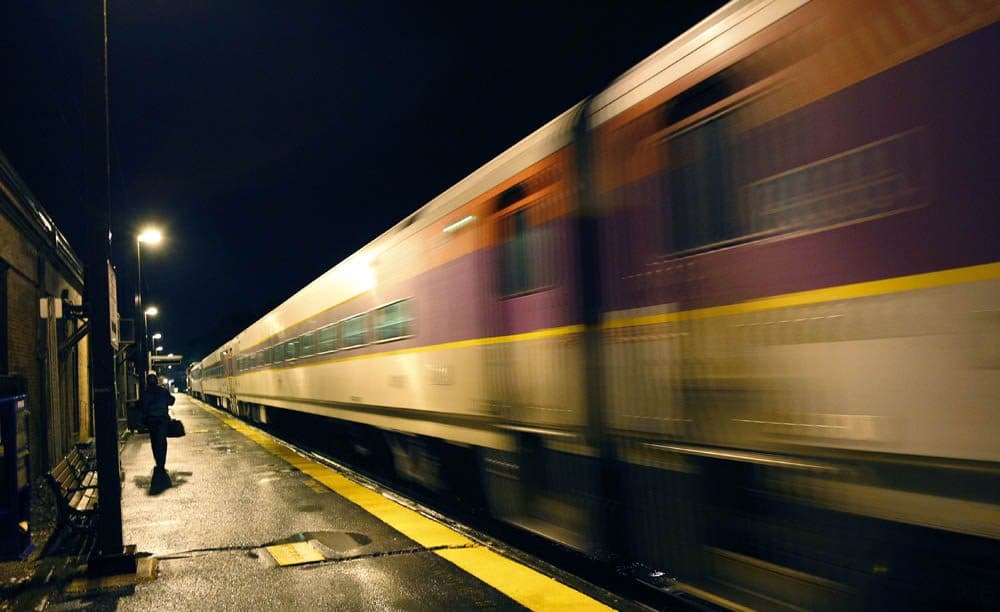 This article is more than 4 years old.
The cost and time frame of the South Coast Rail project have dramatically increased, state transportation officials said Monday, assigning the project a $3.4 billion price-tag and saying they expect service to begin in 2028 or 2029.
In 2012, officials predicted the project would cost $2.23 billion and estimated its start date as 2022, with MBTA General Manager Frank DePaola saying every month of delay added $4.1 million to the cost.
"The project is going to take a lot longer than the prior schedule," Transportation Secretary Stephanie Pollack told reporters. She said, "The project is not being cancelled."
Taunton Sen. Marc Pacheco, a Democrat and vocal advocate for the South Coast Rail, said the new numbers were not credible. "I don't believe any of the numbers, any of the numbers I've seen," he told the News Service.
Pollack and DePaola - who retires Thursday - are looking at a possible alternative, which could also be used as an interim plan, to give commuters in Fall River, New Bedford and Taunton faster access to rail service.
Rather than sticking to the current plan of building new rail through a protected swamp, DePaola said extending the rail line from the Middleborough/Lakeville terminus to Taunton and then onto Fall River and New Bedford would take about six to eight years with an unknown cost to fix up existing rail on that route. Cheaper than the current plan, that alternative would add about 15 minutes to the trip time, making it about a 90-minute journey from New Bedford to Boston, according to DePaola.
State transportation officials have been moving forward on a more complicated undertaking to extend rail from Stoughton along a roughly two-mile railroad trestle through the Hockomock Swamp, driving tracks under historic downtown Easton and creating the first electrified commuter rail in an otherwise diesel system. That version would take about 75 minutes from New Bedford and Fall River and is expected to be used by about 4,500 riders a day.
Initially dismissed, the Middleborough alternative became more viable when transportation officials determined how to address a bottleneck along the railway as it runs alongside the southeast expressway in Boston and Quincy, Pollack said.
DePaola said much of that route is single-track and it butts up against the highway, limiting opportunities for expansion. A joint-venture that includes HNTB has proposed expanding Interstate 93 along that stretch, adding two privately tolled driving lanes while burying the Braintree branch of the Red Line and two commuter rail tracks.
Transportation officials have not determined whether to recommend that public-private partnership, though the engineering solution would allow more trains to run along the Old Colony route that feeds the Middleborough line. If it pursues the Middleborough alternative the state would also need to move the existing Middleborough/Lakeville station by about a half mile, which would impact a transit-oriented housing development near the existing station, according to the state's presentation.
Transportation officials planned to brief lawmakers from the South Coast ahead of Monday's noon meeting of the MBTA's Fiscal and Management Control Board where the South Coast Rail discussion is an agenda item.
The state has completed its 15 percent design plans for the South Coast Rail, setting the stage for a lengthy period of design and permitting - especially if the state pursues the route through the Hockomock Swamp.
The Greenbush line required three wetland variances, a process that took 3.5 years, while the South Coast Rail will likely require nine wetland variances, estimated to take 4.5 to 6.5 years, according to DePaola.
A new electrified fleet would also present mechanical challenges to the T, which might contract with Amtrak, as the national rail provider uses similar technology for its trains, DePaola said.
The review of the South Coast Rail project was spurred in part by the major cost overages at the Green Line Extension project bringing trolley service into Somerville and Medford. The cost and timeframe of that project has expanded since 2014, and officials have sought to pare down the scope and find new revenue sources for it.
Pollack said little occurred on the South Coast Rail project between 2012, when a final environmental impact statement was published, and 2014 when the state begin issuing design contracts.
HNTB and VHB received the program manager/construction manager contract award, and the initial task, which included developing the 15 percent design, cost $11.8 million. The next stage of planning, which is ongoing, has a $12.1 million price-tag and DePaola estimated about $17 million to $18 million has been spent to date.
Pollack has emphasized repairs to the existing system over expansion of service in the state's $14.8 billion five-year rolling capital plan for highways, transit and other transportation assets.