French Expat Showcases Work After Painting A Boston Face Every Friday For A Year
Resume
In a room off the lobby of the French Cultural Center in Boston's Back Bay hangs 52 oil paintings, mostly of people who live in or near the city.
The paintings are of educators, musicians, people of many walks of life and of different races and ethnicities. They're of all ages, including one child.
These images are a snapshot of Boston.
The common dominator is that these paintings are the work of one French artist who moved to Boston two years ago and decided to paint a portrait of someone new every Friday. Hence the name of the exhibit is "FRIDAY FACE — a year in Boston."
We met the artist, Aurélie Galois, at the French Cultural Center, and she explained that she began gathering these faces of Boston because she was lonely. Below are selections from our conversation with her.
---
Interview Highlights
On being lonely in Boston
"As an artist and a journalist in Paris, I was very well-surrounded. My life was very busy and social. But here in Brookline, in Boston, I knew nobody. I was in the middle of winter, so you know what it means: stuck at home. So I did this portrait of the owner of the coffee shop I used to go to every day, because the coffee is amazing there. So I make this sketch about her face, because I love faces. And I was like, 'OK, but I want to tell, in English, what she is for me.' "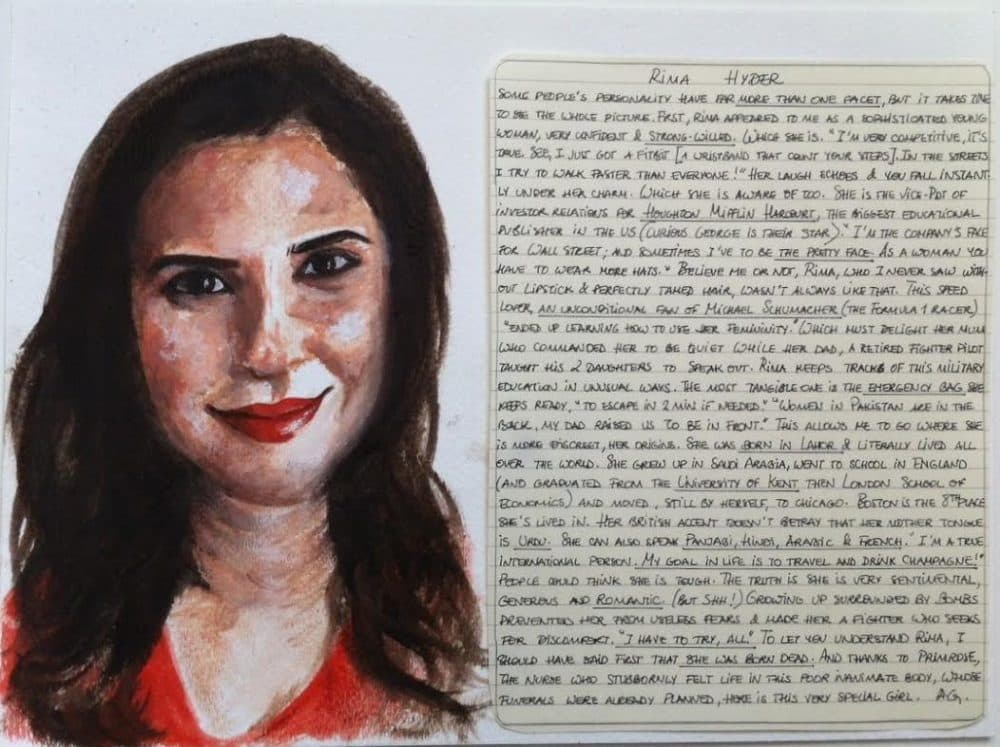 On making friends through her art
"That's the most beautiful part of it. Some of them became very, very close friends. So, it's the great gift of this project, of course."
On the last portrait she did
"She's a very good friend of mine. She's the person who helped me every week to correct my English. She's very modest. She's a writer, and she didn't want to attract the attention, so I didn't ask her permission. So I didn't take the picture; I found the picture. ... She's the perfect example of what the U.S. [is]. Her dad is from Lebanon, her mom is from Australia. She's American, but she's not American in a way."
The exhibit is on display through Friday, July 1, at the French Cultural Center in the Back Bay.
This segment aired on June 28, 2016.