Patients With Depression Test App That Tracks Their Mood, Activity
Resume
Most days, often around lunchtime, Marcia Chesterfield finds a quiet spot where she won't be overheard for a few minutes, and pulls out her phone.
She opens an app called Cogito Companion, logs in and scrolls through a few screens until she see the red button. Chesterfield taps it to record a sort of audio diary entry.
"Today is my mom's birthday," Chesterfield says in a slightly hushed tone. "She passed away two years ago." Chesterfield pauses and takes a deep breath. "I just wanted to say a little something and let her know that everything's OK. And otherwise than that, today is a really good day."
Chesterfield has been struggling with anxiety and depression triggered, she says, by a series of deaths in her family. But just a few seconds after recording her message, Chesterfield has what she says is proof that today is one of her good days.
"Hey," she says with a laugh, looking up from her phone, "we got an in between happy face."
The Cogito app, which Chesterfield is helping Brigham and Women's Hospital study, rated her mood, based on the tone, pace and tension in her voice.
Sometimes her recordings produce a low bar, down near the sad face. Other times she's close to the smiley face at the top. Today she's somewhere in between.
Mood is one of four areas the app measures. It also looks at how socially connected Chesterfield is, based on her calls and texts. It tracks how often she leaves the house and how far she goes. And it compiles an "energized" score based on her movement and activity.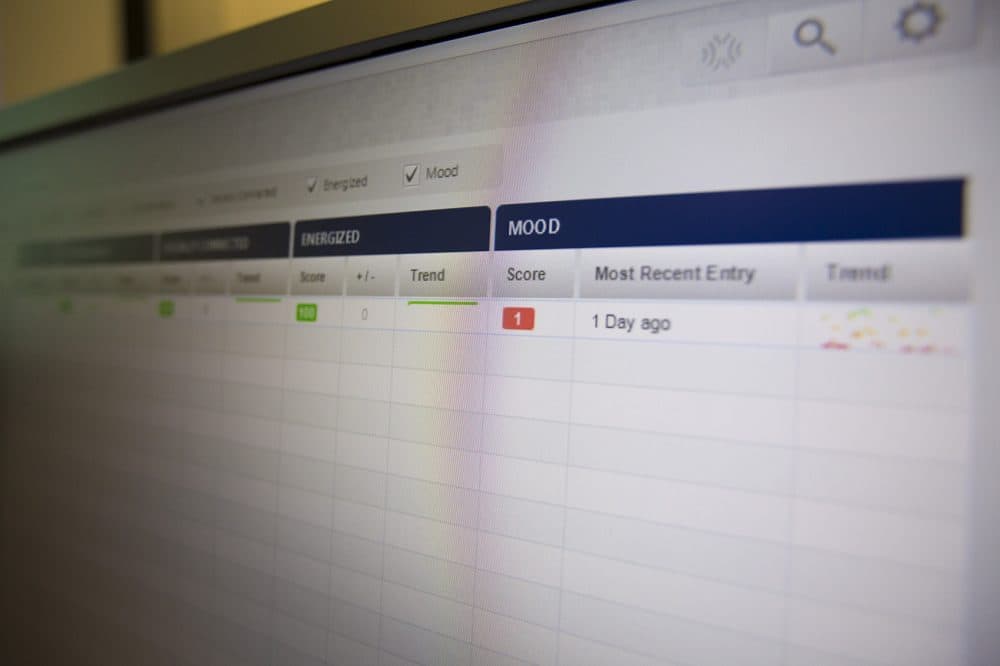 Researchers at the Brigham get daily updates on her scores in each area, on a scale from 0-100. But it's not that any particular score means a patient is depressed, says Chesterfield's social worker, Lara Sullivan.
"We start to learn people's patterns," Sullivan says. "So, for instance, if this person is always an 98, 99, and now they suddenly became a 20, the question is sort of, what happened?"
Sullivan can't tell from the bars she sees on a computer dashboard why a patient's phone didn't leave the house. Is the patient immobilized by depression and not getting out of bed? Did they leave their phone at home by mistake or did they run out of minutes? Sullivan calls patients with the app, in between appointments, to find out.
"Historically, we would never know what happens to patients between sessions," Sullivan says.
A counselor who sees a patient once a week or every other week only knows what the patient remembers or chooses to talk about. But with the app, "I can watch this and then say, 'So I noticed, during this time period, things changed for you. What does that mean, what was going on?' " Sullivan says, explaining how information the app collects becomes part of a therapy appointment. "Sometimes it makes the conversation deeper, it's a richer conversation."
Chesterfield's mood scores were consistently low for the first few months of using the app. Sullivan encouraged her to try mind-calming and awareness techniques to reduce negative thoughts. Chesterfield says she's still down near the sad face at times when she thinks she's feeling good.
"But when I get that sad face, it's an important alert," she says, a reminder to do a three minute breathing exercise or take a walk.
The app does not show where Chesterfield goes when she leaves home or who she's texting, but still, some patients might not want to be tracked this closely. Chesterfield does.
"Prior to this app, I would see myself outside my body. There was just so much built up and I just didn't have any way to release," Chesterfield says. "[Now] I know that somebody's on the other end monitoring and it just feels good to have somebody doing that."
Chesterfield is one of 30 Brigham and Women's patients who've agreed to test the Cogito Companion app. The hospital plans to recruit a total of 300 men and women who use the app for six months.
"There are tens of thousands of apps, but very few have an evidence base that supports their claims of effectiveness," says David Ahern, a psychologist who directs Brigham and Women's program in Behavioral Informatics and eHealth.
Ahern is also looking at how to process all the data that comes in from patients and present it in the most useful way to clinicians. Many doctors and therapists already feel overloaded with paperwork and recording keeping. Ahern says the app and others may free clinicians to handle more patients who need therapy because they won't need to see a provider weekly or twice a month. The app, says Ahern, may make patients better monitors of their own mental health.
"This could be where you see a clinician on a much less frequent schedule because you have basically a clinician in your pocket," he says.
That idea is "misguided," says Jonathan Shedler, an associate professor of psychiatry at the University of Colorado School of Medicine who has written extensively about the benefits of talk therapy. Shedler says the Cogito app sounds like a promising way to increase support for patients, but not a means to cut back on face-to-face conversations.
"Every time you try to take the therapist out of the picture, what we know is that it actually doesn't work," Shedler says.
Supporters of technology point out that there are many patients who won't go see a doctor or therapist, but will look for help on their phones. For those patients, apps may be the only way they would be open to care.
"Is mood monitoring positive or possibly negative?" asks Dr. Ken Duckworth, a psychiatrist who is medical director for the National Alliance on Mental Illness (NAMI). "We don't know the answer to that. Some people want better self-management tools. The question is, how will technology fit in" to their care.
NAMI does not rate or certify apps and has no plans to do so. The Food and Drug Administration regulates apps that turn a phone into a diagnostic tool, like a pacemaker, but has "taken a hands off approach to most apps," says Dr. John Torous, a psychiatrist at Beth Israel Deaconess Medical Center.
Torous leads a task force on smartphone app evaluation for the American Psychiatric Association. The task force looked into rating apps, but decided that was not feasible, Torous says, because there are just too many of them and many are updated frequently. Instead, the task force plans to issue a checklist with a series of questions that physicians and patients can consider when choosing an app.
"What happens to data I give it? Is it sold, do I keep it, is it traded?" says Torous, listing a few of the questions the task force may recommend. "There are no validated testing measures for apps, so what you want to do is have a discussion about whether the app would benefit a patient, as you would with any medication or an exercise plan."
Some doctors and therapists are asking if they could be held liable for missing warning signals detected by an app. Torous says he's not aware of any suits filed against providers.
Torous says apps could define paradigm shift in the way physicians diagnose and treat mental health conditions, because apps deliver so much real time data about patients and real time access to them as well.
"That sets up beautiful potential but there's a lot of things we have to do along the path to get there," Torous says, noting that there are no technical or diagnostic standards for mental health apps at this time. We're certainly not there yet."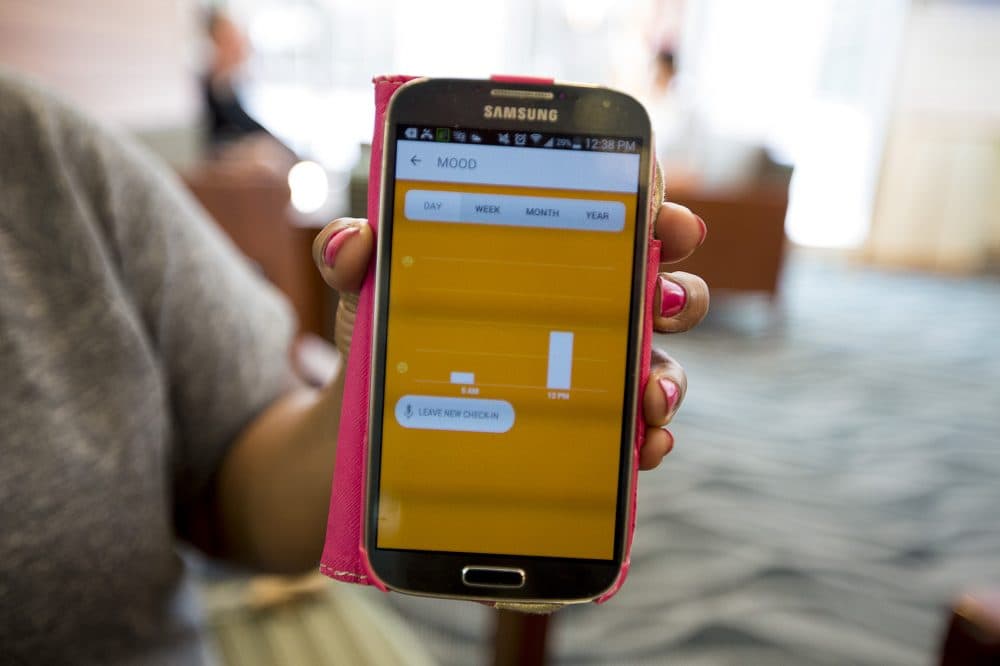 There is some concern that directing patients to their phones could increase social isolation or addiction to technology. But Channah Rubin a manager at Cogito, says the companion app is a response to that concern.
"Because this technology is so ubiquitous and it's in so many people's hands already for health purposes, what we want to do is provide a validated way for people to find health information and to find it specific to them," Rubin says.
Boston-based Cogito comes out of MIT's Media Lab as does its closest competitor, Ginger.io. Cogito says the companion app is unique in the use of voice synthesis to asses a patient's mood. The app is available for purchase, but only through providers.
Chesterfield knows — she looked to buy it last week when her trial period for the study ended and the app disappeared from her phone. Chesterfield says she finds herself reaching for her phone, hoping to check her scores or leave a new message. App withdrawal? Maybe that's something researchers will need to study too.
---
Cogito partnered with Massachusetts General Hospital to study the companion app. Here's an interview with Cogito CEO Joshua Feast and Thilo Deckersbach, a psychologist in the Bipolar Clinic at MGH, about the project:
This segment aired on July 1, 2016.