Hear Her Roar — Marisa Tomei Fuels A Fascinating 'Rose Tattoo' At Williamstown Theatre Festival
This article is more than 6 years old.
It might not take a village to stage Tennessee Williams's "The Rose Tattoo," but the production now onstage at Williamstown Theatre Festival does employ 24 actors and a goat. Director Trip Cullman also adds original music by WTF veteran Michael Friedman (last summer's "Unknown Soldier," also helmed by Cullman, not to mention the pre-"Hamilton," historical Broadway hit "Bloody Bloody Andrew Jackson") and some showy scenic design by Mark Wendland — who places a boardwalk-plank runway through the center of the orchestra seating area and a panoramic screen stretching across three walls to display Lucy Mackinnon's ocean projections.
The play itself is something of a grab bag of familiar Williams elements, including a troubled southern beauty staring oblivion in the eyes and an alluring hunk of man who may or may not offer a steamy route to salvation. With the help of strong work from a deep and talented cast — including a central performance by Marisa Tomei — Cullman and team very nearly tie it all together.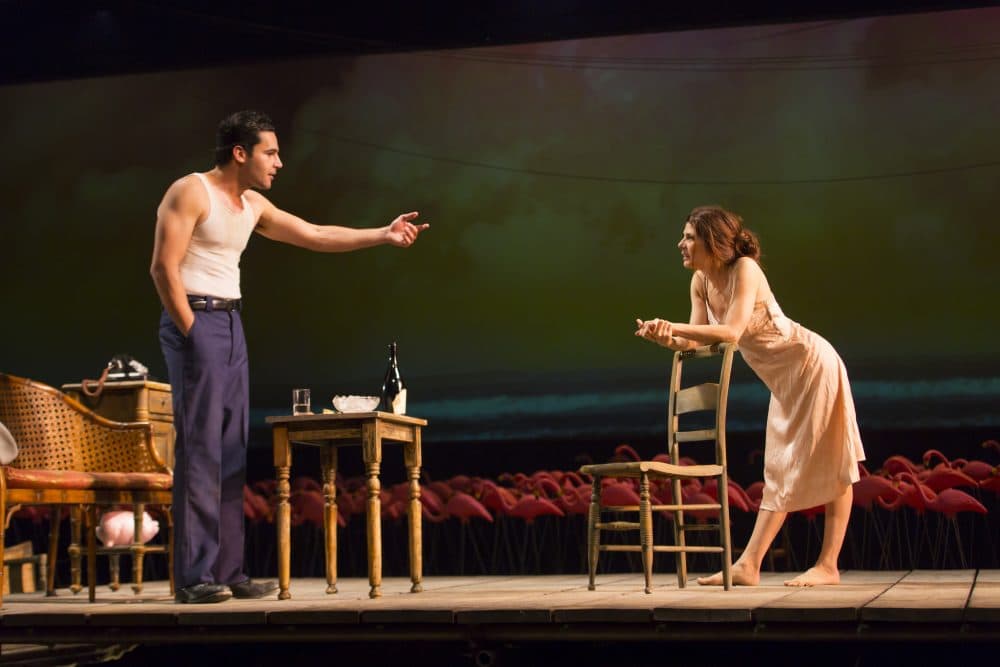 The director can't help that the play veers from self-conscious literary signifiers (metaphors here are wielded like blunt objects) to situational comedy. But what Cullman does is weave together a show that is pretty to look at — sometimes hauntingly so — and quite pleasant to listen to. (Lindsay Mendez, who has starred on Broadway as Elphaba in "Wicked," stalks the set between scenes, singing Sicilian folk songs.) You smell the salt in the air, and hear the steady tide as the soundtrack of human foibles destined to repeat themselves to tragic effect.
"The Rose Tattoo" is fueled by the very fine work of Tomei, who was a cofounder of the socially conscious theater company Naked Angels well before her performance in "My Cousin Vinny" won her that Academy Award in 1992. Tomei is Serafina Delle Rose, a Sicilian-American widow living on Louisiana's Gulf Coast with her teenage daughter. Rose has taken the death of her husband — who was killed while smuggling drugs in a banana truck — very poorly, assuming the appearance of a crazed woman on the rare occasions when she leaves the house, still dressed in her nightclothes.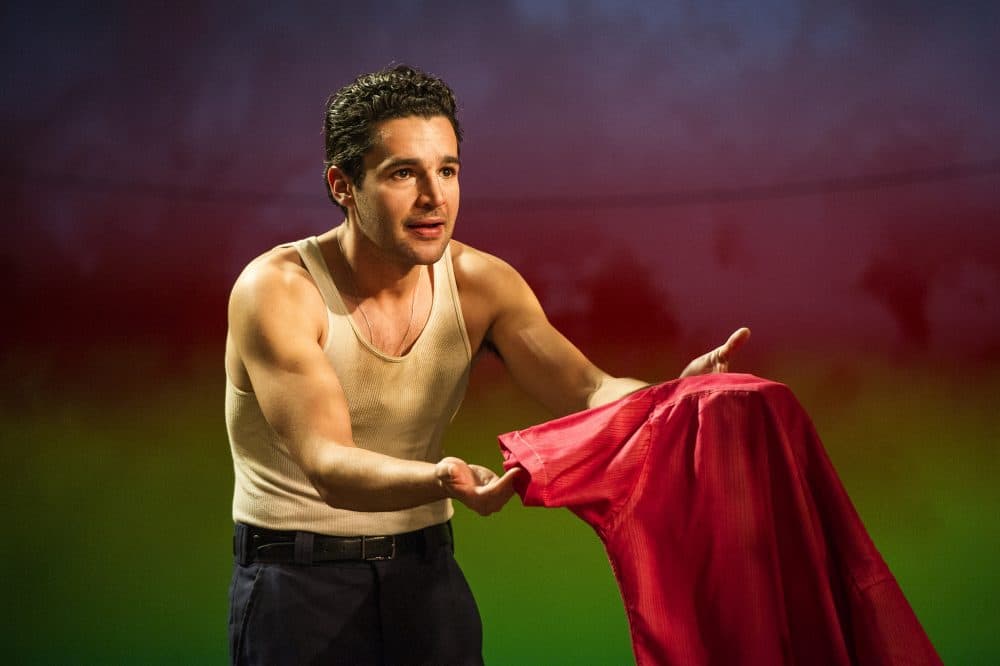 Serafina is a showy person, to be sure, but this is not a showy performance. Tomei seems in control of her character's every nuance, as Serafina's emotional defenses buckle in the face of a long day that sees her daughter graduate from high school and declare her love for an older sailor, the arrival of devastating news from the past and the appearance of an eligible suitor who, by chance, lands on Serafina's doorstep. The widow is prone to powerful mood swings, but Tomei plays from inside that emotional tempest, not looking to chew scenery so much as fill the gnawing absence in the character's spirit. She's mesmerizing.
There's also fine work by actors who are most familiar from TV credits. Christopher Abbott ("Girls") is effective as the dim-witted but sincere truck driver who makes a play for Serafina's affections. Constance Shulman ("Orange is the New Black") plays the neighborhood witch as someone who quite possibly has an abundance of plastic flamingos permanently nesting in an unkempt front lawn. Barbara Rosenblat (also from "Orange") exudes gravity as Assunta, Serafina's chief point of contact with neighbors who see her as increasingly disturbed. Gus Birney brings a touching edge to Sarafina's daughter Rosa, making it plain that the girl desperately needs independence from her dark star of a mother, but prizes their relationship. (Tomei previously played the part of Rosa at WTF, in a 1989 production of the play.)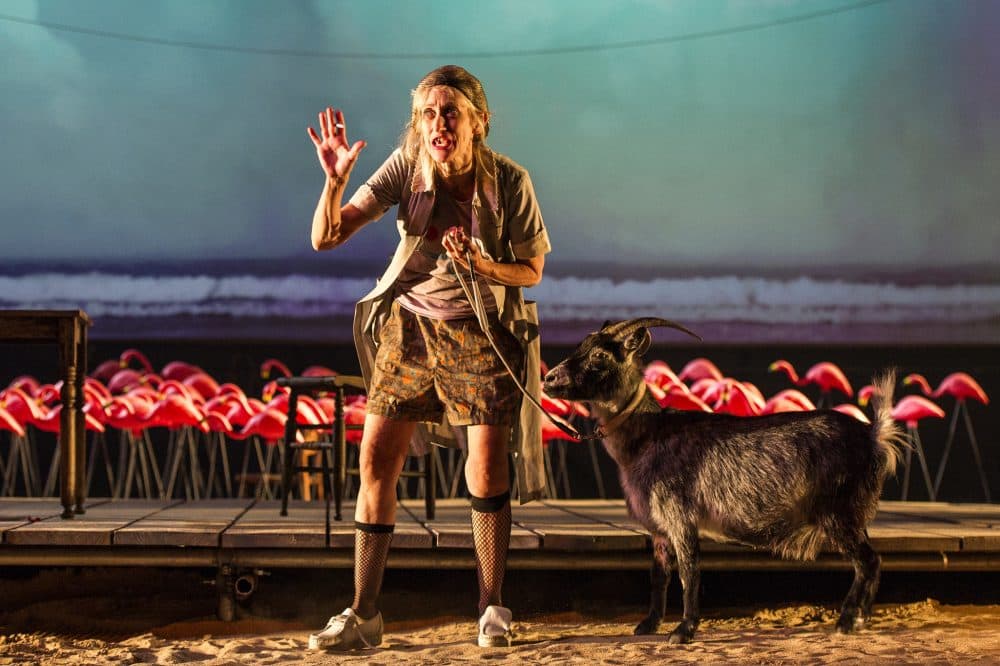 In the closing moments of the first act, Tomei's Serafina breaks into a dance that seems meant to summon carnal spirits. She shakes her limbs to a rhythm-heavy soundtrack, smiling slyly, as if finding comfort in the eye of her own storm. It's a powerful moment, and one that isn't found in the script.
The director and his team have made a laudable effort to dress up "The Rose Tattoo" as a great Tennessee Williams play. It even makes gestures in that direction, before the playwright's unearned, slapdash conclusion. But even if it doesn't quite get there, this production still offers plenty to savor along the way. Goats and all.
"The Rose Tattoo" is at Williamstown Theatre Festival through July 17.