At This 'T Party,' All Genders Are Welcome
It's "The T Party" and you can dance if you want to. But you don't have to, so don't let the immersive nature of this documentary plunge into the swirling waters of flexible gender put you off.
Natsu Onoda Power's freewheeling piece, seen in a New England premiere by Company One Theatre at the Calderwood Pavilion through Aug. 13, begins as a high school prom in 1994, onto whose dance floor, you — wrist corsage and all — are invited. However, a quick peek around the student body will reveal a more transgressive and inclusive atmosphere than you remember from most teen rites of the time.
Indeed, Power, who began developing the work in 2008 with her friends in the Washington, D.C., transgender community, was, according to her dramaturg, rewriting history "for a generation that felt profoundly unwelcome at their own proms." But history has moved fast when it comes to our understanding of — not to mention the legal standing of — the LGBTQ community. And by hopping around that history, "The T Party," bits of which are purposely dated, both acknowledges the leap from trauma to "Transparent" and makes the point that the leaping is far from done.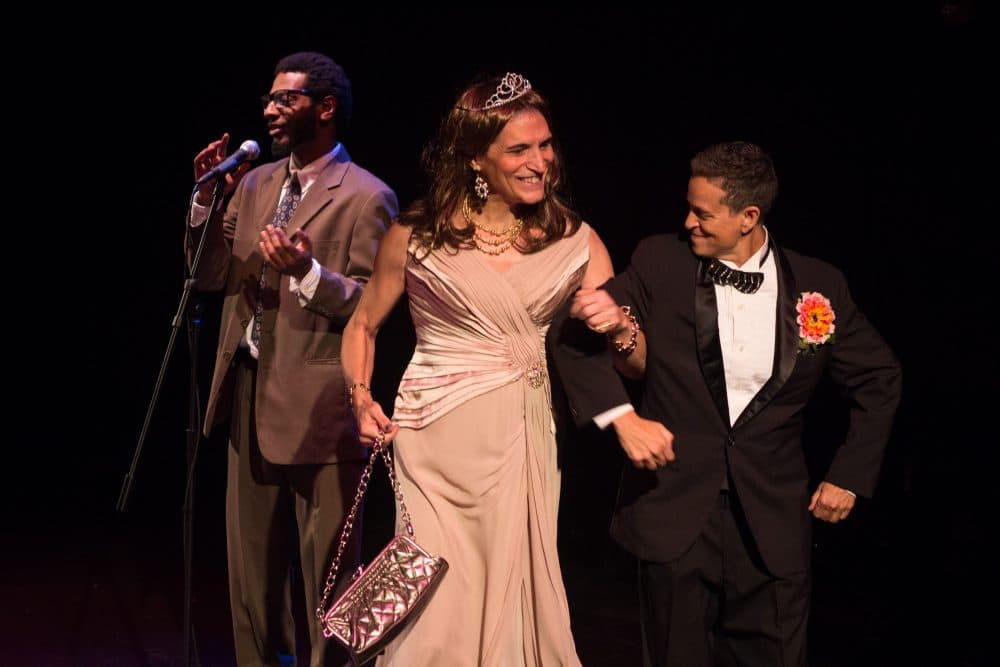 The morning after I attended "The T Party," I read a piece in the New York Times Magazine by Jenna Wortham addressing the question: "Can Straight People Be Queer?" In it she quotes Duke University professor Eve Sedgwick's definition of queerness as an "open mesh of possibilities." And that's what "The T Party," with its excellent, never-still ensemble of eight, tries to conjure as it moves from its retro prom through a series of vignettes based on true stories, academic writings and even jokes, all of it propelled by music ranging from an original rap theme by Lee Schuna to Aerosmith's "Dude (Looks Like a Lady)" — the show is a bit of a dramaturgical odd duck. But the highly physical staging, helmed by Power (who is an associate professor of theater at Georgetown University, and says her goal as playwright was "to make nothing up"), ebbs and flows and overlaps like sexuality itself.
And as befits its themes, the material is nothing if not diverse in terms of theatrical form. There are some relatively conventional scenes, but even these are heightened in the telling. A poignant email exchange between a woman and a cross-dressing man unsure how he identifies comes complete with spoken punctuation and rapidly accumulating emoji. A restaurant meeting between a still-awkward male cross-dresser, Alexandra, and a nearly transitioned male-to-female "escort," Dee, is narrated by a third character, Jade, who offers explanatory comments that comically nod to the ever-shifting ground on which conversations about gender take place today. "GG stands for Genetic Girl. So Alexandra's use of the term 'GG girl' is not correct," Jade says, "or rather, syntactically redundant. The term is somewhat derogatory and some people prefer to say Genetic Woman." Got that down?
Other episodes, still not made up, are more off the wall. Take "Socio-Sexual Behavior and the Development of Male-Male Bonds Among Indian Ocean Bottlenose Dolphins," based on an article by Power's fellow Georgetown professor, Janet Mann. It's introduced by showboating rapper Kadahj Bennett (with footnote back-up by Alyssandra Taylor and Gigi Watson). "Ain't no party like a T party cause a T party just don't stop," raps Kadahj before segueing into a similarly rhythmic, if scholarly, account of male-to-male messing around among the fish — here represented by a core of dancers in body stockings and bathing suits, ably demonstrating "mounting, goosing, socio-sexual petting and push-ups."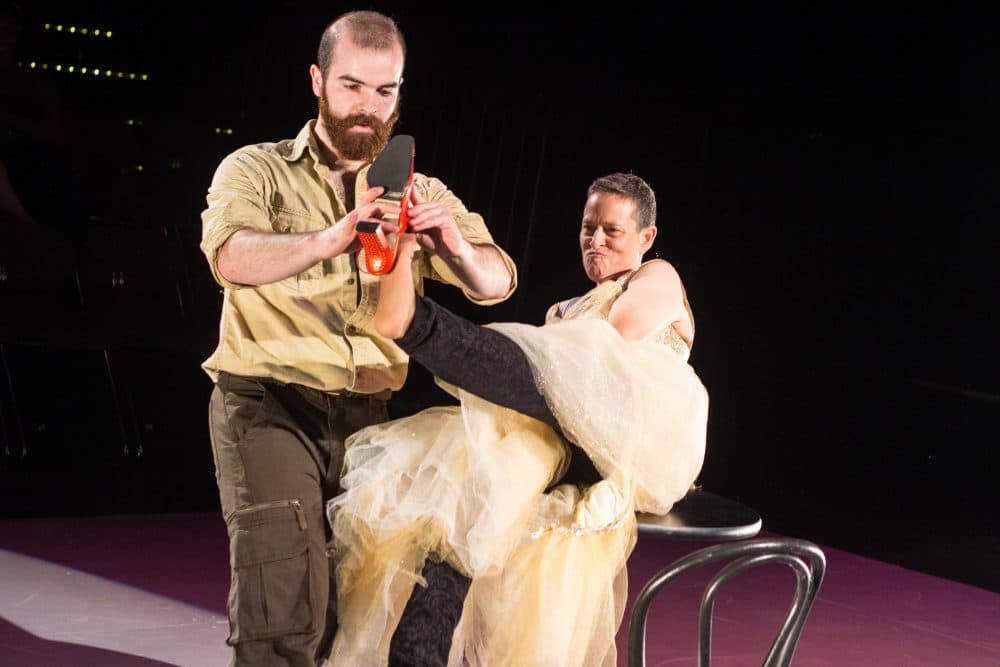 Most of the show is what you might call through-danced, whether it be a ballroom pas de deux between two women projecting the story of their lesbian romance (ironically, to the theme of the 1966 French film "Un homme et une femme") or a sinewy reenactment of a phalloplasty, complete with clinical description, played out against "One" from "A Chorus Line." Though much of the evocative visual movement is attributable to Power and the video/projection design of Joey Frangieh, the droll choreography is credited to Eileen Herman-Haase and Raul Nieves. Tyler Kinney's imaginative costumes cross not only boundaries of gender but of species as well, transforming the performers into mouthless mammals and some pretty cute bears.
As is its wont, Company One has come up with an ace, versatile and multicultural ensemble, most of whom are not your usual Boston theater suspects. The commanding and suggestive Kadahj Bennett, writer/lyricist/vocalist for a couple of bands, is not only our infectious host but also a hopelessly square high school principal who is desperate to be hip, and an excitedly quivering email box. Veteran performer Mal Malme brings a winning combination of cockiness and vulnerability to several roles, including a green-spectacled kids' show host who turns the little ones on to the diversity of their "xoohas."
BDCWire-dubbed "queer icon" Jade Sylvan proves rivetingly authoritative, whatever gender boxes they are commandeering. Alyssandra Taylor and Gigi Watson are like flip sides of the eternal, flexible feminine, and spirited backup singers as well. And whether as dolphins, bears, otters or nervous, vulnerable human beings, David J. Castillo, Matthew Dray and Alex Jacobs provide dizzyingly diverse support.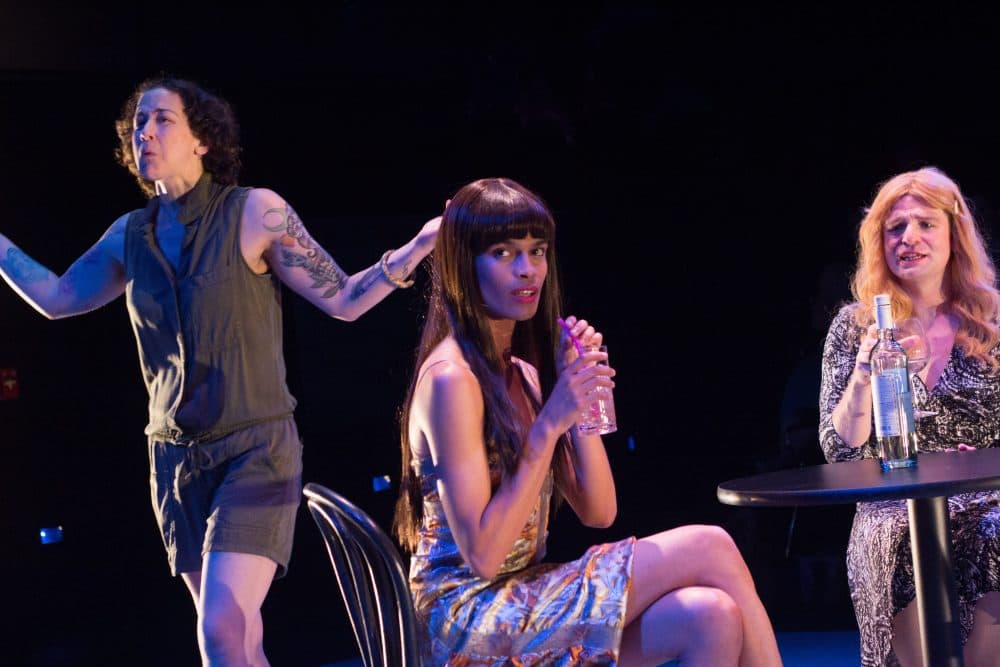 Like any fête, "The T Party" has its better and its lesser moments. But taken altogether, it is both a celebration and a caution. In the short time since Power's rowdy, poetical piece began its evolution, much — from Caitlin Jenner to "Transparent" to the legalization of gay marriage throughout the land — has happened to make the ballooning lesbian, gay, bisexual, trans and queer community almost trendy.
Still, as the play's grave barrage of statistics — perhaps the most disturbing cited is that one in two people who identify as transgender has made a suicide attempt before the age of 20 — and its shout-out to the victims at the Pulse nightclub in Orlando attest, there is still confusion and hatred afoot. So party hearty: The show's a lot of fun. But, as that high school principal might warn his prom-goers, stay sober.