Mass. AG Healey Cracks Down On 'Copycat' Assault Weapons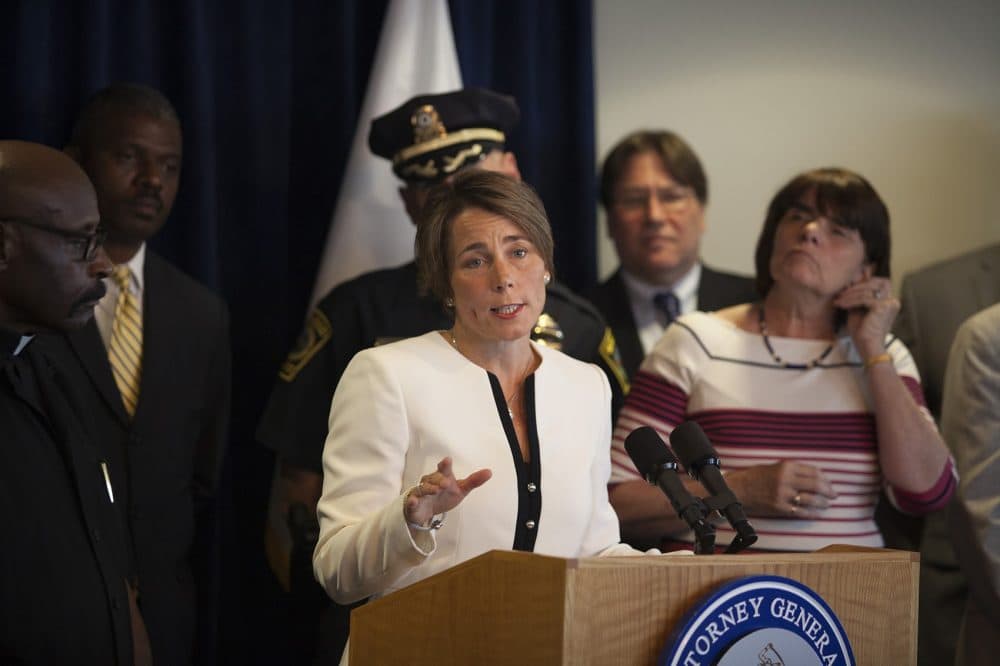 This article is more than 6 years old.
Citing recent mass shootings committed with assault weapons in Orlando and San Bernardino, California, Massachusetts Attorney General Maura Healey is clamping down on gun sellers and manufacturers she says are using loopholes to dodge the state's assault weapons ban.
An enforcement notice issued Wednesday "clarifies what constitutes a 'copy' or 'duplicate' weapon under the assault weapons ban," according to a press release from Healey's office.
Her office said the existing law explicitly bans duplicates of assault weapons, but manufacturers make "state compliant" versions of a gun, often with just minor tweaks.

"Copycat guns are sold, for example, without a flash suppressor or with a fixed instead of folding stock," the release said. "These changes do not make the weapon any less lethal and the weapons remain illegal."
Healey's office says an estimated 10,000 copycat assault weapons were sold in Massachusetts last year.
"The gun industry has openly defied our laws here in Massachusetts for nearly two decades," the Democrat said in a statement.
The new enforcement notice outlines two specific tests to determine what constitutes a duplicate weapon: "Under the tests, a weapon is a copy or duplicate if its internal operating system is essentially the same as those of a specifically-banned weapon," the press release said, "or if the gun has key functional components that are interchangeable with those of a banned weapon."
The notice also says prohibited assault weapons can't be altered to make their sale or possession legal in the state.
The guidance is not retroactive, so it will not be enforced against gun owners who bought or sold duplicate assault weapons prior to Wednesday. But gun dealers who currently have such weapons on hand are no longer permitted to sell them to Massachusetts buyers.
Jim Wallace, the executive director of the Gun Owners' Action League of Massachusetts, told WBUR's Newscast Unit he questions whether Healey has the authority to issue such a directive.
"It's very convoluted but it's also rather frightening that an attorney general believes they have the authority to change law without the legislative body taking action," Wallace said.
A federal assault weapons ban expired in 2004. In a Boston Globe op-ed along with her announcement Wednesday, Healey wrote that "only seven states have instituted their own assault weapons ban" since the federal law expired in 2004.
Correction: An earlier version of this story said gun dealers who have "copycat" assault weapons on hand are permitted to sell them. They are not. We regret the error. 
This article was originally published on July 20, 2016.