Carlos Arredondo Joins Chorus Of Criticism Against Trump Over Comments On Fallen Soldier's Family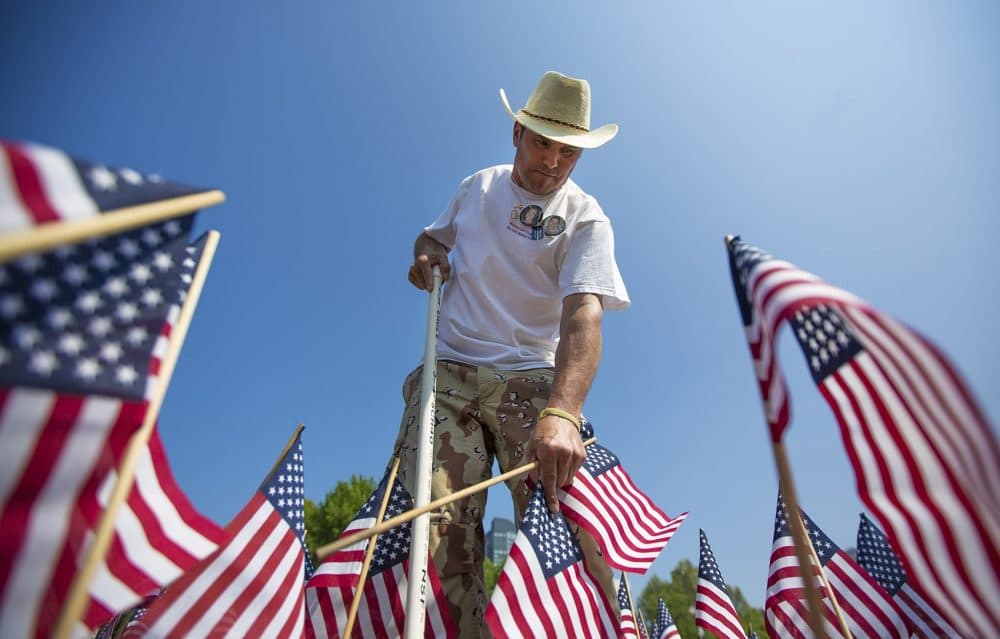 This article is more than 5 years old.
Carlos Arredondo, who is known around Boston for his actions following the marathon bombing and whose son was killed in action while deployed overseas, is among those weighing in on the ongoing war of words between Donald Trump and the family of a fallen Muslim-American Army captain.
Arredondo, whose son Alexander was killed in Iraq in 2004, signed a letter to the Republican presidential nominee from 17 Gold Star families demanding that Trump apologize for his comments against the Khan family, whose son Humayun was also killed in Iraq in 2004.
The letter calls Trump's comments in response to Khizr Khan's speech during the Democratic National Convention last week in Philadelphia "repugnant, and personally offensive."
"When you question a mother's pain, by implying that her religion, not her grief, kept her from addressing an arena of people, you are attacking us," the letter read. "When you say your job building buildings is akin to our sacrifice, you are attacking our sacrifice. You are not just attacking us, you are cheapening the sacrifice made by those we lost."
Arredondo told WBUR he feels the Gold Star community is being divided because of the tenor of Trump's campaign.
"I wish, ya know, no more comments, no more hatred to my Gold Star family community," Arredondo said. "Because all they're doing is pretty much dividing us."
The letter is part of a growing chorus of criticism about how Trump has reacted to Khizr Khan's DNC speech, during which he criticized Trump's call to bar Muslims from entering the U.S. and questioned whether Trump had ever read the Constitution.
"You have sacrificed nothing and no one," Khizr Khan said.
Trump responded over the weekend by criticizing the Khan family and questioning whether Ghazala Khan, who stood beside her husband as he addressed the DNC, "wasn't allowed to have anything to say."
As NPR reported Monday, Trump's "sustained hostility toward the Khans has made other Republican candidates and officeholders deeply uncomfortable."
On Monday morning, Arizona Sen. John McCain, whom Trump once mocked for being shot down and captured during the Vietnam War, issued a nearly 700-word statement denouncing Trump's critiques of the Khans.

"In recent days, Donald Trump disparaged a fallen soldier's parents. He has suggested that the likes of their son should not be allowed in the United States — to say nothing of entering its service. I cannot emphasize enough how deeply I disagree with Mr. Trump's statement," McCain said. "I hope Americans understand that the remarks do not represent the views of our Republican Party, its officers, or candidates."