State Horse Fund, Facing Long Odds, Can't Find Enough Purses To Fatten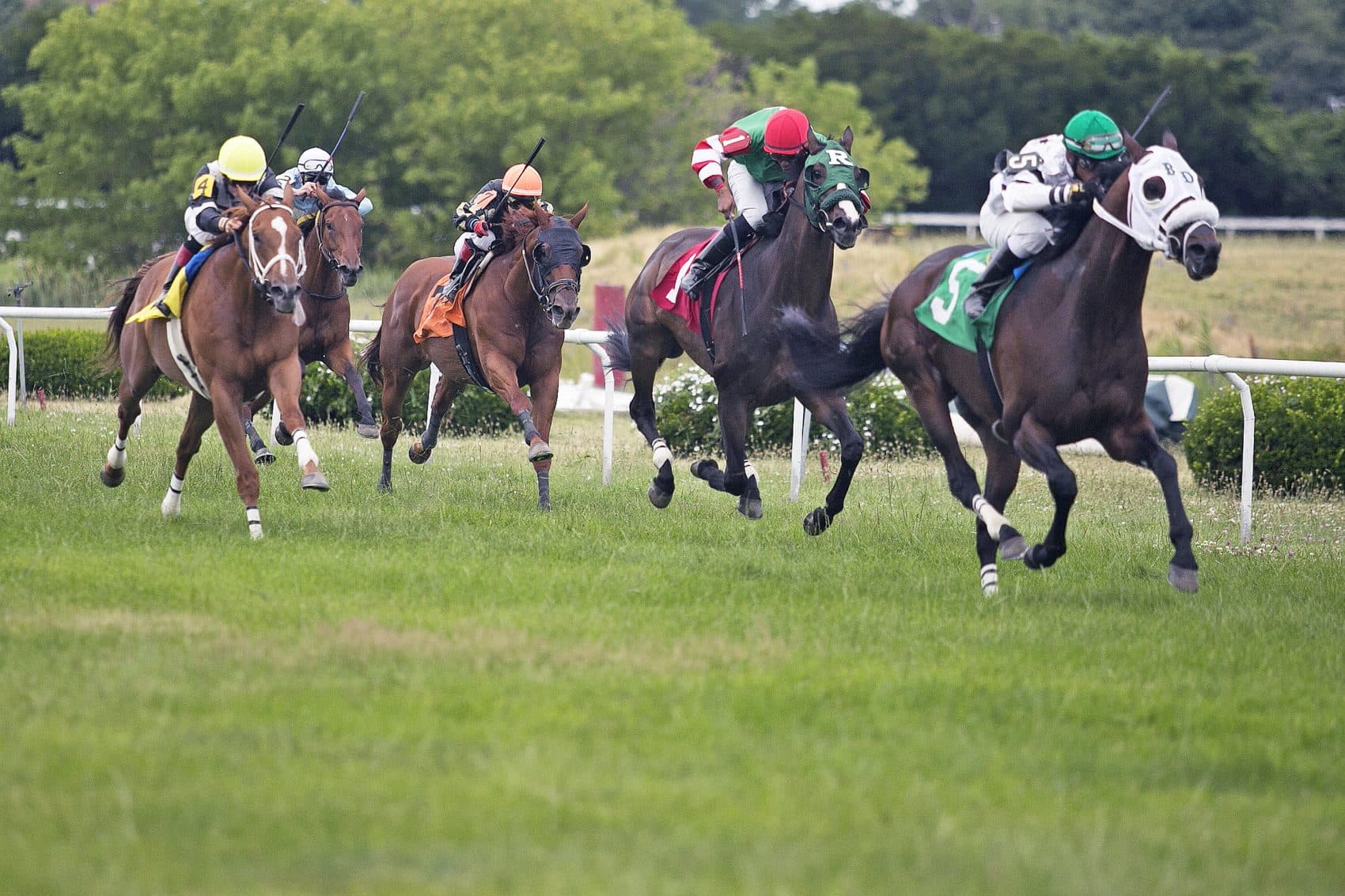 This article is more than 6 years old.
This story was produced in collaboration between WBUR and The Eye, a publication of the New England Center for Investigative Reporting. Listen to WBUR's versions of the story here: Part 1 and Part 2.
It seemed like a sure bet for the Sport of Kings: a tax on casinos aimed solely at reviving Massachusetts horse racing.
Five years after it was quietly inserted into the state law authorizing casino gambling, the tax has already raised $23.7 million for the state's Race Horse Development Fund. But there is little evidence so far of a comeback, with thoroughbred racing still barely surviving.
A review of the fund's work by The Eye and WBUR has found scant gains in breeding race horses, a schedule of racing that continues to be limited, and growing infighting among industry factions that has tried the patience of the fund's overseers.
Of the money raised so far, $8.6 million is sitting unused because there aren't enough thoroughbred races in the state to soak up the fund's assets dedicated to building purses -- the money the track gives to the winning horse.
Races for Massachusetts' thoroughbreds supported by the fund were held in June -- but trainers and jockeys had to drive six hours to upstate New York to compete in them.
"Why are we supporting a dying industry?'' asks Robert Temple, an author of two books on the history of New England horse racing. "In fact, why not use the past tense — it's a dead industry."
Such sentiments are heresy to owners, breeders and trainers who say the development fund can right the races and support hundreds of jobs while preserving agricultural land. The fund is expected to generate about $21 million a year once all the state's approved casinos are open, according to an analysis by The Eye based on state estimates of gambling revenues.
"The fund is keeping the breeding farms open, and the open space there," said Anthony Spadea Jr., a thoroughbred horse owner and president of the New England Horsemen's Benevolent and Protective Association, which represents owners and trainers. "Without this fund, everything disappears."
Only nine thoroughbred foals have been registered for 2015, versus 26 in 2014, according to the Jockey Club, which keeps track of the breed in the state. The club says later registrations may add to both totals.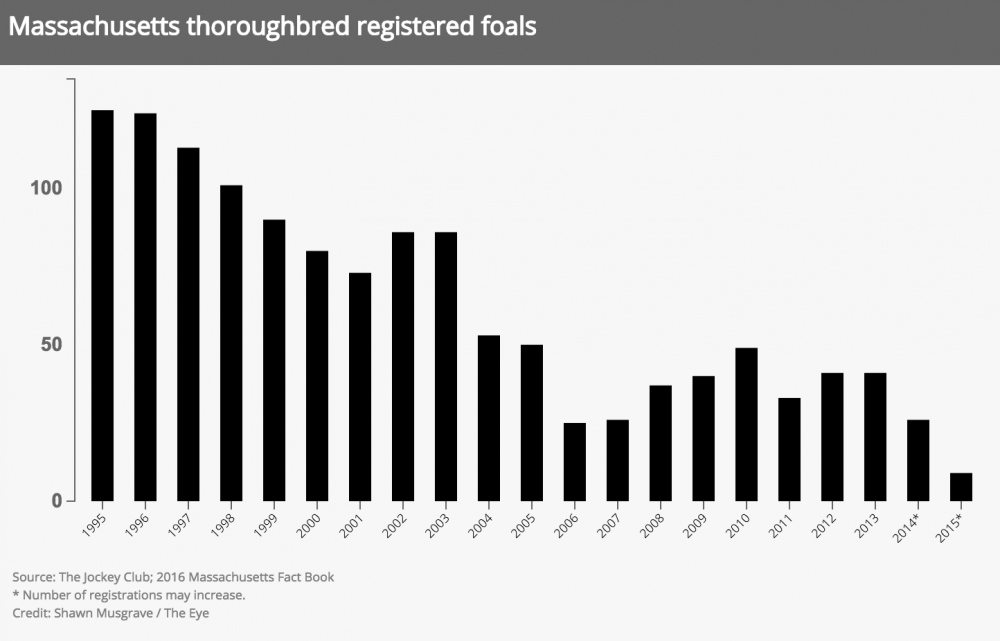 Thoroughbreds sprinting with jockeys atop, a la the Kentucky Derby, is not the only kind of horse racing. The tax fund also benefits harness racing, where horses known as standardbreds trot or pace and pull drivers in a small buggy, or sulky.
State-registered standardbred mares having foals rose from 44 in 2014 to 65 in 2016, according to Nancy Longobardi, secretary-treasurer of the Standardbred Owners of Massachusetts. Longobardi says that shows the fund is having an impact.
The only year-round track in the state features harness racing at Plainridge Park Casino in Plainville. Plainridge is holding races 115 days this year, as a condition of its slot-machine casino license. While the track has seen an uptick in bets since the casino opened a year ago, the vast majority of seats in the grandstand were empty one afternoon when reporters visited.
Racing is a small world in Massachusetts. Native Speed, the winning horse in one of the afternoon's races, took home a $3,700 purse subsidized by the development fund. Ed Nowak, Native Speed's co-owner, is president of the Standardbred Owners of Massachusetts, which advocates on behalf of harness racing for development funds.
"Anybody can win at this game,'' said a jubilant Nowak after his 16-to-1 horse beat the odds. Owners shared half the purse. Nowak said bigger purses will boost the industry and employment.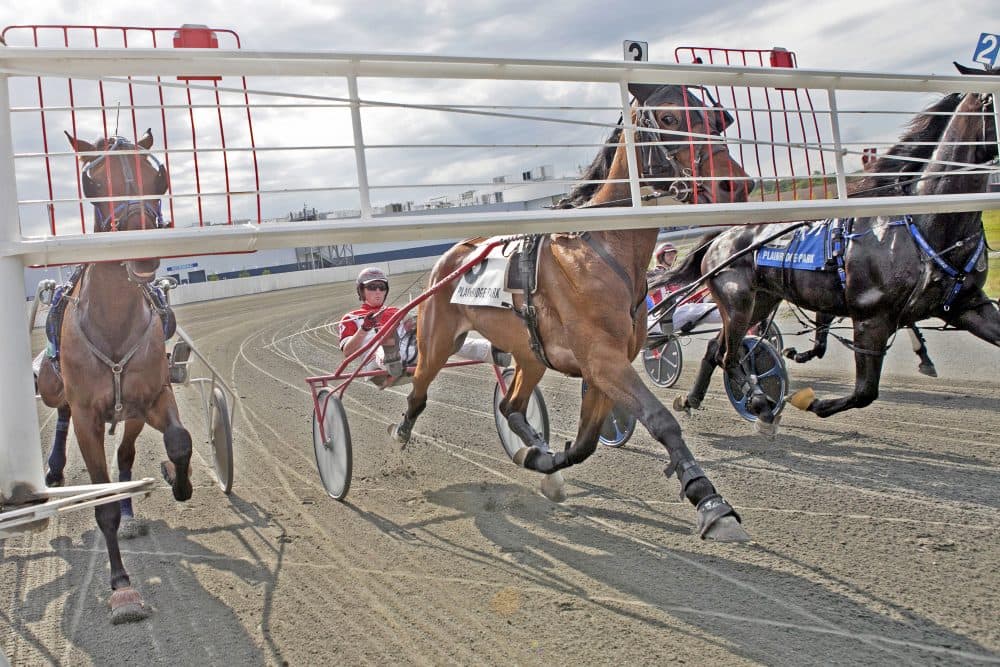 Suffolk Downs is holding six days of thoroughbred racing this summer, made possible by $2.4 million from the horse fund to pay winners. Owners of Suffolk, which straddles Revere and East Boston, are still planning to redevelop the land after losing a casino bid in 2014.
"Racetracks are making the painful decision that their real estate is worth more than their racing operations," said Chip Tuttle, chief operating officer of Sterling Suffolk Racecourse LLC, which owns the 81-year old racetrack. Tuttle said the track may make a small profit this year, but it's not from gambling: It rented out its parking lot to Cirque du Soleil.
Infighting may prove the industry's largest obstacle. The protective association wants to build a $150 million nonprofit equine center and track backed by the fund, saying it will support 950 jobs. But the Massachusetts Thoroughbred Horsemen's Association, an offshoot group formed last year, has a plan for more racing sooner.
The new group has proposed to tap the fund to start 15 days of racing at the Brockton Fairgrounds over several months, in a plan it says will boost employment.
In June, the protective association filed suit in U.S. District Court in Boston against the new group and the operators of the fairgrounds, seeking to stop the Brockton plan and keep its rival from tapping the fund. The lawsuit says the new group's plan for possible simulcast wagering on races is illegal because only the protective association can represent state horse owners' interests in that kind of betting under federal law.

The inability of the thoroughbred groups to work together already appears to have hurt them. In June, the state's Horse Racing Committee voted to alter the fund's formula to give a larger share to the harness racers because thoroughbreds are active so few days. And with the state facing a predicted shortfall in tax revenue in the current fiscal year, some say the fund itself is at risk.
"With that money sitting there and with all the fighting going on, you both could lose out,'' Stephen Reilly Jr., chairman of the racing committee, told horse groups at a public meeting in June. "I don't think it's a good idea to keep it lying around because the Legislature could say, 'Hey, there is a better way to spend this money.' "
State Rep. Bradley Jones, a North Reading Republican, sponsored two failed amendments during budget debates in April to divert some horse race development funds to preserve open space as part of the Community Preservation Act.
States Tug On The Reins
Once, horse racing had a virtual monopoly on U.S. gambling. By the 1980s, bettors' attention was diverted by state lotteries, casinos and other entertainment options. Horse development funds, started in 19 other states before Massachusetts, were designed to reverse the trend by boosting purses and promoting investment in breeding, in part to draw more gamblers.
In Pennsylvania, advocates say the horse racing industry generates $1.6 billion in annual economic activity, four times the amount before the fund was established.
But wagers on live races fell 6 percent in 2015, according to a state report that noted the industry "continues to struggle attracting a new fan base." Overall U.S. racing wagers are down 30 percent from a 2003 high of $15.1 billion, even after a 2016 uptick, according to the Jockey Club.

Some states have peeled back support in recent years. West Virginia diverted some of its race horse funds to other uses in early July. New Jersey got rid of a $30 million casino subsidy to racetracks in 2011.
In Massachusetts, the horse fund had a key backer in House Speaker Robert DeLeo, a Winthrop Democrat whose district includes the track and whose father worked at Suffolk Downs, according to industry officials. DeLeo declined requests for comment.
Today, 9 percent of gaming revenue from Plainridge Casino goes to the fund, totaling $14.9 million through June, according to the gaming commission. When MGM Springfield and Wynn Boston Harbor in Everett open, 0.625 percent of their gaming revenue will also flow to the fund.
When the fund began, 75 percent of it was dedicated to thoroughbred racing and 25 percent to harness. From each group's share, 80 percent must go to purses, 16 percent to breeders and 4 percent to pensions and other benefits for racing industry workers.
Thoroughbreds raced only three days in the state last year, at Suffolk, and the racing committee recommended in June to give 55 percent of the 2016 fund to harness racing.
That shift wouldn't affect the $8.6 million for thoroughbreds that is still untouched. But thoroughbred interests can't agree on how to spend it.
"We need horses running here regularly,'' said Bill Lagorio, president of the thoroughbred horsemen's association.
The group ultimately wants to see 100 days of live racing in the state and is hoping its Brockton plan will ignite the effort. It wants the gaming commission to provide $3.9 million for the first 15 days of racing.
The protective association says Brockton's short track, at five-eighths of a mile, is in bad shape and unsafe. State officials say the track would have to pass rigorous safety tests for racing to begin.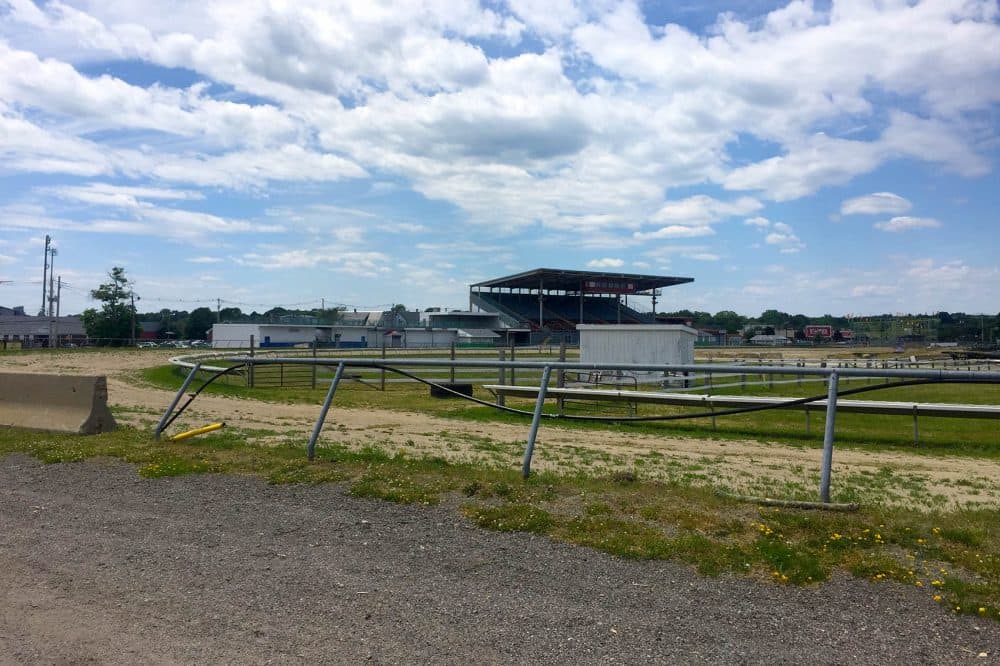 The protective association's alternative, the proposed equine center, would include riding trails, a farmers' market, racetrack, polo field and other amenities. The group wants the track to be financed by bonds backed by the race fund. The center would generate $99 million a year in economic benefit, according to a University of Massachusetts Amherst estimate prepared for the association.
"We are excited to create a model" for the country, said Matthew Clarke, an association director.
Attempts by both groups to get legislation passed to further their interests failed this legislative season, as did an effort to give the gaming commission more control over the fund.
But some in the State House said it would just be better to scrap the fund.
"It's troubling,'' said state Sen. Jamie Eldridge, an Acton Democrat. "The industry has mostly left Massachusetts. I would rather use the money on small businesses" or to combat "the negative impact casinos have."
Some in the thoroughbred establishment say their venerable sport is on a state-subsidy lifeline.
"It may be questionable whether alternative gaming funds will revitalize the business," said Christopher N. Scherf, executive vice president of the Thoroughbred Racing Associations in Maryland. "But in many cases it is certainly the death knell if it is taken away."
This story was produced in collaboration between WBUR and The Eye, a publication of the New England Center for Investigative Reporting. WBUR reporter Bruce Gellerman, and NECIR intern Colby Burdick contributed reporting.
Listen to Bruce's Part 1 report:
Listen to Bruce's Part 2 report: